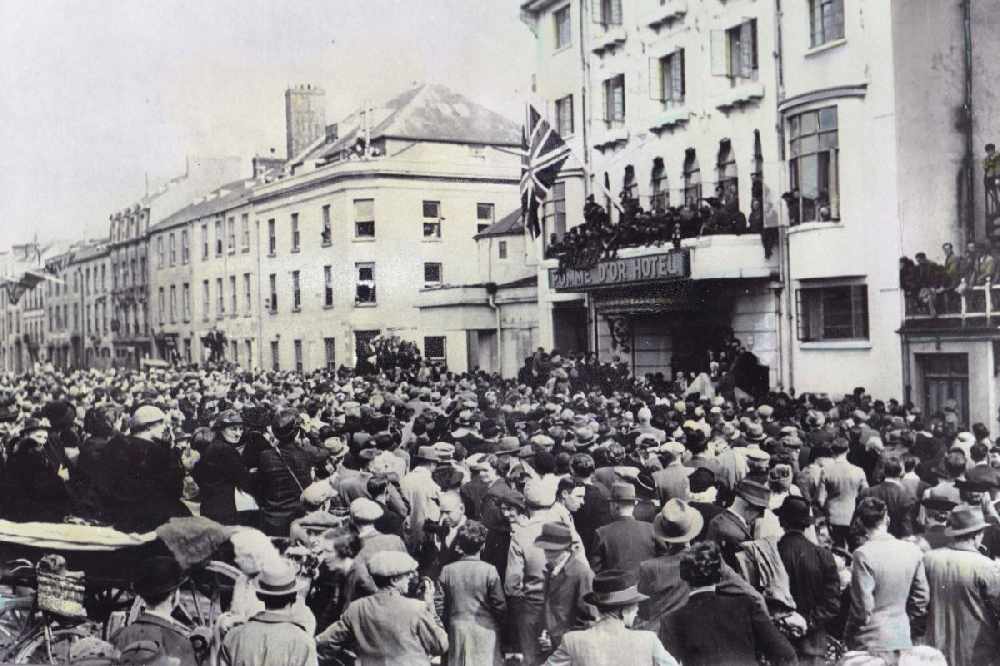 Société Jersiaise Photographic Archive
It's not the Liberation Day Jersey had planned, but islanders have found new ways to reflect, remember and celebrate.
Jersey is marking 75 years since the island was freed from German Occupation.
On this day in 1945, British forces liberated the Channel Islands from five years of Nazi rule during the Second World War.
Planned anniversary events, that had been expected to draw crowds of thousands, had to be changed because of the coronavirus pandemic - but islanders have found other inventive ways to commemorate and celebrate our national day, and to be together while being apart.
That includes:
*The traditional States sitting and Liberation service being streamed online, with an address from the Bailiff and a message from the Queen, read by the Lieutenant Governor.
*The Union flag being raised above the Pomme D'or hotel, but without the cheering crowds below.
*From our homes and gardens - decorated with bunting and flags - tea parties and picnic shared with friends and family over video calls to comply with Covid-19 social distancing rules.
*DJs performing a streamed skyline party from the Fort Regent ramparts.
*Beams of lights illuminating the sky from the island's 12 parish halls.
*The Parish of St Helier and ArtHouse Jersey among those offering programmes of entertainment online - with dancing, singing and readings.
*Newly-released rare colour footage of the moments of Liberation in 1945 by Jersey Heritage on its website.
*Real-time reporting of the events of the day as if social media existed at the time by following @Lib1945 on facebook, twitter or instagram.
HMS BULLDOG, FOUR MILES SOUTH OF THE HANOIS LIGHTHOUSE: The German surrender party has come aboard. pic.twitter.com/M46jbEa1ih

— Liberation - As It Happened (@Lib1945) May 8, 2020
The 16,000 slave and forced workers brought to Jersey during the Occupation are being remembers - although not with the usual ceremony.
It's the first time in 60 years the service at Westmount has not taken place on Liberation Day.
The grounds of the crematorium are open for relatives to lay flowers and pay their respects.