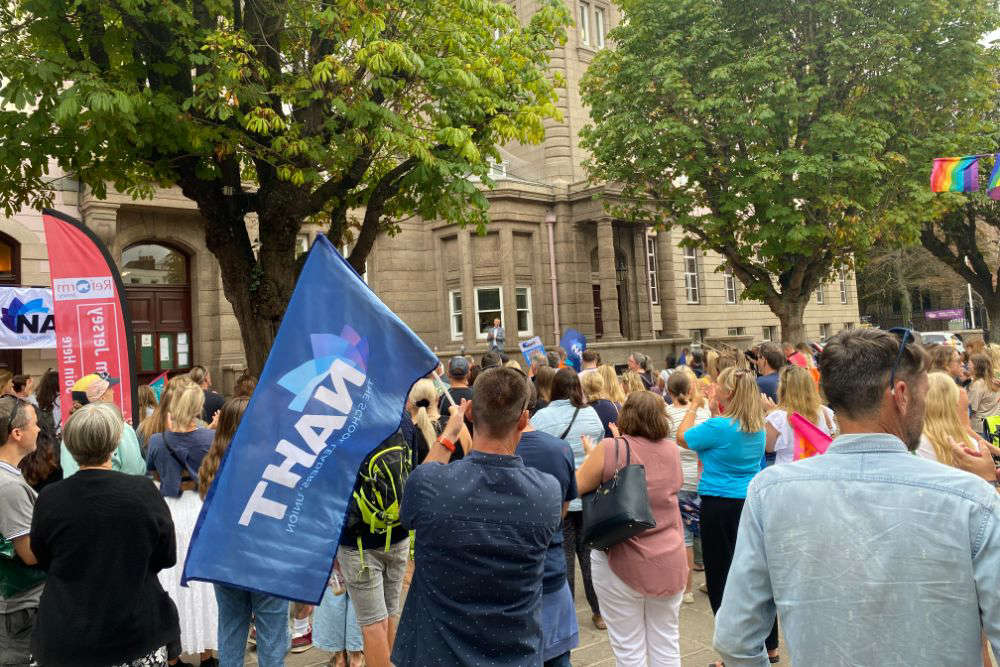 Teachers and their bosses have joined together in a rally at the Royal Square in the second walkout this year.
We asked those at the Royal Square why they were there.
"We're here, not just for our own pay and conditions, but the future of education in Jersey. It's important we set a precedent for other occupations and for the students that we teach."
"It's important to hear your voice being heard and not accept the lies the government is telling people.
I'm here to support our school leaders and - as the mantra - is 'save our schools'. We've seen the erosion of pay over the years, but it's also about getting involved and coming to the table and offering a fair deal rather than offering one thing, then walking away."
It's the first time in its history the headteachers union, the NAHT, has staged a walkout.
Head of Victoria College Preparatory School and Secretary of the NAHT Jersey Branch, Dan Pateman says it is testimony to what teachers are 'suffering' in schools.
"We have never been in a position where we are working more hours… the conditions we are working in.
As school leaders, we are in charge of education but we are also HR managers, finance managers and safeguarding leads. Work is being placed on us and we just want that to be reflected and recognised."
All three unions, NASUWT, NEU and the NAHT, continue to be in dispute with the States Employment Board, which is offering a pay uplift of 7.9%.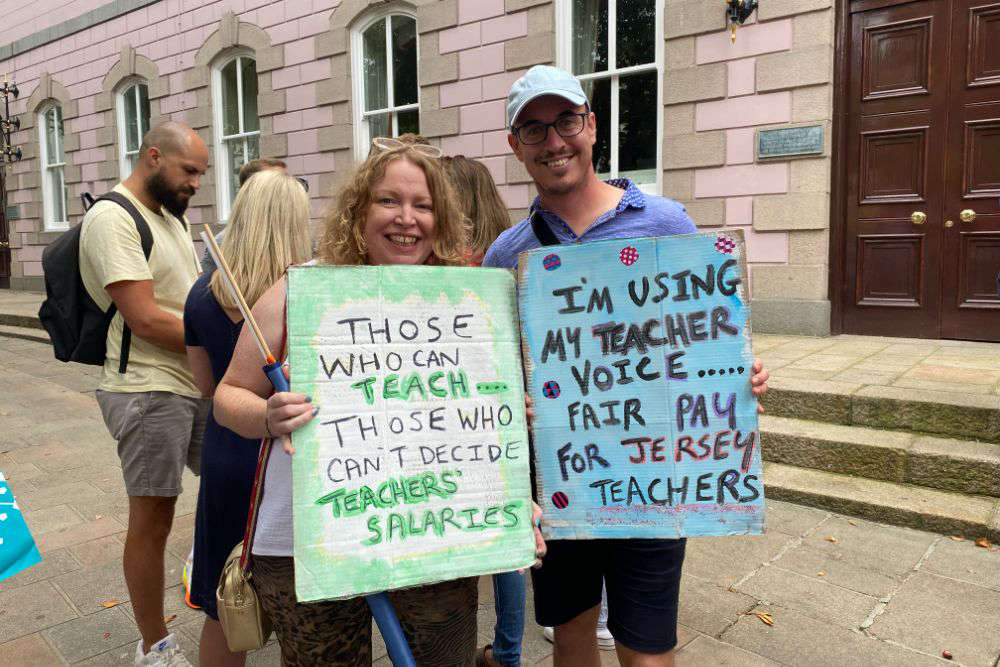 The NASUWT called off its strike action after the SEB agreed to backdate the pay rise to 1 January this year, while acknowledging the union was still in dispute over a final settlement, but the other unions said that wasn't enough.
Adrian Moss, Joint District and Branch Secretary of the Jersey NEU says they have been consistent in their demands.
"The 7.9% doesn't reflect all that teachers do, it does not reflect the long hours worked - 53 hours per week is the average. It does not reflect the additional workload that teachers have to take as class sizes expand.
This is why we felt we had to make this stand today. We regret making the disruption to education, and we regret how it may affect parents and carers."
Earlier, Chief Minister Kristina Moore apologised to the States after a post was put up on the government's social media about teachers' pay.
She told the States that, while the information was accurate, ministers hadn't authorised it to be used in the way it had been.
Teachers at the rally in the Royal Square told us how they felt about the comments.
"I think they [the government] saw it as inflammatory, a way to turn the public on teachers, and it has backfired on them."
"Disinformation from either side of this conflict will not help resolve the issues and we need solutions now for young people and adults learning."
"It's inflammatory, it's divisive, it puts the wrong perspective in the public of what we're challenging and what we're asking for, and that's not right. We're in it together, we are government workers and we just want a fair deal."
Notice of two more strike dates, 18 & 19 October, have also been given. The NASUWT, which pulled out of today's strike action, say a 'decision will be taken in due course' on whether its members will participate.