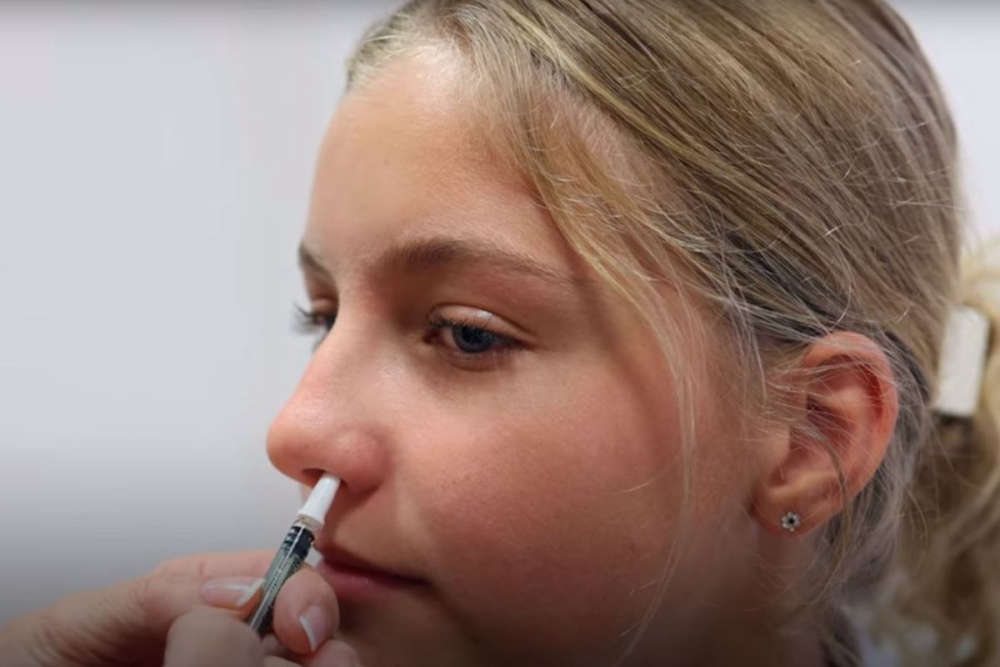 Picture Credit: Government of Jersey
The nasal flu programme in primary schools is underway.
Children at d'Auvergne, Grands Vaux and Springfield are the first to be offered it.
It will extend to other primaries until 4 October, before moving to secondaries.
The Director of Public Health, Professor Peter Bradley, says it's even more important for children to get vaccinated this year because flu will probably be more prevalent.
"Nurses from Health and Community Services will be going to schools across the Island and administering a vaccine into each nostril, which is completely painless, and young children often comment that it tickles. The vaccine is the best protection we can offer children against the flu viruses that circulate each year."
The adult flu vaccine programme is due to start on 18 October.
The programme to give care home residents, islanders over the age of 80, and healthcare workers in Jersey their covid booster jabs also starts today (20 September).
Third doses are being offered to those groups if they had their second more than six months ago.
"Whilst we're able to offer the majority of the 45,000 islanders eligible for a booster an appointment by the end of October, some islanders who had their vaccine later on in phase one of the programme won't be eligible for a booster until perhaps next year." - Deputy Richard Renouf, Health Minister.
Other groups will also be eligible for the booster programme from certain dates:
27 September - all over 70s
4 October - 16 to 69-year-olds who are clinically vulnerable
11 October - all over 60s
18 October - all over 50s
25 October - adult household contacts of people with weakened immune systems and adult carers
The Joint Committee on Vaccination and Immunisation advised a precautionary approach to maintain a high level of protection amongst vulnerable adults because data suggests that protection provided by vaccines wane over time.
People who don't wait six months before their second dose risk and turn up at the vaccine centre will be turned away.
Jersey's programme to vaccinate 12 to 15-year-olds will start on Monday 27 September.
A specialist area will be set up at Fort Regent, with staff who have experience in vaccinating young people.
Jersey's Deputy Medical Officer of Health says it's quite clear that children aged 12 to 15 will benefit from getting a Pfizer coronavirus vaccine, after considering issues such as education, mental health, and children's welfare.
"All these assessments were made for the benefit of children aged 12 to 15. They did not look at any potential benefit that may accrue to people outside that age group." - Dr. Ivan Muscat.