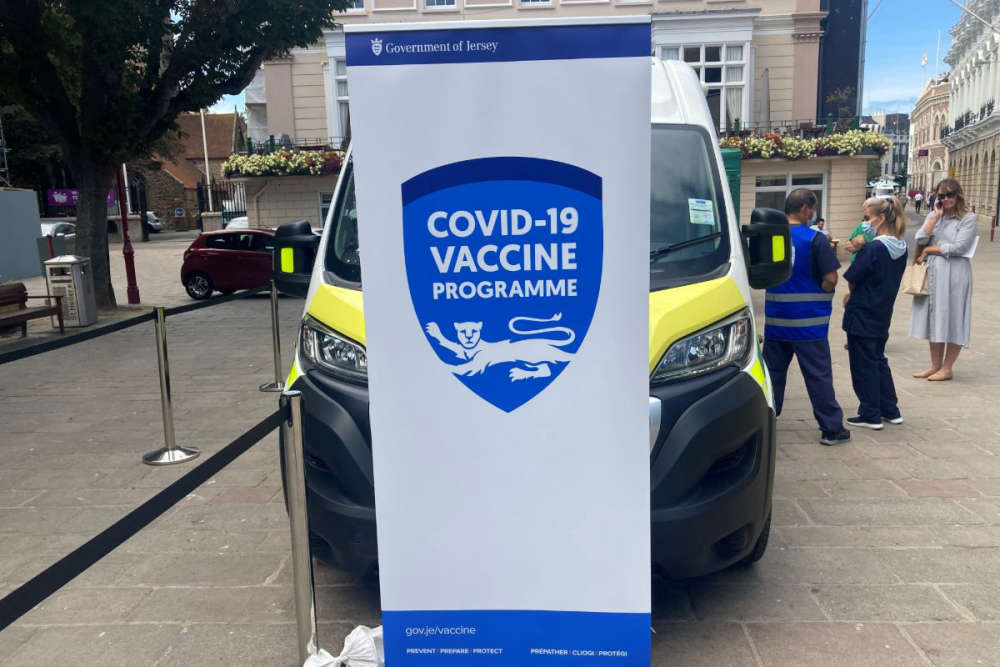 A rock-up vaccine clinic in the Royal Square in August.
Coronavirus vaccine pop-up clinics will return in Jersey between Monday 13 September and Friday 17 September.
Nearly 500 people got a first dose at certain busy locations over two weeks in August.
They will be based in the following locations between 3pm and 5pm next week:
Monday 13 September - Oakfield Sports Centre
Tuesday 14 September - Langford Sports Centre
Wednesday 15 September - Royal Square
Thursday 16 September - Highlands College
Friday 17 September - Royal Square
The government says the 3pm to 5pm timeframe has been chosen to make it easier for 16 and 17-year-olds to get their first jab if they want it.
As of Sunday 5 September, 44% of 16 and 17-year-olds have received a first dose.
"We have seen a significant increase in 16-17-year-olds coming to get vaccinated. This is a great testament to Islanders and the vaccination team as nearly half of all 16-17-year-olds have had a first dose of the vaccine.
"We saw how popular the rock-ups were initially as nearly 500 people made use of them. I'd like to thank Islanders and the team for their continued support and encourage all those that have yet to receive their vaccine to take advantage of the Rock Ups." - Ross Barnes, Vaccination Programme Operations Lead.
Vaccine Programme Lead Becky Sherrington has called the take-up among 16 and 17-year-olds so far 'really positive'.
Appointments can still be booked at Fort Regent and walk-ins are available every weekday through September at certain times.