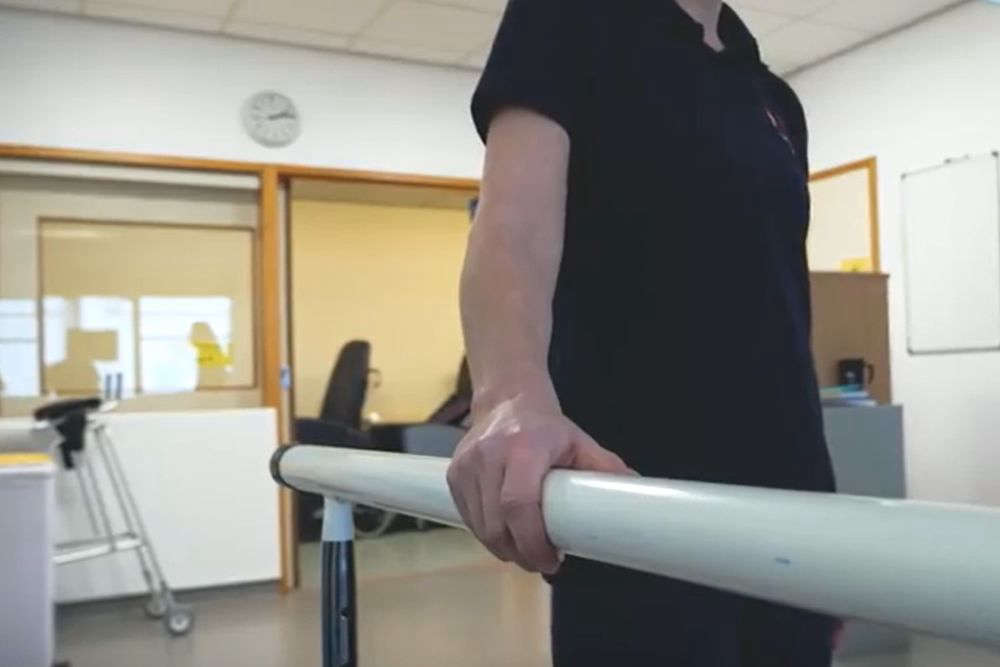 Rehabilitation services for patients who have suffered a stroke or other serious injuries are to return to Samares Ward at Overdale.
It's part of a 'substantial investment' of £2 million in inpatient and community services announced in the States this afternoon by the Health Minister, Deputy Richard Renouf.
The 28-bed specialist facility closed to patients in 2020, with services moved to the 14-bed Plemont Ward within the General Hospital building.
Since then; clinicians, patients and their families have spoken out about the sub-standard facilities and diminished quality of care they have received.
In December 2021, Senator Steve Pallett lodged a proposition calling for the Samares Ward to be re-opened, or the equivalent services put in place.
After initially lodging an amendment dubbed a 'wrecking motion' by other States Members, the Health Minister later withdrew it at the eleventh hour and voted in favour of Senator Pallett's proposition.
Deputy Renouf originally called for all specific mentions of Samares Ward to be removed, but later said the Council of Ministers agreed 'we can accept the request as it is worded and work to achieve the outcomes we all wish.'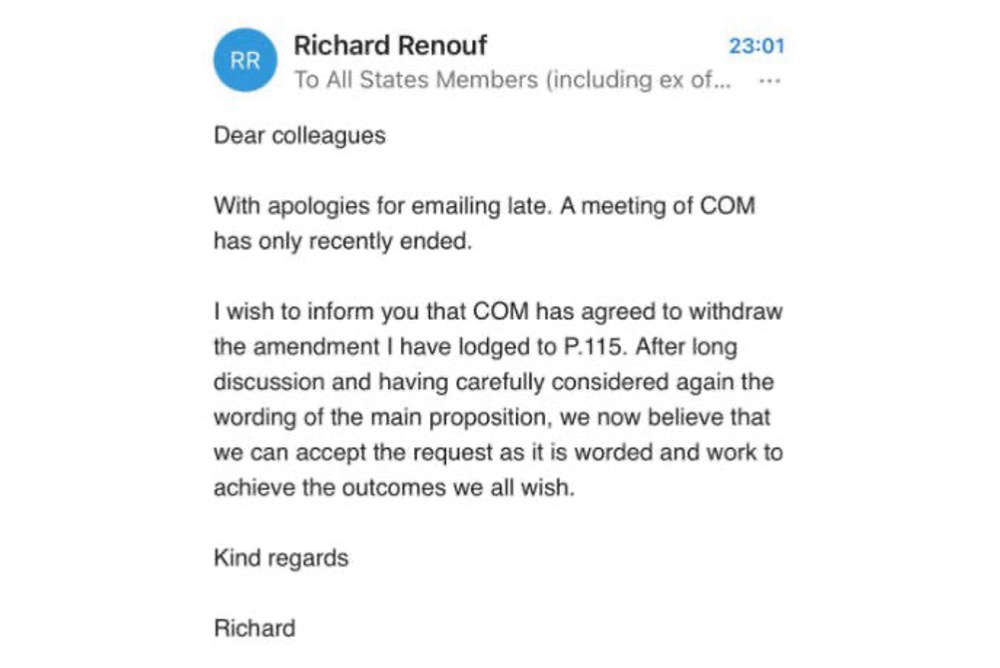 The Health Minister's late-night email to States Members obtained by Channel 103
When Senator Pallett's proposition was debated in January 2022, it was unanimously supported by all 45 voting States Members.
Speaking during the debate, Deputy Renouf committed to coming back with a plan to overhaul patient rehabilitation services on or before today - Tuesday 1 March.
"I'm in a position, after careful reflection, to support Senator Pallett's proposition.
"We will see, in rapid time, the implementation of the changes we've committed to in our improvement plan. I commit to making that determination requested and I commit to reporting back to States Members no later than Tuesday 1st March."
The Minister's plans will see Samares Ward re-open for its original purpose until the time comes for the Overdale hospital buildings to be demolished to make way for Jersey's new hospital.
Once Samares Ward is back up and running in July 2022, Plemont Ward will be redesigned and fully refurbished to create a dedicated rehabilitation space.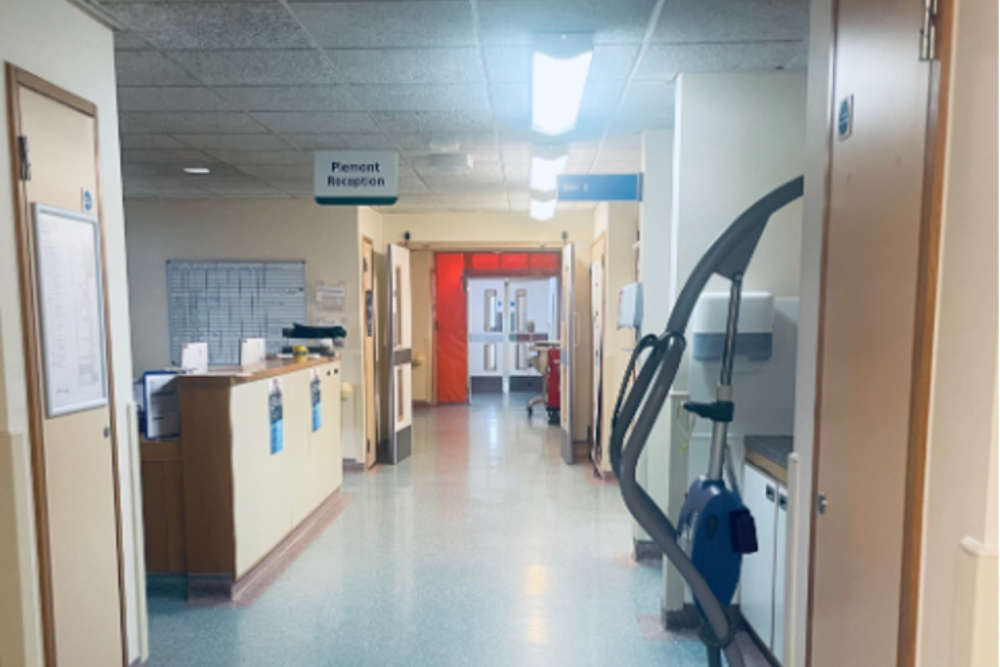 The current facilities at Plemont Ward have been criticised as not being fit-for-purpose
Deputy Renouf told States Members it will create a more 'therapeutic and restful environment' with quiet and personal spaces, as well as areas for social activities like is provided at Samares Ward - including a day room and dining room.
It'll see individual patient rooms created, more space for visiting friends and family members, and brand new equipment and facilities.
The redevelopment of Plemont Ward is due to be completed by the end of this year, allowing work on the Overdale hospital project to continue on schedule.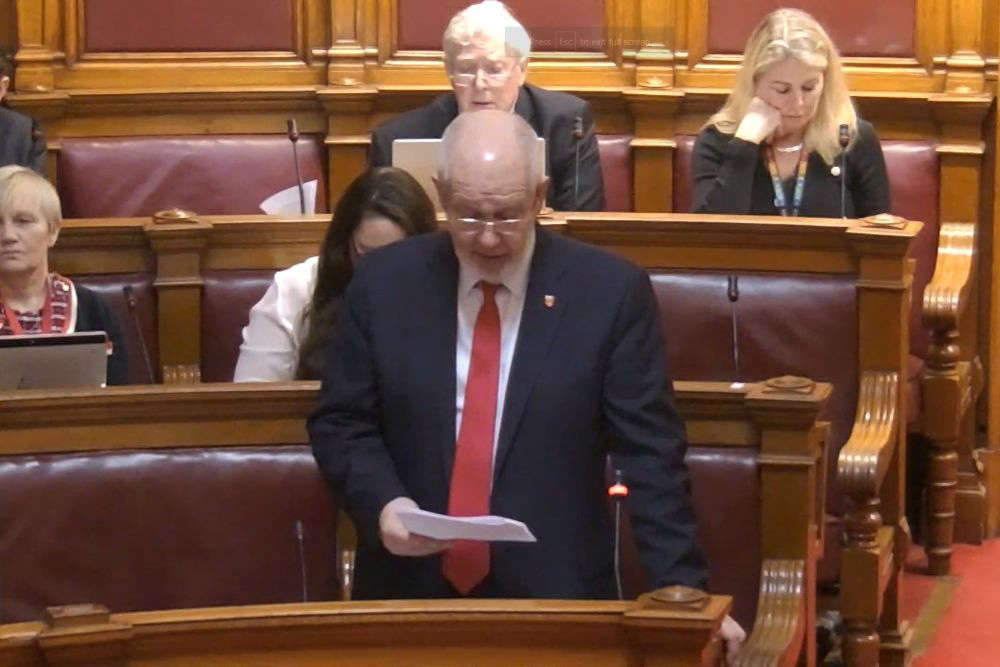 Deputy Richard Renouf announcing the plan to re-open Samares Ward in the States Assembly
The Health Minister explained the rationale behind overhauling rehabilitation services:
"We have always been committed to providing the very best care to our patients, but I accept that the current Plémont Rehabilitation Unit is in need of renovation to create a better environment for patients until we can move to the new hospital which will provide extensive rehabilitation facilities. We will return to Samarès Ward whilst it is available for use and will use that time to carry out the improvement work in Plémont Ward.
"We have listened to Islanders, States members and HCS colleagues and understand what an important part the rehabilitation unit plays in a patient's recovery. We have considered a wide range of options, have carried out a gap analysis and have already implemented a variety of service improvements that are benefitting patients. I am pleased to see the good feedback from patients that we have received over the last few weeks. I'm glad that we now have this detailed plan in place to ensure that we can enhance the physical environment on the rehabilitation unit while continuing to provide the best quality care."