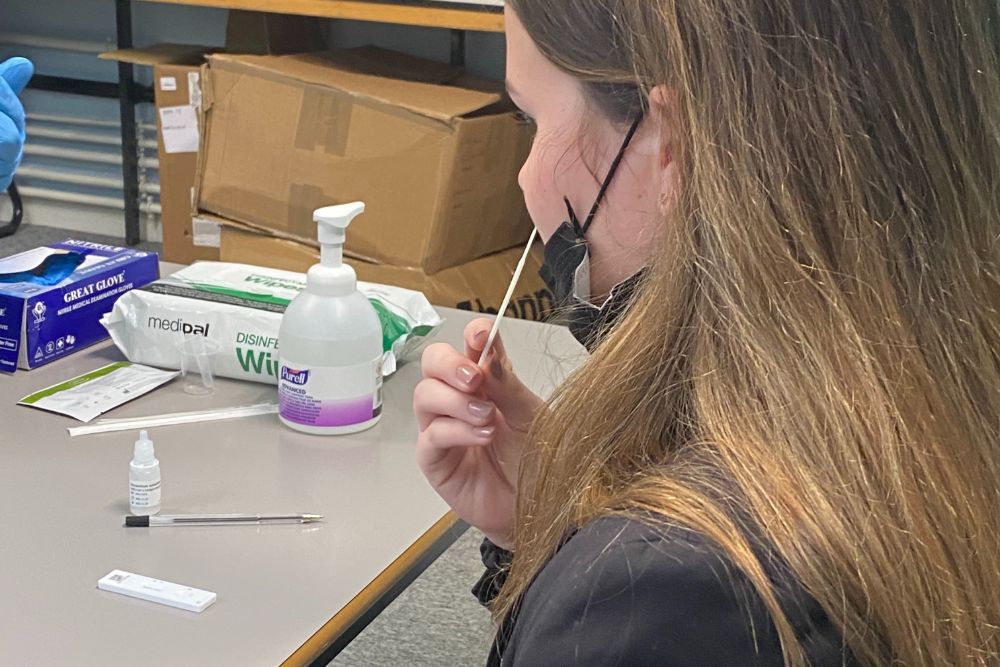 More secondary school children could be offered lateral flow coronavirus tests, as the number of young people getting the virus continues to rise.
Jersey is now up to 114 known, active infections - with 30 schoolchildren among these confirmed cases since 14 June.
The government says the latest evidence shows transmission is affecting more secondary school students, with just two cases detected in a primary school so far.
There were 12 confirmed cases in schools yesterday (24 June) Nine of them go to Victoria College, one goes to JCG, another goes to Victoria College prep, and one is a Beaulieu student.
Lateral flow tests have been offered to just school staff and Year 11 to 13 students since January - but they could soon be given to younger students to try and pick up Covid-19 in pupils who don't show any symptoms.
They return results in around 20 to 30 minutes.
Senior public health and education officers, along with test and trace teams, met island headteachers yesterday to reinforce the measures available to make sure schools can stay as safe as possible.
They include maintaining physical distancing, making sure everyone washes their hands, operating with bubbles, making sure there is good ventilation, and ensuring that children wear masks on the school bus.
"As a result of vaccination, disease is predominantly in the young and therefore less severe, which significantly reduces the burden of disease. While we expect the numbers to continue to increase among young people, it is important for everybody in the community, not just educational settings, to continue to keep their guard up as we see an increase in Covid cases.
"We would like to thank the education community, students, parents, and carers for continuing to work hard to keep the community safe." - Dr. Ivan Muscat, Deputy Medical Officer of Health.
An update is expected 'very early next week' on any changes to isolation rules for children identified as direct contacts.
Currently, they have to isolate for at least ten days.
Rules for fully vaccinated adults identified as close contacts were eased earlier this week.
More than 1500 direct contacts are currently in quarantine in Jersey.
"Jersey is the only place in the British Isles to have had schools, colleges and nurseries open all year. Keeping schools open remains our priority in our Covid-19 strategy and reflects the Government's commitment to put children first. To ensure that there is no further loss to students' learning and experiences we are doing all that we can to support schools to continue running until the end of term.
"We all want to avoid any further disruption for students. If we all continue to follow the guidelines and keep our guard up against Covid, we can reduce the likelihood of children unable to attend school by having to isolate." - Senator John Le Fondre, Chief Minister.
School children are being encouraged to wear masks in communal areas, where distancing is more difficult to achieve.