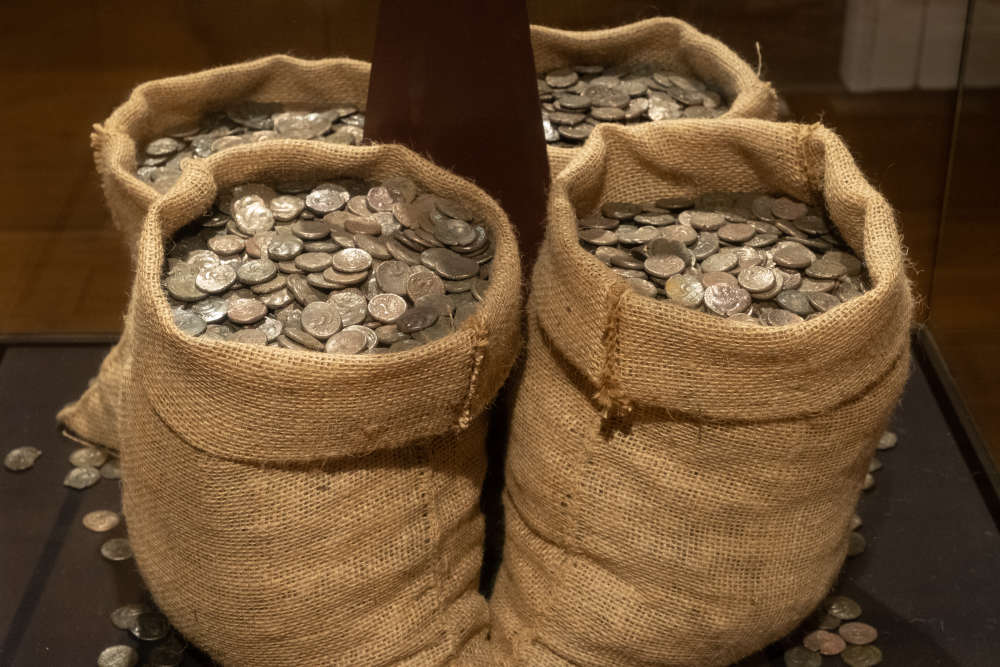 Jersey's £4.25m Celtic coin hoard is being shown off in a new exhibition at a refurbished La Hougue Bie archaeology gallery.
Finds from the hoard of 70,000 coins and jewellery take centre stage at a new display of the world's largest Celtic hoard, which was found in the island.
Le Câtillon II was unearthed in Grouville by two metal detectorists.
The 2,000 year old treasure trove was purchased for the island by Jersey's government in late 2021 for £4.25m, using money confiscated by Jersey's courts linked to money laundering and the proceeds of crime.
'Searching for the Jersey's Celts' is housed in La Hougue Bie's newly-refurbished archaeology gallery and explores why the hoard might have been buried here.
Though parts of the collection have been on display in the island before while work - which took several years - was going on to separate and conserve it, some of the pieces will be on show to the public for the very first time.
It features torques and ingots and a leather purse, which is the only Iron Age example of its kind.
Also on display are coins Le Câtillon I, which was discovered in 1957 but sold and scattered around the world until Jersey Heritage was able to buy them in 2020.
Neil Mahrer, a Jersey Heritage Conservator, says the hoard is linked with the invasion of Gaul by Julius Caesar.
"..when he came up from Italy and began to fight tribe after tribe, and essentially won every battle and turned Gaul into the Roman Empire.
We think what happened is that the Gauls, who hadn't produced much in the way of coinage before that time, suddenly went into mass production and one of the ideas is that it was to actually pay for troops to fight the Romans."
Conservators believe Jersey could have been home to a mint production line and had more significance than was previously thought.
More coins, jewellery and even building could be buried near the original site, but Jersey Heritage will need permission and more funding to be able to excavate.
"Provided we get to go back into the area, and secure funding for that, it could start fairly soon, and that would be great for us because we know a huge amount about the hoard itself, and very little about why it's there."
Photos supplied by Jersey Heritage.