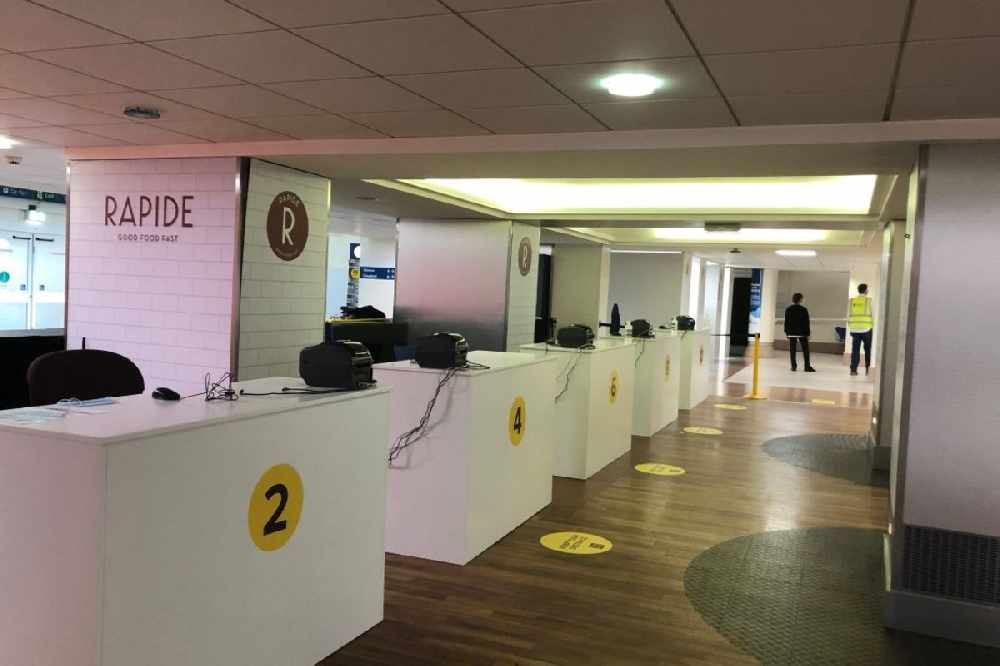 Areas of the UK will only be rated as Green or Red when changes to Jersey's travel rules come into effect next Tuesday.
The island's restrictions are due to be simplified across large parts of the UK.
Anyone arriving from a red area who's been fully vaccinated will now only need to isolate until their first negative test result comes back.
They will also need a second test after eight days.
Those rules also apply to green area arrivals who are yet to receive their second dose of the COVID-19 vaccine.
'Red area' passengers who have not been 'double-vaccinated' yet will need to follow the current rules - being tested on arrival, after 5 days and 10 days, and only able to leave isolation once they all come back negative.
The rules haven't changed for other countries yet - which will still use the three-colour 'traffic light' system.
At the same time, 28 new 'emergency brakes' have been brought in for areas where COVID outbreaks have been found.
They include Birmingham, Bradford, Leeds, and several London boroughs.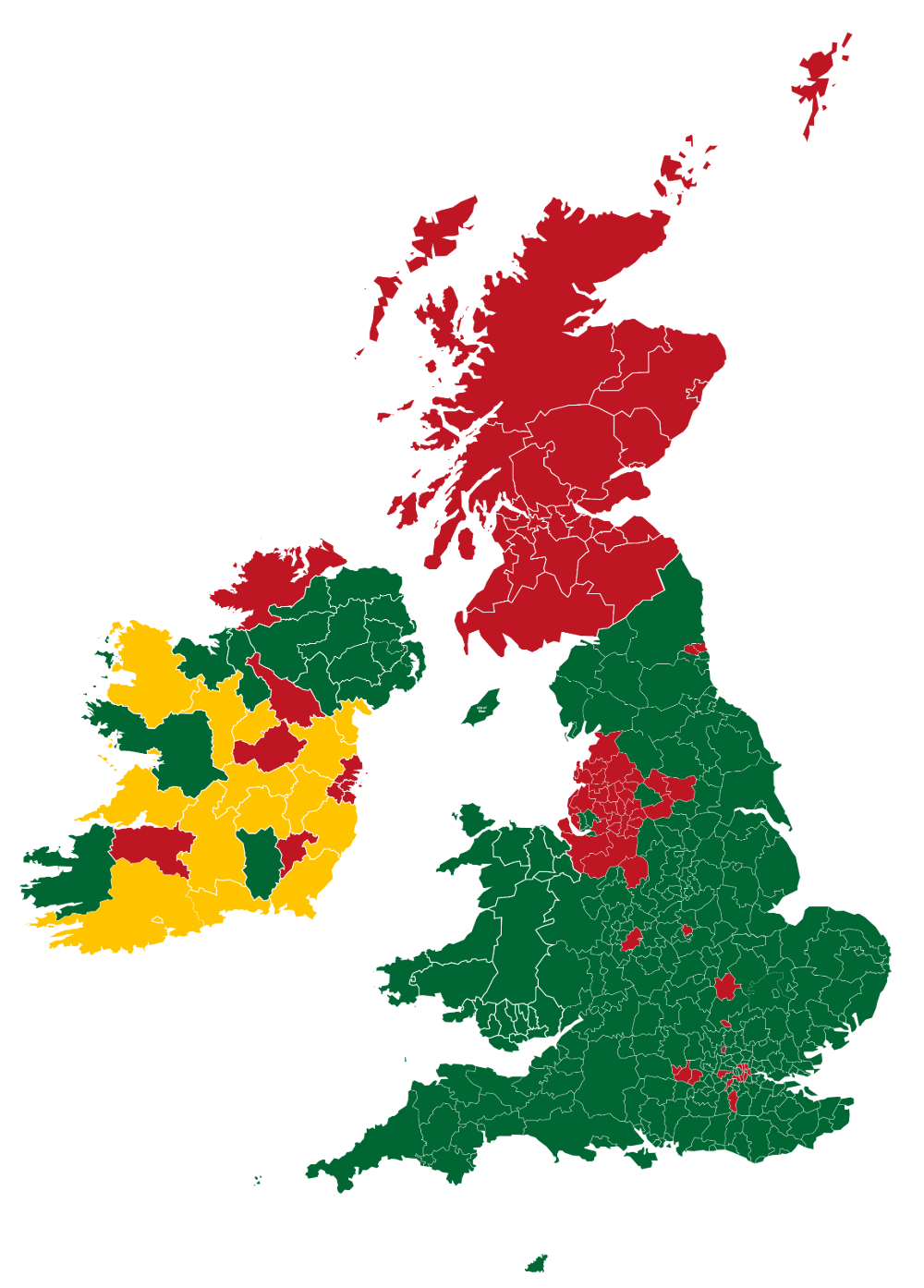 Areas of the UK will only be classified as 'green' or 'red' from Tuesday 15th June
Other areas being classified as 'red' for at least the next two weeks are: Staffordshire Moorlands, Southwark, Tower Hamlets, Wandsworth, Kingston upon Thames, Lambeth, Blackpool, Cheshire West and Chester, Cheshire East, Tameside, Trafford, Reading, Wokingham, Luton, Camden, Hackney, Islington, Newcastle upon Tyne, Liverpool, Sefton, Warrington, Wirral, Wyre, Lancaster and West Lancashire.
From 00:01 on Sunday, 13 June, 28 additional emergency brakes will be introduced in UK regions.

The emergency brake data will be run twice a week, and the Red emergency brake classification will apply for a minimum of 14 days. Emergency brakes currently in place still remain. pic.twitter.com/gaNa3WmiQ0

— Government of Jersey (@GovJersey) June 10, 2021
Deputy Chief Minister, Senator Lyndon Farnham, explained the decision behind the change:
"Ministers try to balance the need to maintain connectivity with the UK with managing the risk to public health. While there has been a slight uptick in known active cases in Jersey, we know that the people who are testing positive are, in general, younger and therefore less likely to become seriously ill with the virus. The vaccine is working to protect the more vulnerable.
"Vaccination coverage is good in both Jersey and the rest of the Common Travel Area, and we will continue to allocate Emergency Brake status to areas of the UK that have particularly high or rising numbers of 'Delta' Covid cases.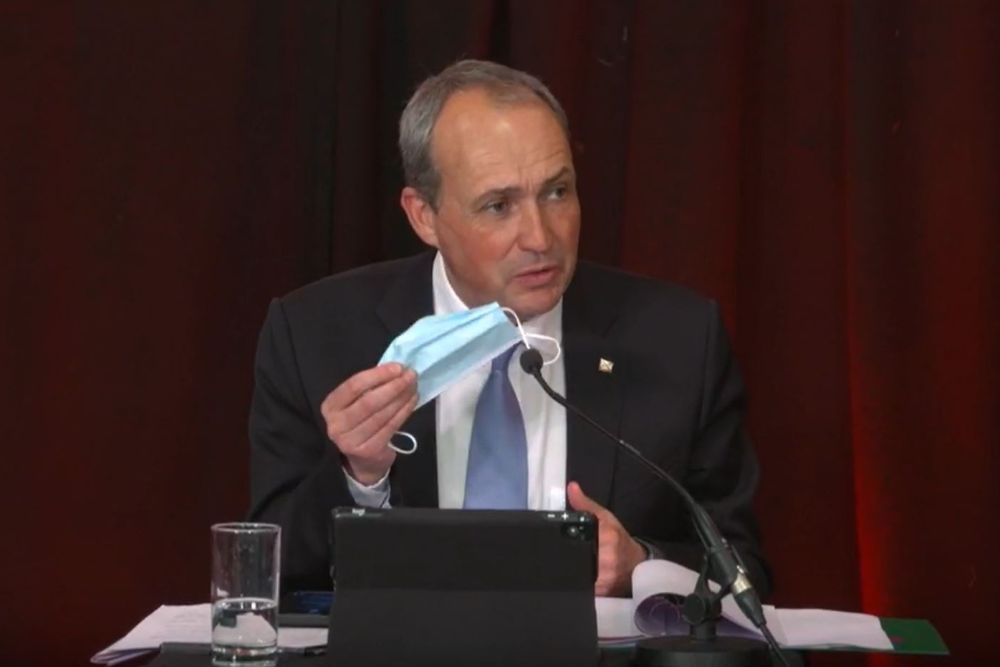 Deputy Chief Minister, Senator Lyndon Farnham
"We have carefully reviewed the data from Jersey and across the UK, with advice from Public Health officers and STAC members. We have added 28 more Emergency Brake areas to our travel classifications, so we believe moving to Green and Red areas, without the Amber classification, will make the system simpler and clearer without posing undue risk for Islanders.
"Bearing in mind the efficient testing and contact-tracing processes in operation here, we believe these changes are proportionate and will maintain connectivity while also protecting Islanders."
Anyone arriving into Jersey will still need to fill in their 14-day travel history as before, as the highest classification of all the places a passenger has been will be used to work out whether they have to self-isolate or have a test at the border.