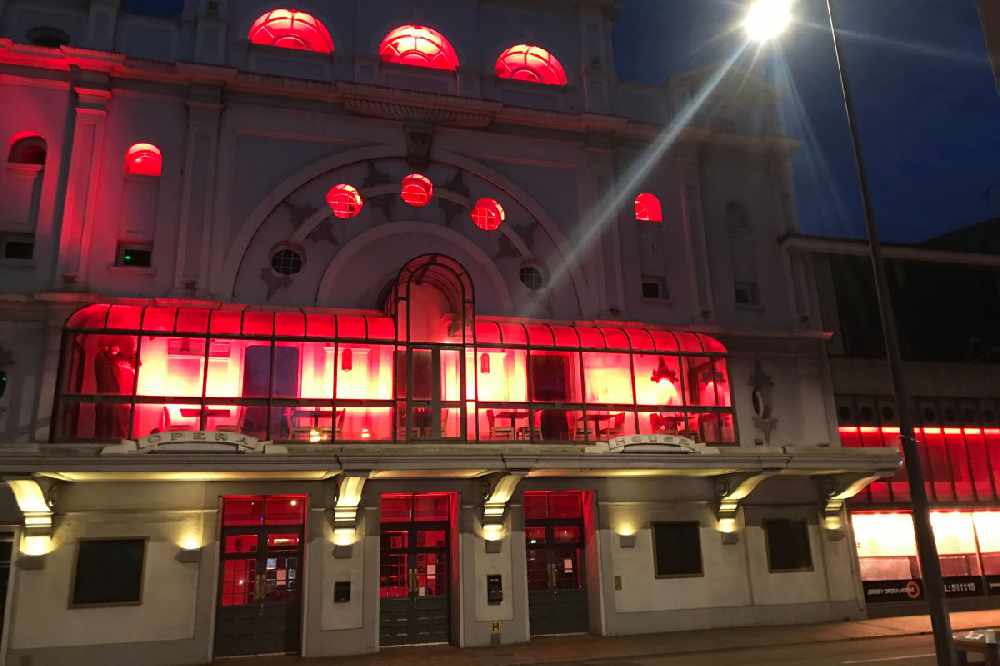 The Jersey Opera House was lit in red in July to highlight the crisis the events industry is currently in.
The Jersey Opera House has announced that it will stay closed until spring next year.
It was forced to close on 26 March because of the coronavirus pandemic.
In a statement, Theatre Director Jasmine Hendry says it's not financially viable to reopen under distancing guidelines - with fees, travel, accommodation costs and reduced seating all factored in.
"It is now five months since we had to close our doors on the 26 March and although we understand that here has been an easing of the restraints attached to lockdown for us as a theatre it is too soon to consider an opening date.
"We will therefore remain closed until spring 2021 and will keep you all updated on when reopening will be possible in a safe and controlled way."
All public performances to the end of the year have either been cancelled or postponed until 2021 or 2022, with refunds now being issued.
The Opera House was lit in red in July to highlight the crisis the arts sector was and are still in the midst of.
"Whilst our offices are closed some of us are still working remotely and focusing our efforts on the survival of the Opera House and ensuring that when we are able we can welcome you all back in 2021 with a new programme.
"We remain optimistic about our future but these times are especially challenging and difficult for theatres and all the cultural industries."
A fundraising page has been set up to support the Opera House, which you can access here.
A fiscal stimulus package announced by the government in July included a £50million 'Fiscal Stimulus Fund', which is open to government departments and arms-length organisations to bid for projects 'that will deliver stimulus to the economy quickly'.
Economic Development Minister Senator Lyndon Farnham said at the time that renovation work on the Jersey Opera House is a prime example of what some of that fund could be used for.