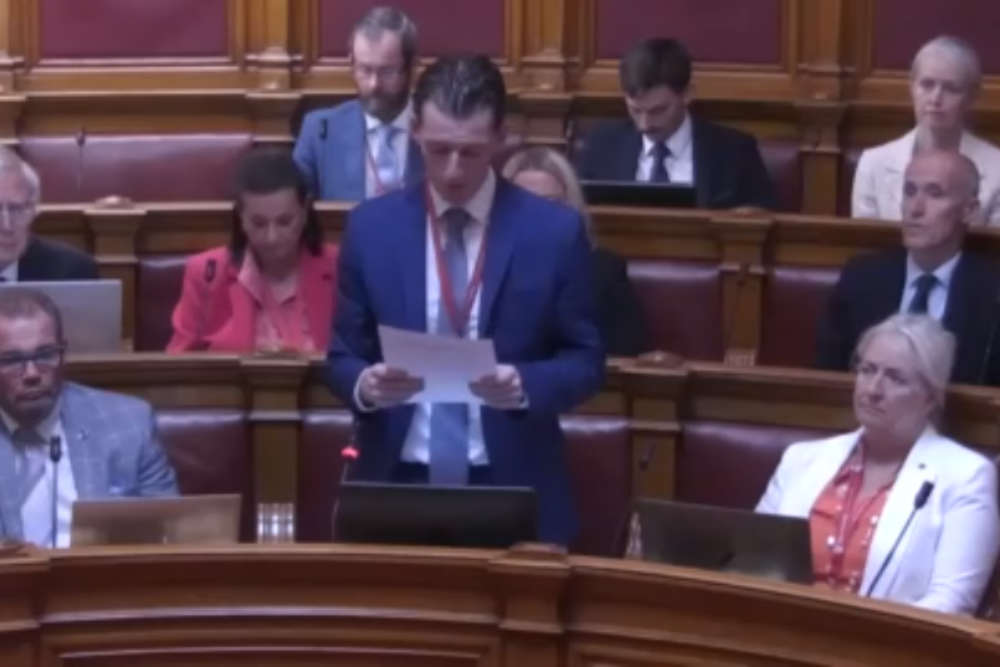 States members voted unanimously to censure, which is an official reprimand, Deputy Max Andrews of St Helier.
Deputy Andrews publically apologised in the States Assembly for what he has called a 'series of personal errors' which he says he regrets.
"I accept full responsibility for my actions and I wholeheartedly apologise to States Members and Deputy Scott and I hope members will forgive me for my actions."
He also opened up about having poor mental well-being and has sought help from the Privileges and Procedures Committee and the States Greffier, who have provided counselling.
"I've also made an appointment to see a psychiatrist because, inevitably, this situation has been too much for me to handle."
"I have also taken steps forward by attending the Listening Lounge and Mind Jersey too."
The vote to censure Deputy Andrews comes after Deputy Moz Scott complained about him to the Privileges and Procedures Committee.
The St Brelade deputy says she was uncomfortable after Deputy Andrews said she looked 'stunning' at a Dwaili event in October and on another occasion gave her expensive gifts.
Deputy Scott lodged another complaint following a confrontation on Liberation Day when Deputy Max Andrews challenged her on her previous complaint, before insulting her.
Deputy Moz Scott says the deputy forced her hand to complain to the Commissioner about his conduct.
"This was to provide context for his complaints and to prompt an independent and professional investigation of the matter.
"Subsequently, both of us have had to undergo a gruelling, public and unnecessarily costly process to reach agreement on what type of conduct is appropriate for a States Member and what most certainly isn't."
After investigating the incidents, the PPC labelled the behaviour 'inappropriate' and 'appalling'.
The committee's Chair, Constable Karen Shenton-Stone, stated to the Assembly regarding the censure:
"We did not make this decision to bring this vote of censure lightly, but we have accepted the Commissioner's findings that the code has been breached and agreed with the recommendations that the Commissioner made.
"We therefore requested Deputy Andrews apologised directly to Deputy Scott, which he has done, and an apology is also given to the Assembly, which we have just heard."
Chief Minister Deputy Kristina Moore says the ministers and assistant ministers are grateful to Deputy Andrews for his recognition and acceptance of this breach of the code of conduct.
"No member of this Assembly can ever take pleasure from these types of debates, and today, I can sense that everyone is quite uncomfortable.
"We all, of course, at times make mistakes, and when we do, the best response is to admit to those mistakes, to learn from them and move on.
"It is clear that the recent months have taken a significant toll on Deputy Andrews.
"We all need to look out for our well-being and that of our colleagues, and I hope that the Deputy will emerge from this period stronger and wiser from the experience."