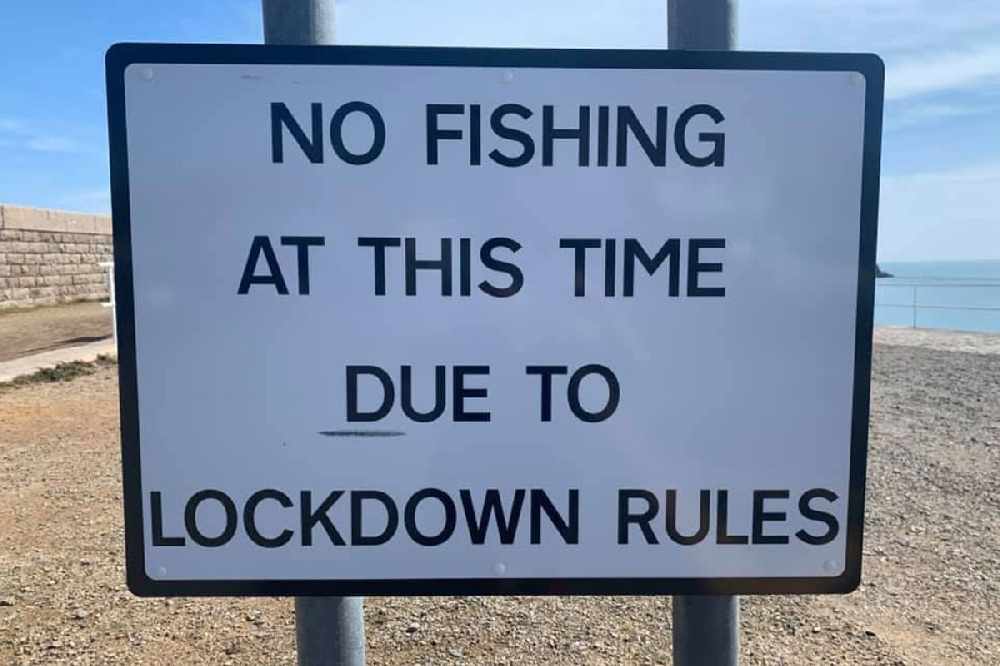 This sign has now been taken down following new advice.
Conflicting advice over recreational fishing has led to signs being put up and taken down within a matter of days at St Catherine's.
The Constable of St Martin has called on the government to offer absolute clarity on if it's allowed or not before the end of this week.
Karen Shenton-Stone says it's something she and others have been asking for over a number of weeks.
"We have asked for guidance from the government. We haven't had it yet.
"I do believe (Senator) Ian Gorst said that the Chief Minister and the Council of Ministers are meeting next week or they've asked their officers to give clear guidance, but actually we're not going to get clear guidance until early next week.
"I must say that's utterly ridiculous."
The Constable has sent an email to States members, including the Council of Ministers, calling for information as quickly as possible - particularly to help the Honorary Officers in this situation.
"I do appreciate all that is going on with Covid-19, I do appreciate how hard everybody is working but it would be really nice to know whether people are allowed to fish or not fish, as we're an island surrounded by water."
Islanders have also been asking questions for weeks on what is and isn't allowed with fishing.
When asked about it in an extended interview with Channel 103, Chief of Police Robin Smith explained what the police approach has been.
"In terms of fishing or whether it is surfing or indeed swimming, football on the beach and there will be a thousand others. I give the same answer and the answer is if you are able to do it in a socially distant way, that should be principle.
"If there were examples of surfers congregating over the weekend, but as they congregated they're all talking to each other, then that is a problem and the reason why we would respond to that.
"I go back to, can you do it in a socially distant way, whilst also being compliant with the other restrictions.
"We don't want to lose what we've achieved in the last four weeks and it's been absolutely miraculous, but that's not been without considerable amount of pain. We don't want to lose that in one weekend of fun, we just don't need to do that."
Channel 103 first asked the government about this a week ago and is still yet to receive a formal response.