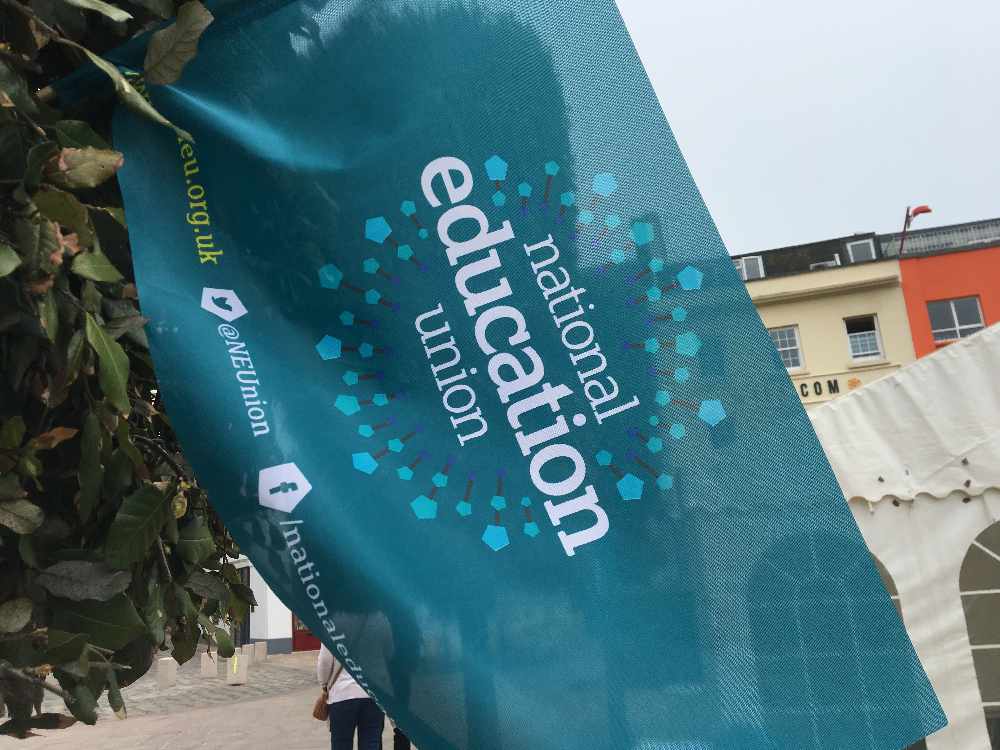 The Chief Minister has accused a teaching union of 'deliberately harming our children's education and causing cost and inconvenience to parents and employers.'
More than 200 NEU members went on strike yesterday in their row over pay. Seven more walkouts are planned for this month.
Senator John Le Fondre, who chairs the States Employment Board, says progress is being made with the NASUWT, but that the SEB can only conclude the NEU 'are not serious' about solving the dispute.
The government issued an update on negotiations following two days of talks - supported by arbitrators the Jersey Advisory and Conciliation Service - which took place on 26th and 30th April.
It says 'a breakthrough was made with the NASUWT, which represents 500 teaching staff.'
"NASUWT and the Government have agreed to detailed discussions on educational reform, which would generate savings to be shared with teachers through a higher pay offer from 2020, as well as strengthen standards across our schools."
Further talks with the NASUWT are planned for 7th May.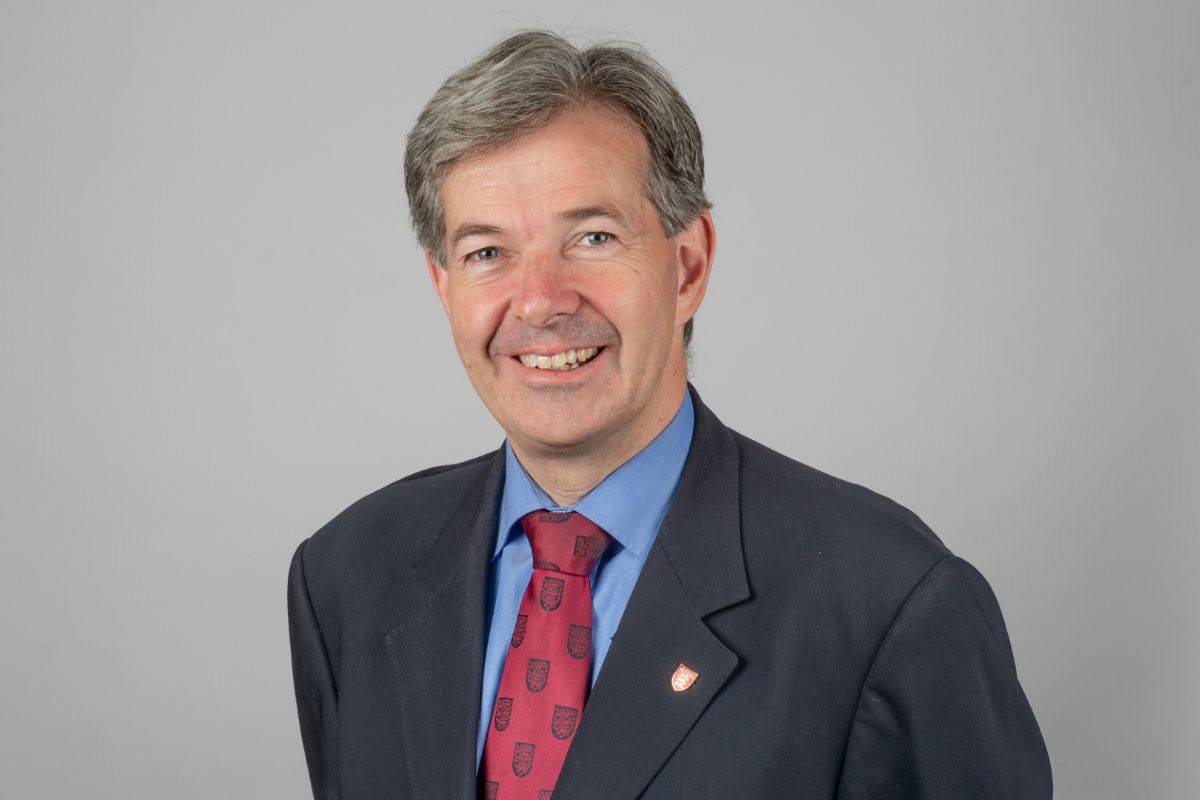 Senator Le Fondre has described a 'clear willingness' from the SEB and NASUWT to end the dispute.
But he says the NEU 'have stated that they will not take part in discussions about educational reform and securing higher pay rises through sharing savings'.
"We are extremely disappointed at NEU's stance, which is deliberately harming our children's education and causing cost and inconvenience to parents and employers. Given that we have agreed a positive way forward with the NASUWT, we can only conclude that NEU are not serious about seeking resolution."
The government released his infographic: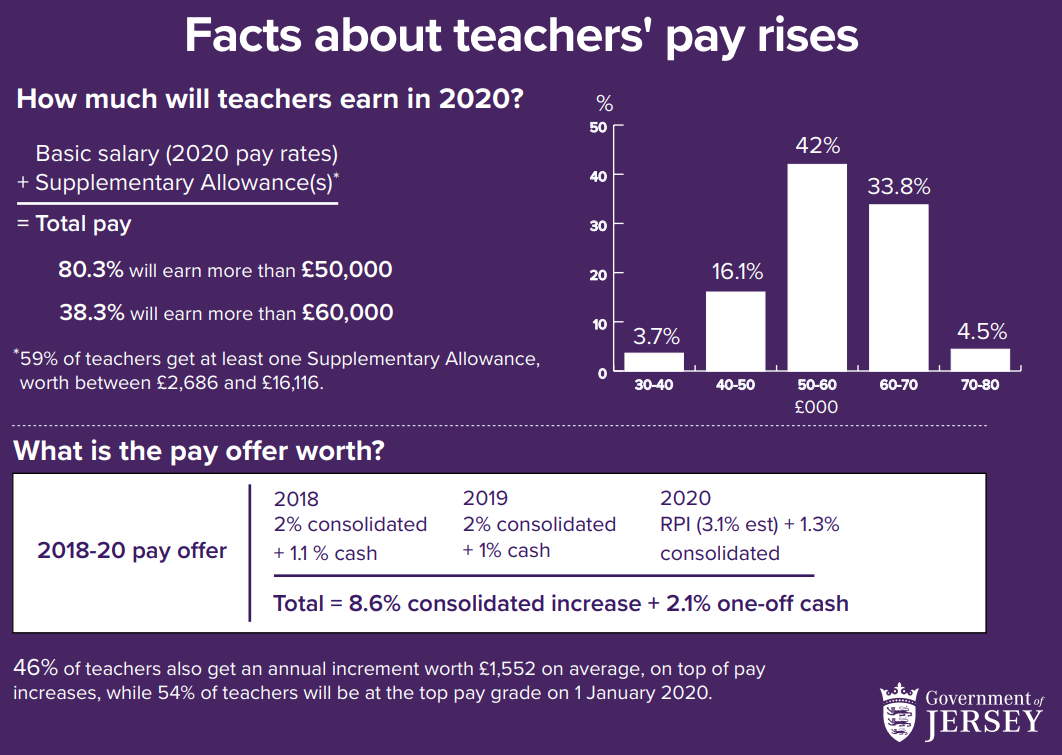 It's understood possibly extending the school day to give teachers longer lunch breaks and more INSET training days are among proposals the SEB has made.
NEU Jersey Branch President Brendan Carolan told Channel 103 that only more pay will end the row:
"Many of these things might not be too difficult to organise and we would possibly welcome them. But they will involve major discussion, there could be potential issues about which teachers will benefit and which will not, and we could end up with a separate dispute about terms and conditions when we have got enough on our plate with just simply the fact that teachers are not paid enough."
The NEU is understood to be asking for 2.1% above inflation for 2020. The offer on the table is for 1.3% above RPI.
Three quarters of almost 5,000 people who have taken part in a Channel 103 Facebook poll say they support the teachers who are striking.
Deputy GEoff Southern has said he will bring a vote of no confidence in the SEB to the States.
The NEU is due to stage further walkouts on 7th and 8th May.
The other possible strike dates are;
Wednesday 15th May
Thursday 16th May
Tuesday 21st May
Wednesday 22nd May
Thursday 23rd May
The NASUWT continue to take action short of a strike, with members refusing to cover for absent staff.
The union agrees there has been a breakthrough in negotiations, but insists that 'nothing is agreed until everything is agreed'.
NASUWT Rep Marina Mauger says the reforms under discussion are 'very different to what's being put to the NEU'.