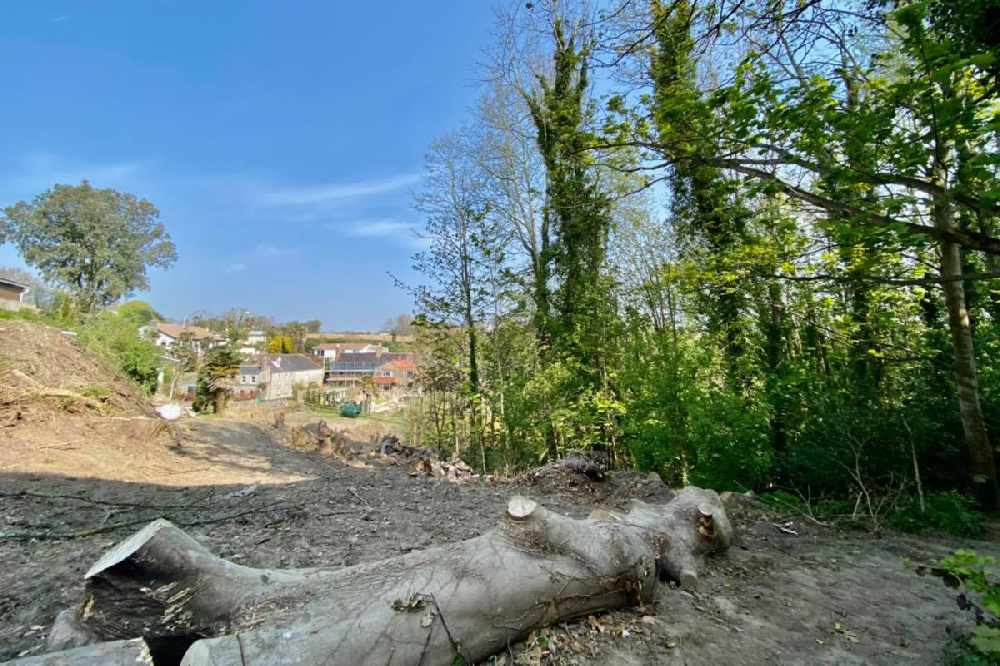 Woodland near d'Auvergne School. Picture Credit: The Good Jersey Life
A Jersey Deputy has called for new legislation to make sure islanders have full confidence that our natural environment is being managed responsibly.
It's after a huge outcry from many people at seeing woodland cleared near d'Auvergne school. Sheena Brockie said she felt 'sick to her stomach' upon seeing it.
Deputy Inna Gardiner has spoken to the landlord and discovered that it's being restored back to a usable state to create outside green space for two families.
She says it's being cleared of three non-native and invasive species, including Japanese knotweed, which is threatening to spread onto the adjacent National Trust land.
Deputy Gardiner says if legislation was in place, she's confident this landowner would get permission to do this work.
"I don't want to see that somebody who has ownership of the woodland - one day waking up and cutting the woodland (down).
"We need to have a process in place for why it needs to be cut like there is in other jurisdictions.
Deputy Gardiner revealed to Channel 103 that the landowners bought the derelict house, which needed major regeneration, and that the area had used for fly-tipping 'for an extended period of time'.
More than seven tonnes of rubbish such as washing machines, oil drums, car batteries, steel rods, barbed wire, shopping trolleys, and poo bags have already been cleared, with more to go.
Deputy Gardiner also says the landowners have made it clear there are no plans to build houses on this land.
The current law to protect trees has been called 'quite inadequate' by Jersey Trees for Life. It has also suggested that the motivation to uphold the current laws was 'lacking' and promised to lobby for improvements to build a greater understanding of the laws in place.
The Environment Minister Deputy John Young disputed that and says work to draft a new law to improve protection has been delayed because of a lack of department resources.
Deputy Gardiner says she's concerned to see that work on the environment is being delayed.
"Somehow, the tree protection and even my single-use bag proposition was pushed back.
"We need to get our environmental protection back on the agenda."
The States agreed in June last year that the sale of single-use plastic and paper bags will be banned in Jersey by the summer of 2021, but that is due to be delayed.
It's been recommended as part of a consultation that a bag for life should cost at least 70p, as Jersey retailers prepare to make do without single-use bags.