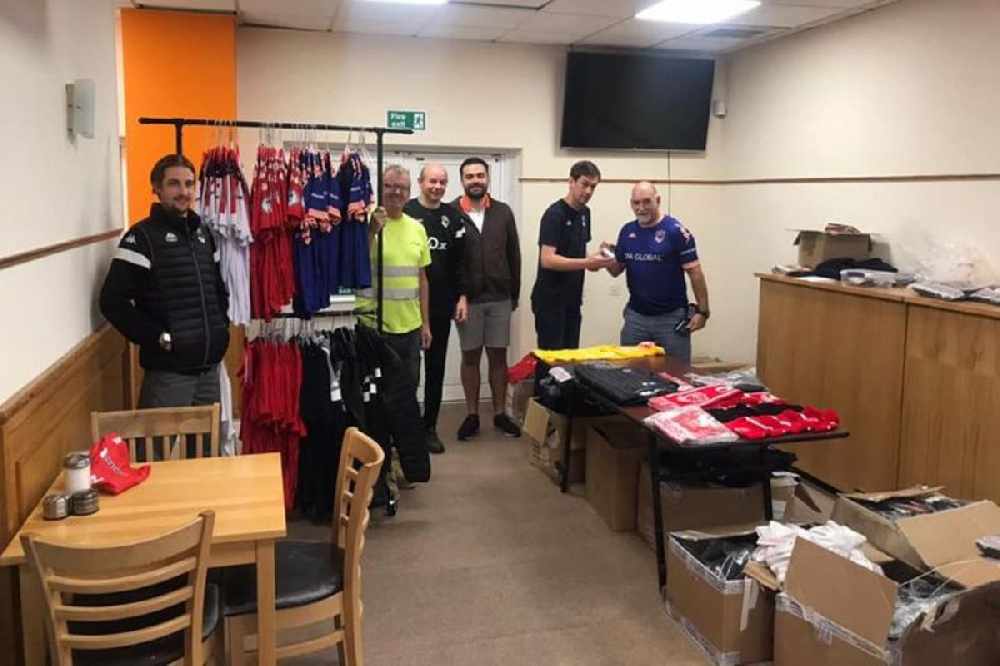 Jersey Bulls held a pop-up shop this past weekend to raise much-needed funds. Picture Credit: Jersey Bulls.
Jersey Bulls could start playing home games in the UK from late next month because on-island coronavirus restrictions continue to prevent them from playing at Springfield.
The club doesn't expect that to change until next year.
The government guidance in Level 1 of its safe exit framework states:
"Owing to the changing situation concerning visitors arriving from outside of the Island, it is strongly recommended that event organisers do not organise an event that is reliant on external visitors or guests."
That guidance is due to be reviewed next month.
All four Bulls matches so far this season have been away fixtures - which included a dramatic 3-2 win at Ash United on Saturday.
FULL TIME: Ash United 2-3 Bulls

10 men Bulls come from behind to claim a brilliant victory thanks to a Solomon brace and Illingworth's single!

An incredible performance from the lads.

Massive 3 points! Well played boys!#BackTheBulls pic.twitter.com/vFlzvhKGLz

— JerseyBullsFC (@jersey_bulls) September 26, 2020
Club Director Ian Horswell says officials are looking at 'green areas' in England for home matches as an alternative to playing in Jersey.
"Our chairman Russell Le Feuvre has been speaking to a couple of clubs that have a 3G artificial surface similar to Springfield (Stadium), not just because we want to be playing on the same surface as what we would do at home, but we've got the certainty if we do go away for games, especially as we start getting into the winter weather, that those games will be on."
The Bulls had to play a couple of games on Friday nights because of the time to get test results back. However, now the testing lab is underway and the average turnaround time is decreasing, games can be played on Saturdays, tests can be done on Sunday mornings with results back in time for players to return to work on Monday.
The club is forced to always travel the day before matches now that the Saturday night Heathrow flights are no longer running.
It's likely that two or three games will have to be played on some weekends to make sure the season can be completed this time around.
The first double-header takes place next weekend, with a Friday night game against Eversley & California followed less than 24 hours later with a match at Chessington & Hook United.
The current fixture list only runs until the penultimate week of October. The rest of the season's games are likely to be confirmed within the next seven to ten days.
"One thing we were certain of is we wanted to play this season, if it was at all possible. We want to gain the promotion that we achieved last season.
"We spoke to the management team and said things are going to be tough, we might play two or three games in a weekend at some point. That would mean you get weekends back where you don't play where there is less pressure on the testing.
"The bottom line is - Jersey Bulls shouldn't be in the league they're in."
While fans have been unable to watch in person, they have clubbed together to pay for games to be streamed back to Jersey.
In order to raise much-needed funds, a pop-up shop event took place at Springfield Stadium over the weekend, which will continue for the next few weeks to encourage supporters to use their £100 spend local cards on Bulls' merchandise.
Our Pop-Up shop is now open down at Springfield Stadium! Come on down and say hello whilst buying some Bulls merchandise! 👋

Open until 2pm! 👏⚽️#BackTheBulls #SupportLocal pic.twitter.com/lbltOPrieo

— JerseyBullsFC (@jersey_bulls) September 26, 2020
"Our fans young and old turned out in good numbers to support the club. It was excellent, it was probably higher than average sales takings which was great.
"Obviously because of Covid and the situation we're in this season, we're missing out on having at least 20 opportunities to sell our merchandise and kit to our fans. We don't know when that's going to change, so just like any business that thrives on these 20 paydays that we get during a season, that puts a significant strain on the football club.
"Any of the fans that want to come down to see us at the pop-up shop, we'll be doing that for the next three Saturdays (3,10,17 October) and we look forward to seeing them!"