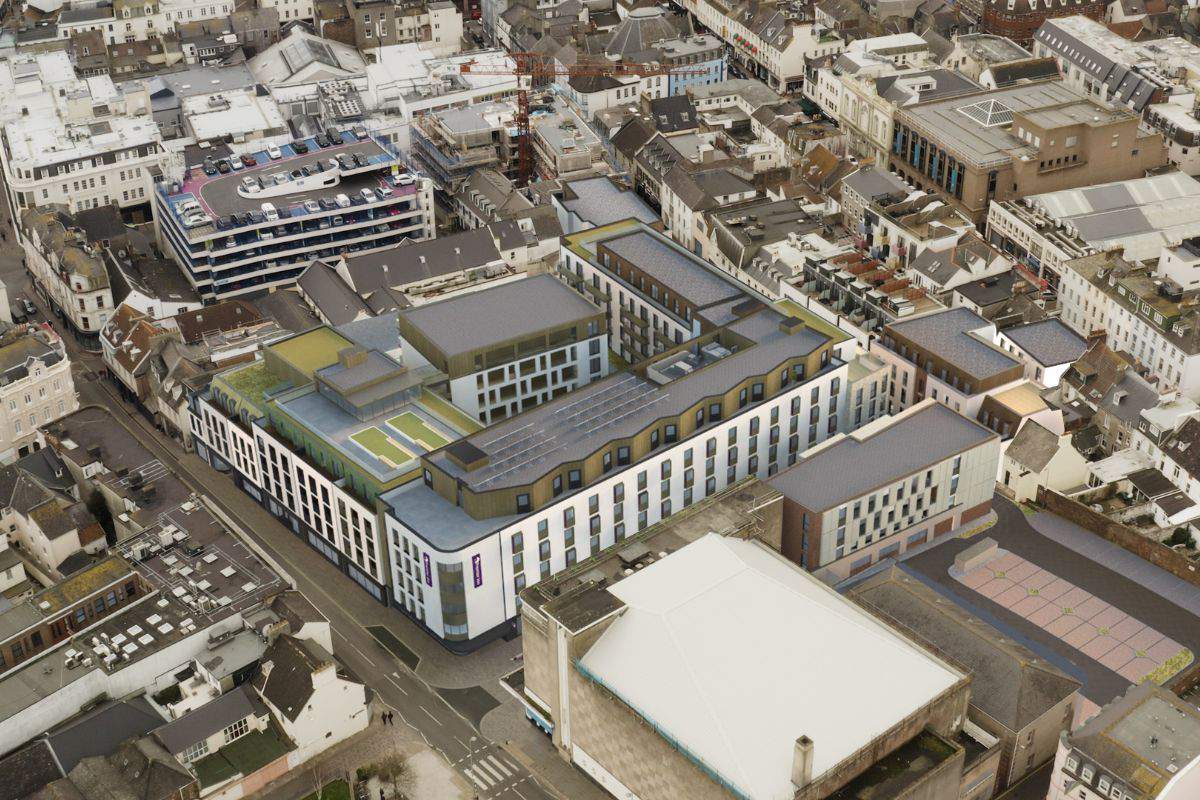 The National Trust for Jersey has criticised Le Masurier's plan to build a Premier Inn on Bath Street, because two historic buildings would be lost.
The Regency-era townhouses will be demolished if permission is given for the new hotel, apartments, restaurant, bar and shops.
Campaigners 'Save Jersey's Heritage' have suggested an alternative that would preserve them:

Alternative plans from 'Save Jersey's Heritage'
National Trust CEO, Charles Alluto says the development could jeopardise attracting visitors to the island:
"People are not going to come to Jersey to go to a place which just looks like somewhere in one of the cities in England. We've got to retain a distinctive sense of identity, and that's part of the attraction. Over 70% of visitors have said that's important, and we should consider that if we want Jersey to have a viable future in tourism."
Property developer Le Masurier has responded to criticism, saying it has already carried out its own Heritage Impact report, which found the building is badly damaged.
"Le Masurier has carried out a comprehensive Heritage Impact Assessment Report, as part of our detailed planning application for the Bath Street Redevelopment. The report highlights that the exterior, interior and setting of 92 Bath Street has been significantly damaged and, indeed, the Listing does not extend to the pair of buildings (i.e. 90 Bath Street).
Le Masurier's plans include a new Premier Inn hotel.
It has also promised to save the listed features like a mahogany staircase, wood paneling and fireplaces - which it says could be re-used by heritage groups:
"The schedule limits internal interest to features including a mahogany staircase, some paneled doors and matching joinery, windows with paneled lining and bedroom fireplaces. Le Masurier is sympathetic to any listed structure and we have offered to carefully remove and salvage these listed features, where possible, so they can be re-appropriated by heritage groups.
"It is also important to understand the commercial and economic reality of funding and delivering a major regeneration project of this nature. Le Masurier has undertaken viability testing of a number of alternative development options for the site, including the retention of existing buildings. The submitted planning application is, therefore, the outcome of a robust design and development analysis to ensure that our regeneration proposals are appropriate, viable and deliverable."