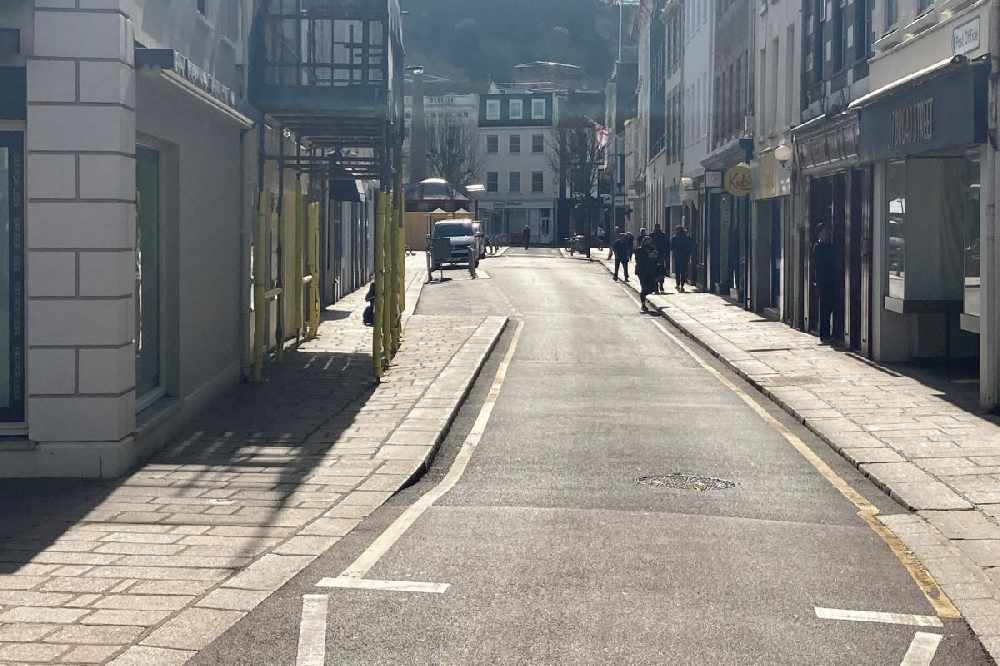 The Constable of St Helier has requested that Broad Street stay closed to vehicles for the rest of 2021.
It has been given pedestrian priority between 7am and 11pm every day since Saturday 23 May, with the aim of encouraging physical distancing and allowing more space for al-fresco dining.
Infrastructure Minister Deputy Kevin Lewis said in the States last week that he's planning to reopen the road 'when it's safe' - adding that anyone who disagrees will have to lodge a proposition.
That's what Constable Simon Crowcroft has done - he says the need to make our town centre welcoming and attractive has become even more pressing with the increased reliance on online shopping and working from home, which are likely to reduce football and threaten retail and hospitality.
"If the proposition is approved, and subject to the relaxation of public health restrictions, it is planned to introduce a host of activities and events, providing an extra incentive for Islanders and visitors to spend time in St Helier.
"The Parish receives a steady stream of requests for locations in town for 'pop up' stalls, art displays, music and performances, sponsored activities in support of local charities, et cetera, and Broad Street can provide a home for these."
The Constable says it's regrettable that the government wants the road to reopen in the same format, and he finds it difficult to understand the government's reluctance to 'build back better' in Broad Street.
"The work that was carried out around the Le Sueur monument at the turn of the Millennium, restoring the fountains and lights and creating a new square at the top end of the street, has more recently been complemented by the paving of Sand Street and improvements to Charing Cross; in recent times these have led to a burgeoning in retail and hospitality activity in that area and, with plans now passed to introduce a water feature into La Croix de la Reine, there is no doubt that we are on the cusp of realising a major improvement to St. Helier's public realm.
"No one who visits the excellent new Santander 'work café' in the former Thomas Cook building, and looks past the seating and the crapaud on its plinth, can fail to be struck by the opportunities offered by a second pedestrian-priority route in the heart of town, opportunities that will be lost if Charing Cross is once again bisected by nose-to-tail traffic belching fumes as drivers seek an alternative to the congested Ring Road."
If the proposition is successful, Deputy Lewis will have to present a report at the end of 2021 to decide whether this should become permanent.