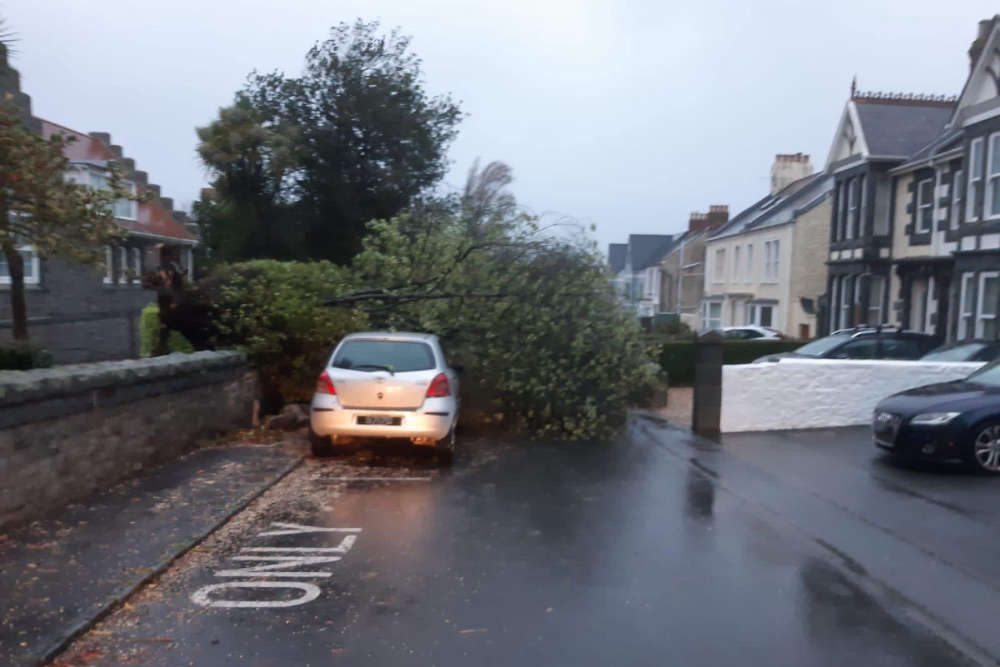 Trees are down but there are no reports of substantial damage so far, unlike Jersey, where 40 people have had to be moved from their homes and three were taken to A&E.
The latest update from police (08.30) is that trees are down on Queens Road, St Julian's avenue, Le Vauquiedor and King's Mills.
Debris has also been reported on the Charotterie.
Emergency Services are again urging islanders to stay at home, as cars are slowing down their work and makes the areas more dangerous.
Police reported some initial flooding along the east coast yesterday evening as the storm moved in, as forecast, from a south easterly direction.
It then swung to a westerly in the early hours and it's along the west coast that Police are warning of the potential for flooding.
High tide is just before 9am and that's when winds are expected to peak, before easing only gradually over the morning and into Thursday afternoon.
Police advice, and that of the States, is to stay at home and only travel if absolutely essential. Schools, States buildings, many businesses and the airport are closed.
The harbour is open but no sailings are expected. It's a similar situation in Alderney.
The situation in Jersey has been far more serious. A major incident was declared at midnight.
Overnight, their emergency services had to relocate 40 people to hotels or parish halls after their homes were damaged.
Three were taken to hospital. Police in Jersey saying they've been dealing with hundreds of calls related to storm damage. Winds have gusted at near 100 mph.
The situation across the islands is ongoing. The States has a dedicated web page for updates.
Keep tuned to Island FM for the latest.