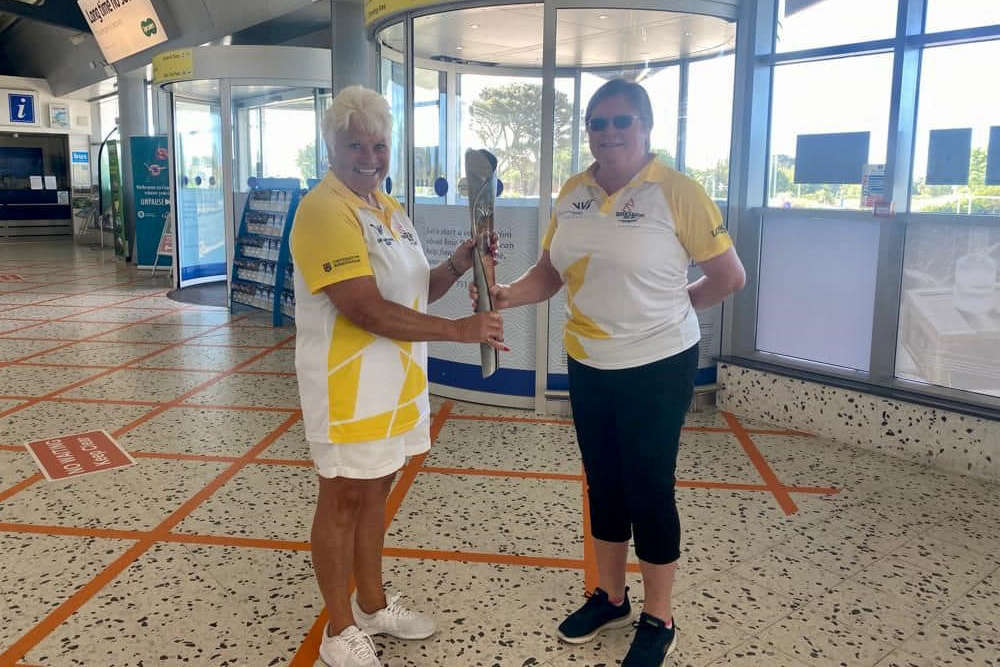 Image Credit: Commonwealth Games Association of Jersey
The Queen's Baton relay has arrived in Guernsey following a two-day stint in Jersey.
The Commonwealth Games 2022 begins on 28 July when the Queen's Baton relay arrives in Birmingham.
It started its journey from Buckingham Palace in October, where it's been travelling around the 72 nations and territories of the Commonwealth.
Before leaving Jersey yesterday, the Baton was transported along a stretch of the island's south coast in a community rowing boat dedicated to the late broadcaster, Gary Burgess.
Guernsey school children and the athletes competing for the Bailiwick at the Commonwealth Games this summer will present the Baton to the Bailiff and the Lieutenant Governor, Lt General Richard Cripwell.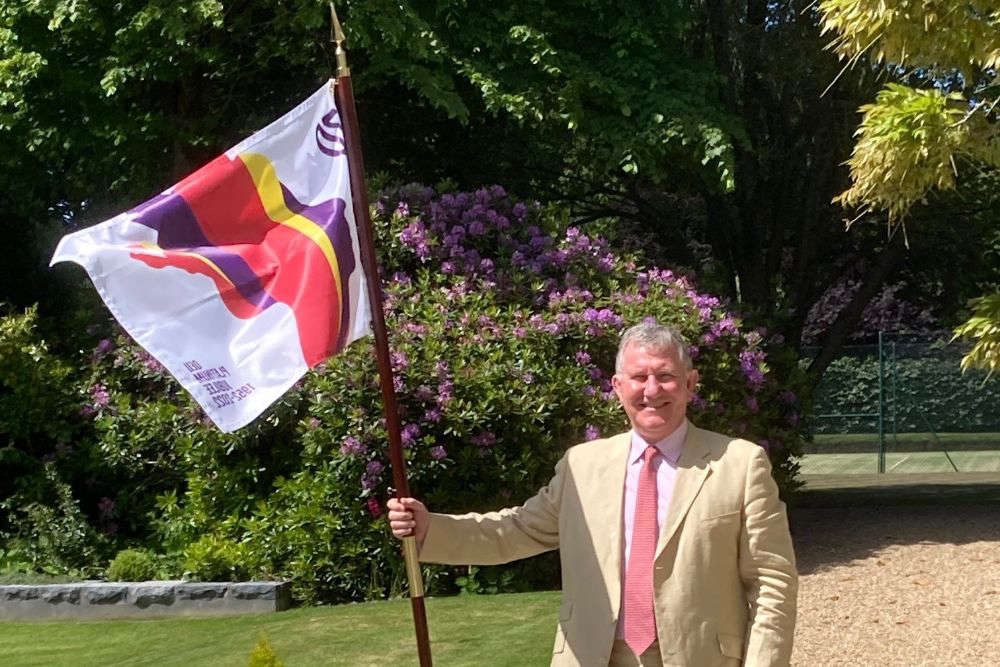 The Lieutenant-Governor, Lt Gen Richard Cripwell, holding Guernsey's Platinum Jubilee flag
The Baton will also be appearing at a number of locations around the island over the next few days for the public to see.
You can view the full schedule for its time in Guernsey below:
Sunday 12 June
12.30pm - 3.30pm: Cricket acitivites at KGV and public viewing
Monday 13 June
9.15am - 9.35am: Ferry Guernsey to Herm with Travel Trident Ferry
10.15am - 10.45am: "Herm School children activities at White House Hotel lawn or beach or school room - weather depending"
11.30am - 11.45am: Ferry Herm to Guernsey with Isle of Herm Ferry.
1.00pm - 1.30pm: "Lt Governor, Lt Gen Richard Cripwell School children activities in Government House grounds"
3.00pm: Beau Sejour - public viewing in foyer or concourse
4.00pm: Beau Sejour, - swimming pool session - training activities
4.45pm - 5:15pm: Beau Sejour - public viewing in foyer or concourse
Tuesday 14 June
9.00am-9.30am: "Bailiff of Guernsey, Richard McMahon. Patron of GCGA Bailiff's Chambers, Royal Court Building"
11.30am - 1.00pm: "Castle Cornet & noon day gun, QBR Team or athlete to fire noon day gun"
4.30pm - 5.30pm: "Triathlon athlete training session at Pembroke beach Water transition practice"
6pm - 7.30pm: Athletics session at Foote's Lane plus public viewing