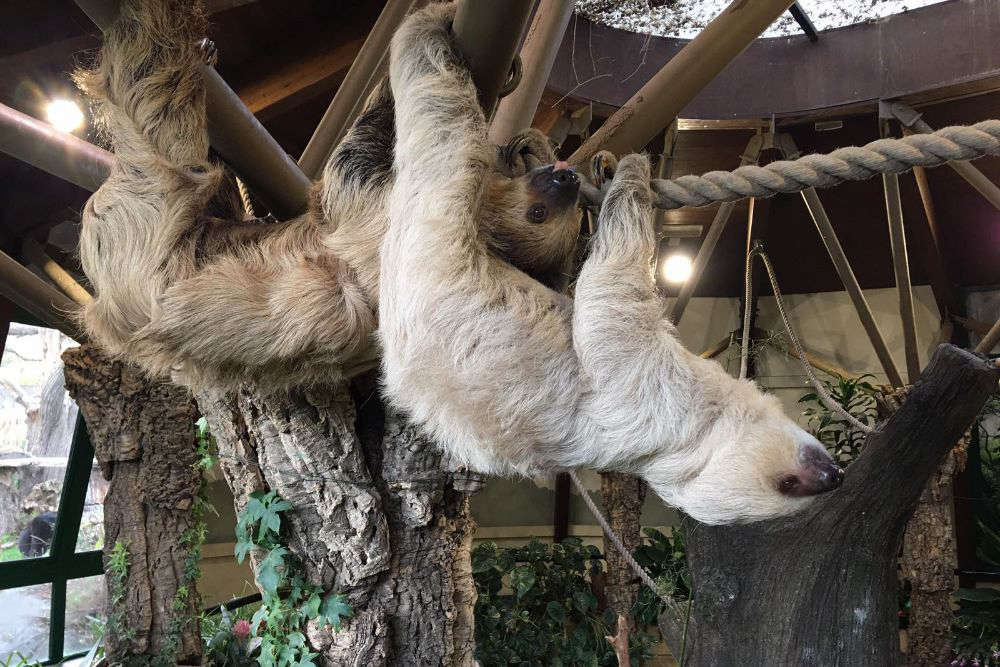 Photo: Leila Boyd, Jersey Zoo.
Durrell has responded publicly to concerns about animal welfare at Jersey Zoo.
The wildlife charity's board of trustees has issued a statement, in response to a letter from a former employee which was posted online.
The claims were mainly about the sloth-house, the goats and aardvarks.
An extract of the letter from Joya Ghose to Durrell's trustees:
"Staff and volunteers are always extremely reluctant to make a fuss in public, in case they damage the reputation of the charity for which they have worked so hard, even when they, or some of the animals, are being poorly treated. But anyone with the slightest bit of knowledge about sloths or aardvarks can clearly see that their enclosures are sub-standard, and some of our colleagues in other conservation establishments are already beginning to ask "what is going on at Jersey Zoo?"
The trustees say they received the letter earlier this year, and independent experts on its Audit and Risk Committee did a full review of the allegations.
The committee includes the CEO of Marwell Zoo in Winchester, a retired vet, and ' two staff who serve as inspectors on the European Association of Zoos and Aquaria's (EAZA) accreditation programme'.
The trustees say the review found no concerns.
"All Committee members were fully satisfied with the review's conclusions and have no concerns with the welfare and management of these species or people at Jersey Zoo. The complainant was advised of these findings and previously invited by Durrell's Chair of the Board of Trustees to meet and discuss these perceived issues. Unfortunately, this invitation was not acknowledged or taken up by the author."
Last weekend Joya Ghose put her original complaint letter on social media.
Durrell says the States Vet has made an extra visit this week:
"They did not highlight any welfare concerns for sloths, goats and aardvarks, which are the focus of the author's concerns. Durrell also has an in-house vet team, to continually monitor animal health and welfare."
The board says it fully supports the CEO and senior management team.
"The Board deplores malicious or ill-founded accusations against individuals who care passionately for our animals, are united in their aim to make Durrell the pinnacle of conservation excellence, and who strive daily to continue our Founder's legacy within a modern and forward-thinking framework."
Channel 103 asked Durrell if it would put a trustee or the CEO forward for interview, but the charity told us it has no further comment at this time.
States Vet Susana Ramos is on leave and not available for interview, but has provided this statement:
"The animals at the zoo are under constant vet care. The Animal Health and Welfare Team inspects the zoo frequently and have found no reasons for concern in terms of animal welfare.
On this most recent visit, I did not highlight any welfare concerns regarding the sloths, goats and aardvarks.
The Veterinary Team in Jersey Zoo maintains a good working relationship with Jersey States Vet Department."