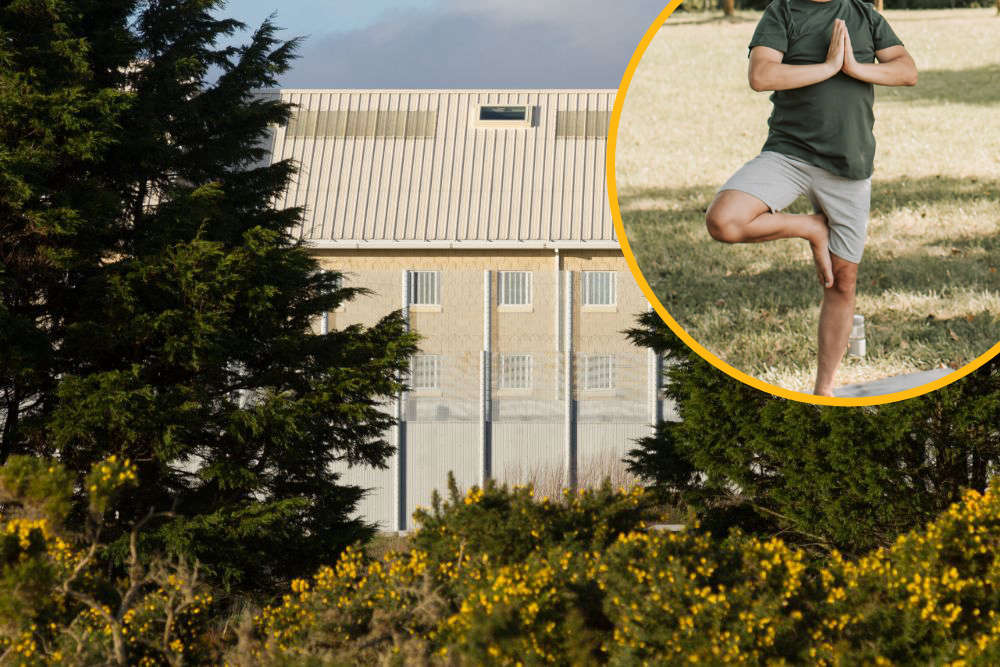 A Jersey government grant is funding yoga and Wim Hof techniques for inmates at La Moye prison.
HMP La Moye has received funding from Connect Me: Connecting Our Communities - a government-run scheme that provides up to £5,000 for projects that increase opportunities for islanders to take part in the arts and physical activities that improve wellbeing.
The money has enabled the jail to expand the activities it can offer in its 'Releasing Better Neighbours'* programme.
Inspired by the Norwegian approach to rehabilitation, the programme aims to create a stronger community and show prisoners more is available to them on the outside.
The added activities include doing yoga and learning the Wim Hof method - a three-pronged approach to living a better life, combing breathing techniques, cold exposure and commitment.
The Dutch motivational speaker, dubbed the Iceman, promotes techniques for managing pain and anxiety.
Creative writing is also taught as a way for prisoners to release their thoughts and feelings healthily.
Inmates can also take up gardening, where they grow vegetables that will be used in the prison's kitchens, as well as flowers and other plants which can be given to charity.
Other work opportunities include learning carpentry, which sees the creation of garden beds and dog bowls, and at Christmas time, they make reindeer.
Additionally, there is a new bike workshop, which teaches basic mechanics at City and Guilds level.
Alternatively, prisoners can learn painting and decorating at level two City & Guilds standard, which they can use on the outside to create a living.
*Releasing Better Neighbours drawns on Norway's 'Seven Pillars of Recovery' method, which includes giving inmates the right tools to transform their lives.
The method finds that those convicted of a crime are less likely to re-offend if people treat them with respect and provide them with opportunities.
Addressing the negative behaviours through correction and mechanisms gives criminals the chance to break the cycle of crime and reintegrate into society.
At HMP La Moye, '7 Pathways' focus on:
Accommodation – Support prisoners to secure stable housing upon release;
Children and Family – Maintaining positive relationships with family and friends;
Substance Misuse – Addressing and educating about addictions;
Thinking and Behaviour – Addressing attitudes, thinking and behaviour from a forensic psychology viewpoint;
Finance Benefit and Debt – supporting and providing education around financial literacy and wellbeing;
Education Employment and Training – Offering employment opportunities, training and education;
Health – Supporting physical and mental health whilst in custody and preparing for release.