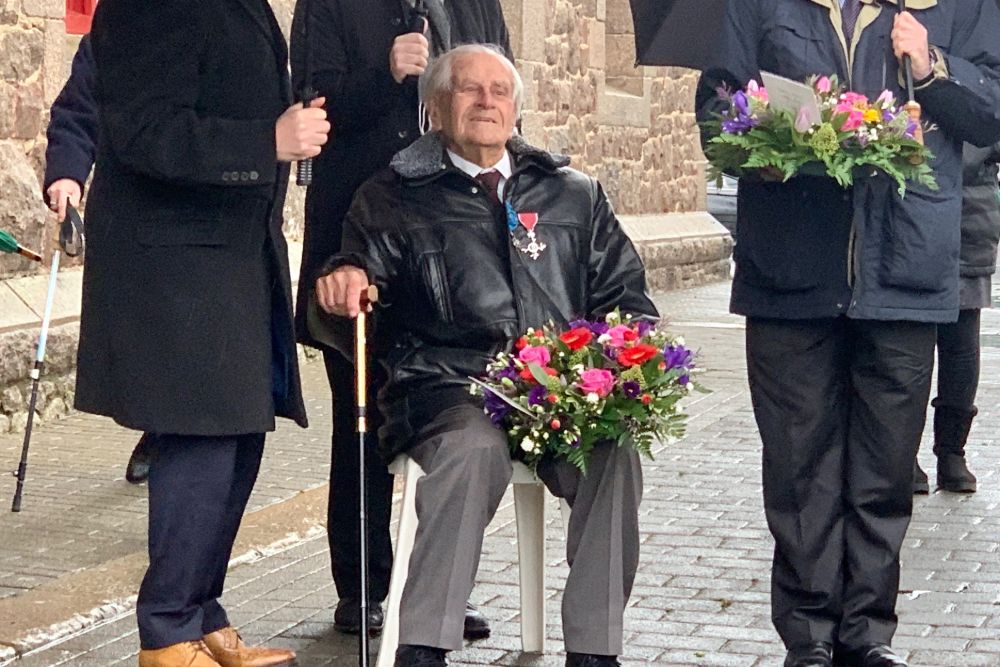 Bob Le Sueur, who risked his life to help escaped Russian slave workers during World War Two, has died aged 102.
The Occupation hero was well-known by islanders for his selfless acts of bravery when Jersey was under Nazi rule.
Mr Le Sueur - in his early twenties when German soldiers had control of the island - sheltered and protected a number of prisoners of war.
He was made an MBE in 2013 for his lifesaving actions.
Mr Le Sueur was a regular attendee of annual commemorative events, including Liberation Day and Holocaust Memorial Day, and regularly shared his personal accounts of the Occupation.
His memoir 'Growing Up Fast', compiled by journalist Chris Stone, was published in 2020.
That same year, as he turned 100, he told Jersey Heritage his Liberation story:
Bob Le Sueur

DEFINING MOMENTS Having just celebrated his 100th birthday, here is Bob Le Sueur telling us his Liberation story. Bob was unexpectedly overcome with emotion, having witnessed a symbol of the Allied victory. He describes the abiding significance of the moment in this film created from recordings for our 'Liberation 75 - A Day to Remember' exhibition. 'Liberation 75 - A Day to Remember' is FREE and open daily at Jersey Museum & Art Gallery. DEFINING MOMENTS #lib75 @lib75jsy

Posted by Jersey Heritage on Monday, October 5, 2020
He most recently made the news earlier this year, shortly after the Russian invasion of Ukraine began.
At 101, he challenged himself to walk 100 steps a day of his garden to raise money for refugees fleeing the conflict.
He completed 5,000 steps in a little over a month.
Tributes to Mr Le Sueur have been pouring in since news of his death at the weekend.
Jersey's Bailiff Sir Tim Le Cocq called him 'one of the great Jersey men of his generation'.
"A man of real principle, he continued to champion the causes he believed in throughout his life.
It was a privilege to have met him, he is an example to us all and he will be long remembered."
Chief Minister Deputy Kristina Moore said: 'Every person fortunate to meet or know Bob Le Sueur knew what a humble yet great islander we had amongst us.'
External Relations Minister Deputy Philip Ozouf shared a photo of a plaque on York Street that bears an inscribed quote.
So very sad to learn of Bob Le Sueur MBE's passing aged 102

Amongst his many 🇯🇪contributions was the assistance he gave to escaped Russian prisoners-of-war

His formidable intellect, wisdom, charm and humour inspired and helped many

He will be sadly missed

RIP #BobLeSueur pic.twitter.com/LYpFWJuJjF

— Philip Ozouf 🇯🇪 (@philipozouf) November 6, 2022
Jersey Heritage paid its own tribute:
Farewell dear Bob Le Sueur. A very special Jerseyman whose tales of the Occupation were so full of humanity and compassion.

Rest in peace. #JerseyCI#BobLeSueur pic.twitter.com/vbNCgwkNOp

— Tracy Mourant (@TracyMourant) November 5, 2022
Very sad to hear of the passing of Bob Le Sueur MBE, an Old Victorian who I had the pleasure of meeting on a number of occasions. His story and heroism during WWII will forever be remembered. https://t.co/Lm7ymb1Fcq

— Victoria College CCF - Contingent Commander (@VCJ_CCF_CC) November 6, 2022
Very sad to hear of the death of Bob Le Sueur, Jersey's Occupation-era legend, & the first person who contacted me when I began my occupation research in 2006. He helped hide slave workers and shared many stories with me in letters and interviews. RIP Bob. https://t.co/ApVXKd43m9

— Dr Gilly Carr 🇪🇺🇺🇦🇺🇦🇪🇺 (@CarrGilly) November 6, 2022