Three women from Jersey are in lock-down in a Tenerife hotel where they have been four confirmed cases of coronavirus. 
The trio - due home this weekend - are now in quarantine in the H10 Costa Adeje Palace.
They are among 160 Brits contained in the holiday accommodation in the Canary Islands.
Guests are having their temperature checked regularly, but many have criticised a lack of information about how long they will be kept there.
Jersey's authorities have confirmed a 'handful of islanders' who have recently returned from the same hotel have been told to self-isolate.
It includes some De La Salle pupils who have been told to stay home.
In an email to parents, the college said it had 'instigated a deep clean' in areas where the pupils had spent time this week, and students would be given hand-sanitiser after breaks.
Two more cases of the illness have been confirmed in the UK, bringing the total there to 15.
We're told they picked it up in Italy and Tenerife before travelling to the UK. They are now in specialist NHS infection centres.
There's more on the latest developments globally and nationally here
The latest advice from Jersey's health officials about who should remain indoors to prevent the spread of coronavirus can be found on the Government of Jersey website.
This decision-tree about Coronavirus has been created as a simple guide: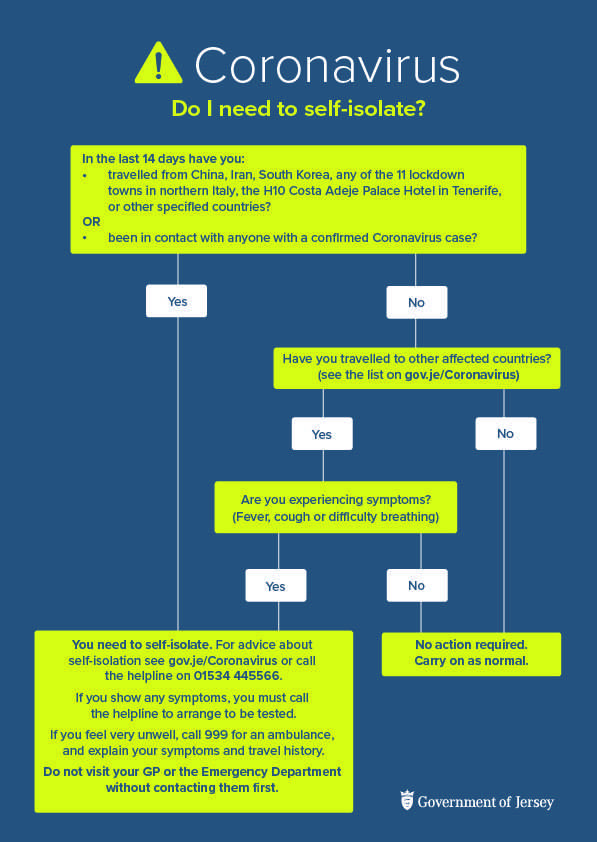 The Health Department is operating a helpline for anyone with concerns about COVID-19. You can call 01534 445566 between 8:30am and 11pm.