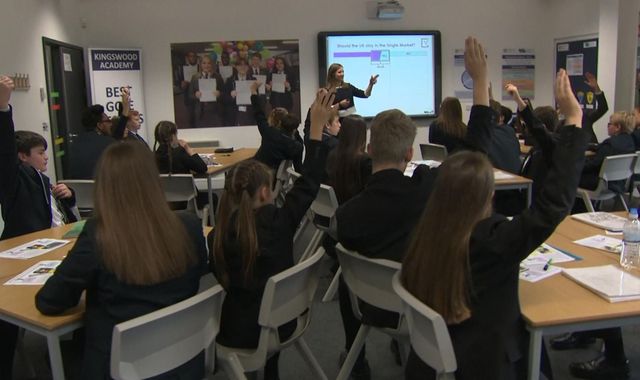 Teachers have been offered an above-inflation pay rise for next year
A fresh offer has been made in the ongoing pay dispute.
Teaching unions received a formal letter from the States Employment Board on Tuesday afternoon.
They had suspended strike action planned for that day.
The three year deal would mean accepting the 2% rises imposed for last year and this, with the promise of 1.3% above September 2019's RPI for 2020.
The offer is for a 3-year agreement covering the period 1st January 2018 to 31st December 2020 and provides the following:
For 2018: 2.0% consolidated increase wef 1/1/18; plus 1.1% unconsolidated wef 1/1/18
For 2019: 2.0% consolidated increase wef 1/1/19; plus 1.0% unconsolidated wef 1/1/19
The above having already been imposed and;
For 2020: a rise equivalent to the September 2019 RPI (all items index) plus 1.3%, consolidated, and paid with effect from 1/1/20. There are no minimum or maximum caps attached to this offer.
The NEU says it will be balloting members, without recommending whether or not it should be accepted.
"The survey will be sent out by email in the near future and we are asking members to reply speedily so we can inform the States of their response." - NEU Regional Secretary, Andy Woolley
A statement from the Government of Jersey says the 'SEB has decided to use the greater flexibility available after the Medium Term Financial Plan to authorise offers for 2020 that take account of the impact on employees of the pay restraint that has been in place in recent years.'
September's RPI has been forecast at 3.4%, so the offer could potentially mean a 4.7% pay rise for teachers from 1st January 2020.
Chief Minister, Senator John Le Fondre hopes it will be accepted:
"These pay offers for 2020 demonstrate that the government genuinely values our employees, and that we have listened to their concerns, and that we wish to ameliorate the impacts of pay constraint and the rising cost of living in recent years."
JCSA Prospect says there has been not revised offer made to civil servants 'at this stage' and that talks are ongoing.
Nursing unions also remain in mediation with the SEB after the RCN authorised a ballot on strike action for the first time ever.