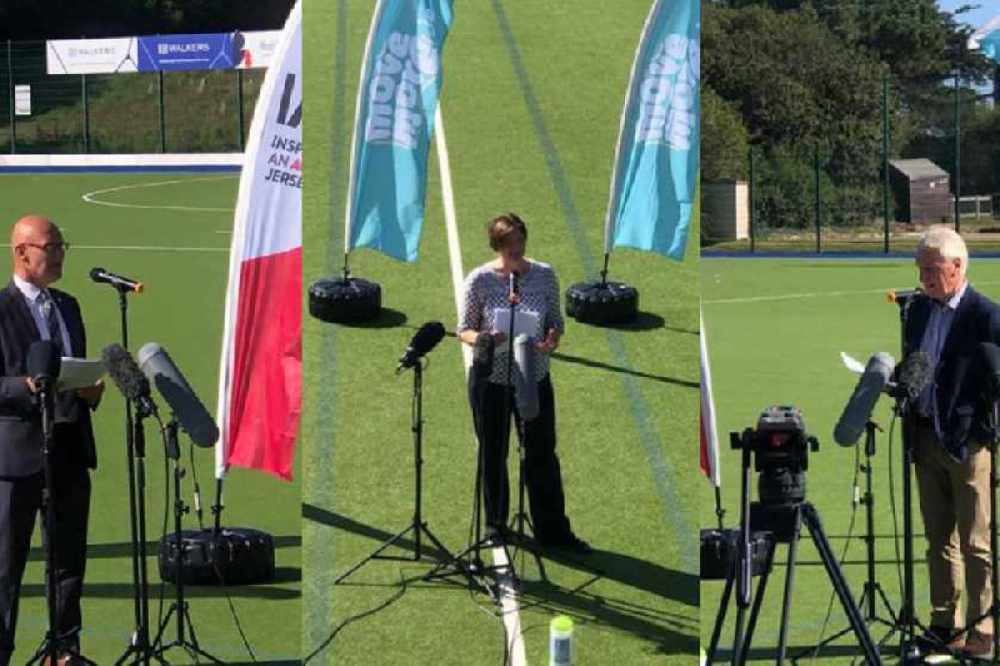 The government has set a target of increasing physical activity in Jersey by 10% within the next 10 years.
The 'Inspiring an Active Jersey' strategy has set out a vision for making Jersey a healthier, more productive, and fairer society by being one of the most physically active populations in the world.
Currently, 49% of adults and 81% of children and young people do not meet the World Health Organisation's recommended level of weekly exercise.
For adults, it's 150 minutes of moderate or vigorous physical activity per week and for children, it's 60 minutes of moderate or vigorous physical activity per day.
The level of physical activity among children in Jersey is broadly similar to England, but 10% more adults in England meet the physical activity guidelines than in Jersey.
The government, which is investing £2.4million into the strategy, says it's concerning that children and young people are among the least active - and to change that, they must be set on the right path to enjoy the fun and benefits of an active lifestyle.
Four objectives have been set, which are:
* To create active societies
* To create active environments
* To create active people
* To create active systems
"This is the first time that sport and active living has been referenced as a priority in a government plan and represents a major step forward in government's understanding of the role it can play as an enabler to achieving the strategic ambitions for Jersey.
"However, much is still to be done to establish sport and active living into the fabric of Jersey; something that has been successfully achieved in the Isle of Man who have 77% of children taking part in sports clubs, 36.4% of children and 72% of adults achieving the recommended physical activity guidelines and have won medals at each of the last four Commonwealth Games, something they see as vitally important to the international identity of the island. (54% of adults and 19% of children and young people in Jersey meet their physical activity guidelines)"
A set of principles have also been created 'to continually harness and focus the efforts required to tackle the significant challenges, presented by physical inactivity' They are:
* The opportunity to be regularly active will be fair and equitable
* Islanders will be encouraged and supported to embed active living into their everyday
* We are a proud sporting island that celebrates sporting success from grassroots to greatness; built on a foundation of enjoyment
* Sport and Active Living is an essential thread that is weaved throughout the fabric of Jersey; it contributes significantly to quality of life and will be included as a priority in all relevant policy.
* Supporting islanders to be more physically active is a collective responsibility requiring adequately resourced collaboration across all government departments, the private sector, and the volunteer and community sectors.
Once approved, a four-year costed delivery plan will be established to try and make the target achievable.
"Government is investing £2.4million to develop a more active Jersey and is committed to creating the environment for change throughout Government, the private sector and the wider community.
"While our targets have been defined, the strategic framework is not prescriptive over the delivery of specific programmes as they will change over time as technology and society changes, but everything that we do will be measured against the desired outcomes.
"Funded primarily by Government, Jersey Sport will act as our lead partner and be responsible for creating and overseeing a dynamic and adaptable strategy for success. They are, though, not solely responsible for delivery and our whole ethos will be that every outcome will require a collective effort throughout our community." - Senator Steve Pallett, Assistant Minister with responsibility for sport.
Detailed data on physical activity is due to be collated and divided into categories within the population such as older adults, social-economic factors, health conditions, disability and nationality.
That data will then used to measure the progress as the strategy progresses.
"Jersey faces a significant challenge to increase physical activity and participation in sport amongst islanders over the next few years. It will involve many agencies working together collaboratively to encourage behavioural change amongst Jersey's population.
"Jersey Sport's mission is to support islanders with their journey to increase their health and wellbeing through sport and physical activity. This marks a huge milestone for the organisation as it continues to deliver its initiatives and programmes to get islanders moving more." - Phil Austin, Jersey Sport Chairman.
"Delivering the vision and mission of the strategy will require long-term collaboration and determination. People's attitudes towards sport and physical activity are often shaped as a child, and barriers and influences are often carried into adulthood.
"Jersey Sport are working hard to deliver a range of activities and programmes to support and encourage the least active in Jersey to move more. From children's term-time and holiday activity camps, to Move More Jersey exercise classes, to the new inclusive cycle centre for those living with disabilities, we're providing a chance for islanders to incorporate more physical activity into their lives.
"We want everyone to experience the fun and health benefits moving more can bring them and prove it can improve their quality of life." - Catriona McAllister, Jersey Sport CEO.