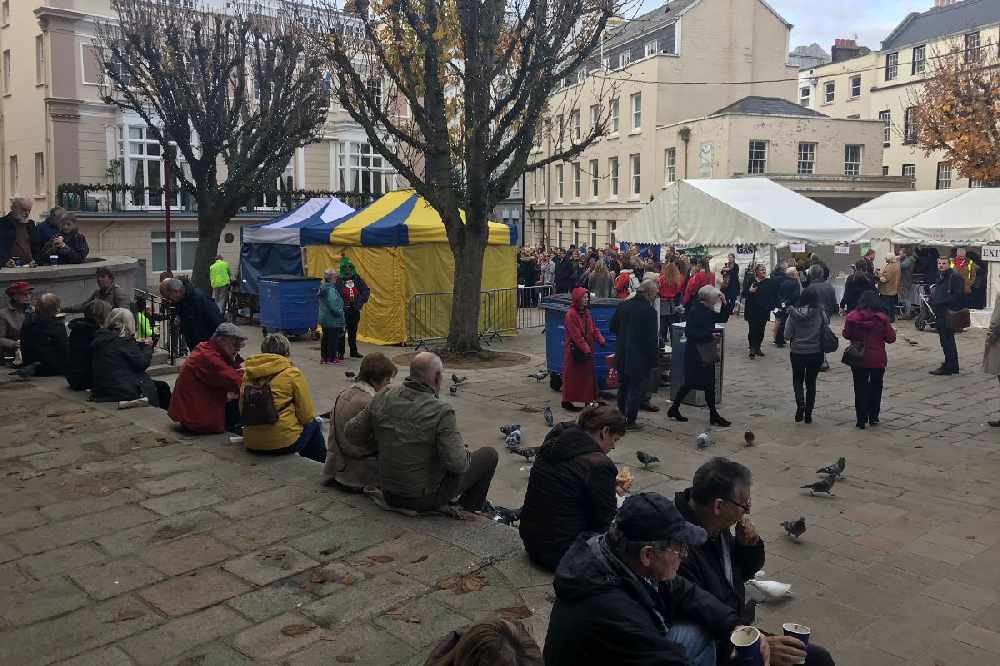 Jersey's annual charity soup kitchen returns to the Royal Square today.
44 soups have been donated by hotels, restaurants and community groups to raise money for the Shelter Trust for the Homeless.
£165,000 been collected since the first event 21 years ago.
Organisers expect to serve 4,000 cups of soup and often sell out before the kitchen is due to close at 2:30pm.
"For £3 minimum donation, people will get their chosen soup plus a big chunk of French bread. There will be singing from eight school choirs who will be singing festive music throughout the day. The weather is going to be fantastic and we are looking forward to a really great day."
All the money raised goes to the Shelter Trust, which has helped 458 islanders so far in 2019.
"The money that we raise will go to the 100 or so people in our four shelters this Christmas, and it will help make Christmas a bit more comfortable than it would have been."
You can use the menu below to pick out your favourites before the soup kitchen opens at 10:30am:
| | | | |
| --- | --- | --- | --- |
| No | Flavour | Prepared By | Dietary Requirements |
| | Bacon, Celery & Stilton | Government House | |
| | Broccoli & Spinach Coconut | IQEQ.com | Vegan |
| | Bubble and Squeak | Cheffins | GF |
| | Butterbean and Chorizo | La Place Hotel & Country Cottages | |
| | Butternut and Chilli | Jersey Hospice | |
| | Butternut Squash and Red Kidney Bean Soup | The Inn | |
| | Caldo Verde with Chorizo | Mayfair Catering | |
| | Chorizo, Sweet Potato and Rocket | Dine by Design | DF & GF |
| | Courgette and Brie | Radisson Blu Hotel | V & GF |
| | Cream of Celeriac and Granny Smith | Chateau la Chaire Hotel | |
| | Cream of Roasted Cauliflower & Stilton | Green Island Restaurant | |
| | Cream of Roasted Parsnip and Honeyed Walnuts | Golden Sands Hotel | |
| | Cream of White Onion and Chestnut | Grand Jersey | |
| | Cream of White Onion, Mushroom and Buttered Cajun Chicken | Merton Hotel | |
| | Creamy Caramelised Onion and Thyme | Atlantic Hotel/Ocean Restaurant | |
| | Creamy Spicy Shrimp served with garlic & herb crouton & fresh coriander | Soy Sushi Restaurant | |
| | Goulash | Royal Yacht Hotel | |
| | Honey Roasted Parsnip with Caraway Seed | Candlelight Restaurant | |
| | Italian Bean, Chorizo & Local Kale | El Tico | GF |
| | Jerk Turkey, Yam and Dumplings | Shelter Trust | |
| | Leek & Potato | Hampshire Hotel | |
| | Lightly Spiced Lentil & Tomato Soup with Cumin and Coriander | Jersey College for Girls | GF, V, DF & Vegan |
| | Local Shellfish | Suma's Restaurant | |
| | Mexican Bean with Rice | Café Society | Vegan & V |
| | Moroccan Chickpea & Lentil | Le Braye Cafe | V & DF |
| | Moroccan Sweet Potato | Cafejac | |
| | Oxtail, Lentil and Tomato broth | Somerville Hotel | |
| | Pasta Fagioli | La Capannina | |
| | Pumpkin & Parmesan | Bohemia | |
| | Red Thai Chicken | Mange Tout | |
| | Roasted Butternut and Carrot | Hotel de France | |
| | Roasted Plum Tomato, Butternut Squash, Chickpea & Garden Kale | Longueville Manor Hotel | Vegan & GF |
| | Roasted Red Pepper & Butternut Squash | Pomme d'Or Hotel | Vegan & GF |
| | Seafood Bouillabaisse | Greenhills Hotel | |
| | Spiced Pumpkin | Ransom's Café | |
| | Spiced Thai Chicken and Coconut Broth | Salty Dog Restaurant | GF |
| | Spicy Butternut Squash | Jersey Pearl | V & GF |
| | Spicy Nigerian Sweet Potato | The Catholic Church Jersey | |
| | Spicy Sweet Potato and Coconut | Doran's Bistro | |
| | Spinach and Mushroom | St Columba's Church | V |
| | Thai Spicy Chicken | SOJ Prison | |
| | The Fusion Coconut Squash Lentil Dhal | Hotel L'Horizon | |
| | West African Sweet Potato & Peanut | Harper's Catering | Vegan, GF contains nuts |
| | White Bean, Bacon and Gruyere | Samphire | GF |