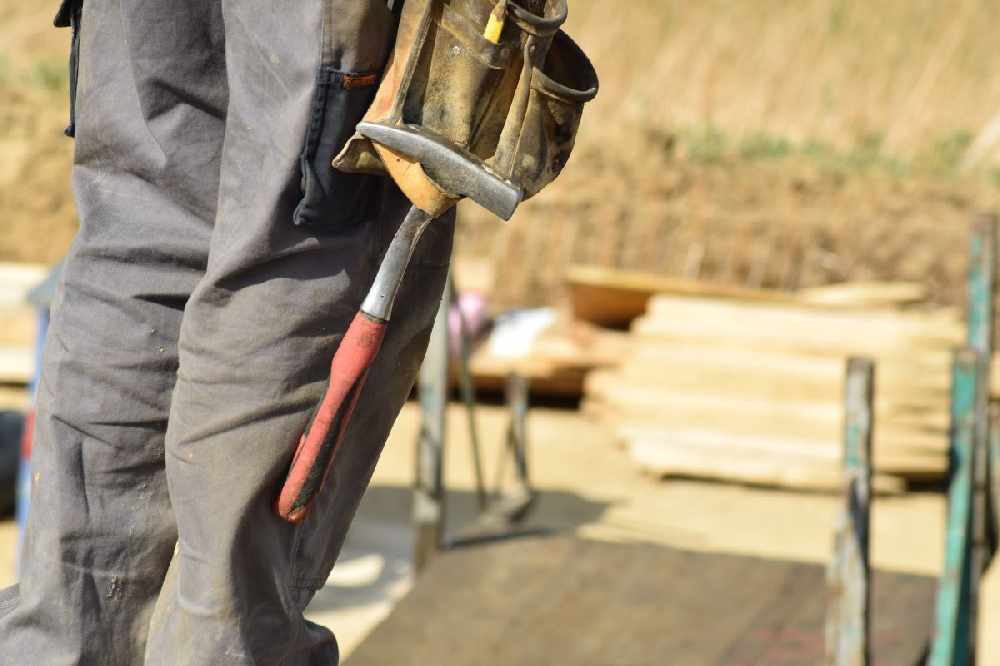 The government is allowing some non-essential construction sites to continue working as long as only one or two people are on site and social distancing is maintained.
The advice for this industry has been updated this evening.
The conditions are:
* No more than two people can be working
* They have to be at least two metres away from each other, which includes travelling to and from sites.
* Good hygiene is maintained which includes regular access to soap and water to wash hands.
* Work can't be in occupied homes. It can be done in empty homes, gardens and outside the homes.
* Because it's classed as non-essential, no worker should carry documents saying that they're engaged in essential work.
The only exceptions for working inside people's homes are if it is if emergency home and building repair work. That's as long as the tradesperson has no coronavirus symptoms and no-one is self isolating.
"I have announced financial support for a number of areas within the construction sector, but I recognise that the industry wants to work rather than rely on Government support.
"This clarification should enable small businesses which are involved in the construction industry to continue to work, if they feel that it is safe and appropriate for them and their employees to do so. My advice to all businesses, however, is to respect the bank holiday and consider the nuisance that might be caused by their work.
"Businesses should understand that our highest priority remains the control of the spread of coronavirus, and they must ensure that at no time do they compromise social distancing between themselves, their staff, their customers, and anyone else.
"Should I, or any other Competent Authorities Ministers, on advice of officials and the Medical Officer for Health decide at any time that there is too much activity and therefore too much social contact increasing the risk of spreading COVID-19, this sector of the construction industry may be stopped." - Senator Lyndon Farnham, Economic Development Minister.
Construction activities with more than two people have to stay closed. A permit system will be introduced when they can restart, but only when medical advice says it's appropriate.
Permits have been given to 30 sites deemed essential. They have posters to display so people know they have permission to work. These sites are:
| | | | | |
| --- | --- | --- | --- | --- |
| Date of Permit | Category of Work | Client | Premises | Parish |
| 02.04.20 | Cat A | Health and Community Services | General Hospital | St Helier |
| 02.04.20 | Emergency | Parish of St Helier | Municipal Services Depot | St Helier |
| 02.04.20 | Critical | Parish of St Helier | Westmount Day Nursery | St Helier |
| 03.04.20 | Essential Cat B | Andium / JPH | Hue Court | St Helier |
| 03.04.20 | Cat A | Health and Community Services | All Health Properties | |
| 03.04.20 | Cat A | GHE | Tanker Import facility / Cavern | St Helier |
| 03.04.20 | Emergency | | Halkett Place | St Helier |
| 03.04.20 | Emergency | | Highfields Vineries | St Saviour |
| 03.04.20 | Emergency | | Longbeach | Grouville |
| 03.04.20 | Emergency | | Furze Cottage | St John |
| 03.04.20 | Emergency | | Holmside | Grouville |
| 03.04.20 | Emergency | | 20 West Park | St Helier |
| 03.04.20 | Emergency | | Heytesbury | Grouville |
| 03.04.20 | Cat A | GHE Civil Works | Sea Wall, St Ouen's Bay | St Ouen |
| 03.04.20 | Cat A | GHE Civil Works | Hermitage Breakwater | St Helier |
| 06.04.20 | Cat A | GHE Solid Waste | La Collette Reclamation Site | St Helier |
| 07.04.20 | Cat A Emergency | Christians Together Jersey / Gov | 8 Lempriere Street | St Helier |
| 07.04.20 | Cat A Emergency | Andium Homes | 25 Oxford Road | St Helier |
| 07.04.20 | Cat A Emergency | Andium Homes | 70 Journeaux Court | St Helier |
| 07.04.20 | Cat A Emergency | Andium Homes | 42 Vauxhall Gardens | St Helier |
| 07.04.20 | Cat A Emergency | Andium Homes | Landscape Grove | St Helier |
| 07.04.20 | Cat A | GHE Engineering and Development | Island wide pumping stations | |
| 09.04.20 | Cat A | Building Renovations | 3 La Collette Villas | St Helier |
| 09.04.20 | Cat A | GHE Civil Works | Fort Henry | |
| 09.04.20 | Cat A | Health | Nightingale Hospital | St Lawrence |