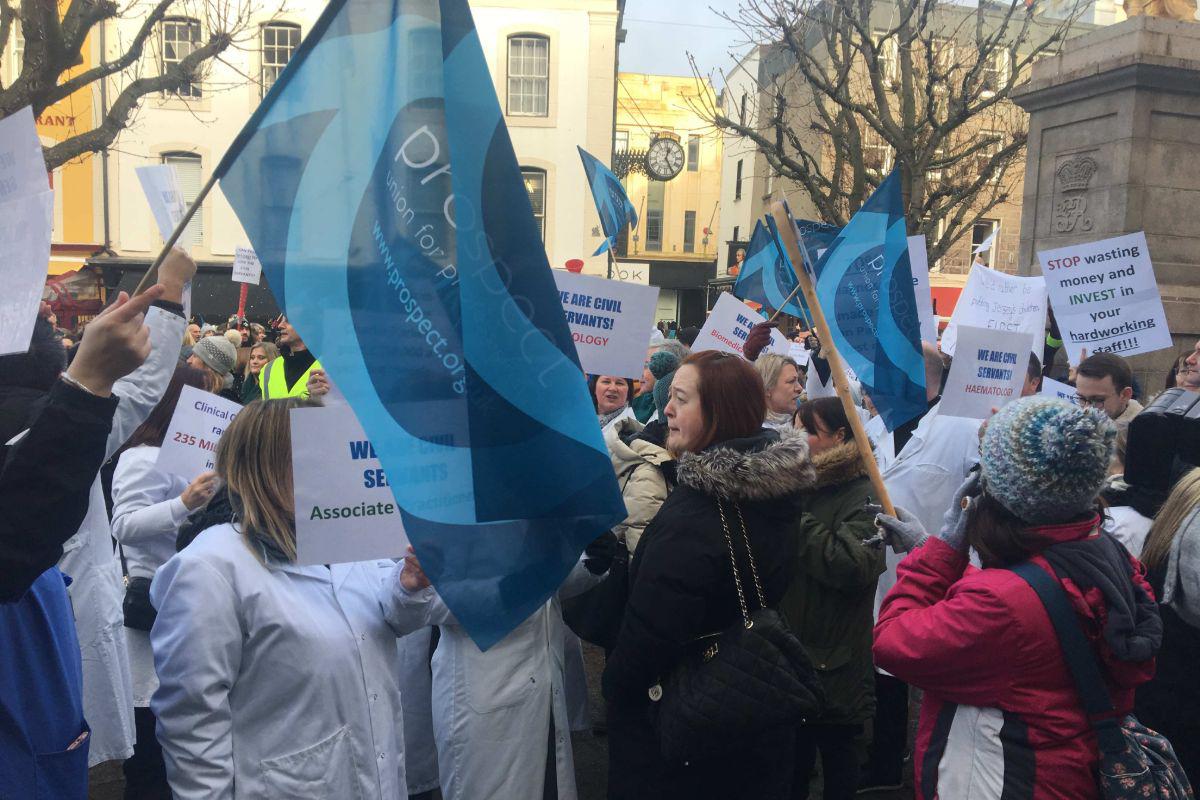 The States Employment Board has decided to impose the latest pay offer on Jersey civil servants, after failing to reach 'a negotiated settlement' with unions.
In a letter, the SEB says it follows their rejection of the last offer, and it has been 'left with no choice'.
Civil service members from both the Unite and JCSA Prospect unions rejected the latest pay deal, which offered 1.3% above inflation for 2020 along with:
A further increase of up to 0.8%, based on a 50:50 sharing of additional savings and efficiencies identified in joint working with the unions
Additional paid holidays (average of 2.8 days) in exchange for increasing the working week from 37 hours to 37.5 hours.
The SEB says it would have liked to have reached agreements to make sure the more than 3,000 civil servants get all those benefits, but the gain-share and additional holiday / longer working week can't be given without unions agreement.
The 2020 deal will take effect from 1st January, with its offer for 2018 and 2019 already implemented.
The SEB says it still wants to 'keep the door open' for a negotiated settlement, and so has agreed to keep the additional holidays and gain-share arrangement on the table until the end of November, if the unions decide to re-consider.
"SEB would have liked to have reached an agreement with the unions so that all civil servants can receive all the elements of the July pay offer. Negotiations continued this week but to no avail.
"The potential 0.8% additional increase and the additional paid holidays cannot be implemented without the agreement and cooperation of the unions. SEB therefore agreed that we will keep the additional elements of the July pay offer on the table for as long as possible, in the hope that the unions will reconsider their position and enable all civil servants to receive this better settlement, including many who choose not to be in a union and who did not, therefore, have a vote.
"SEB is willing for officers to continue negotiations with the trades unions on these two elements if the unions are willing to reconsider their rejection of them." - SEB Vice-Chairman Constable Richard Buchanan.
Both unions have told Channel 103 that they were speaking with members and they would have the final say on further action, which includes possibly going on strike.
The Unite and Prospect unions have called the offer 'wholly inadequate' and say the offer won't be put to members, as it's basically the same one that's been rejected twice already.
"Civil servants in Jersey deserve a decent pay rise. The board's latest pay offer remains woefully inadequate, an extra one-off day's leave changes nothing, which is why we will not be putting this offer back to our members.
"After nearly a decade of frozen pay and below-inflation pay increases our members have twice sent a very clear message that the SEB's pay offer is inadequate and falle well short of what they deserve. This should be message enough." - Brett Sparkes, Unite acting regional officer.
A meeting of union executives will take place next Monday (30th September), where a co-ordinated meeting with members will take place to discuss the next steps.