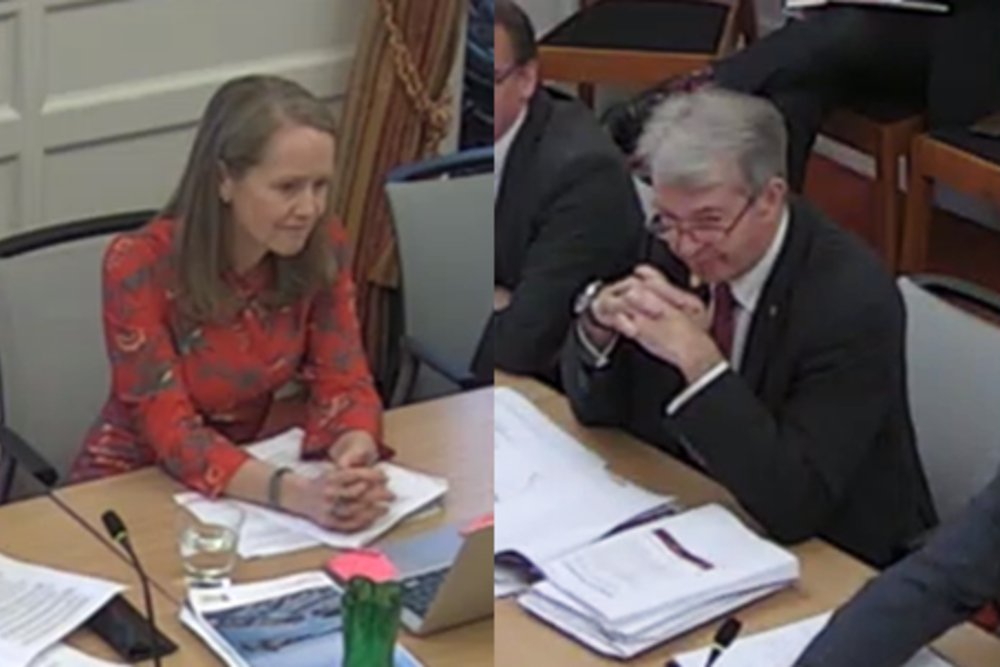 Scrutiny leaders have accused the Chief Minister of 'mismanaging the pandemic' and called on him to 'act immediately, decisively and unambiguously'.
In a letter to Senator John Le Fondré, the Scrutiny Liaison Committee says it's taken the 'unprecedented' step of expressing its frustration at his handling of the Covid-19 pandemic, which it says has led to 'a sudden and avoidable' escalation in cases.
The group is made up of the five panel Chairs and the leader of the Public Accounts Committee; Senator Kristina Moore, Deputy Inna Gardiner, Constable Mike Jackson, Deputy David Johnson, Deputy Mary Le Hegarat and Deputy Rob Ward.
Senator Kristina Moore
Corporate Services Panel
Deputy Inna Gardiner
Public Accounts Committee
Constable Mike Jackson
Environment, Housing & Infrastructure Panel
Deputy David Johnson
Economic Affairs Panel
Deputy Mary Le Hegarat
Health & Social Services Panel
Deputy Rob Ward
Education and Home Affairs Panel
The committee says Scrutiny has tried to work constructively and effectively with the government throughout the pandemic, lodging amendments to improve policies - including adopting Jersey's traffic light system of categorising travel-safe areas.
It goes on to say that members 'deeply regret' that previous advice from Scrutiny on the standard of communication from the government 'has not been taken seriously'.
"We have had to write before regarding the standard of communication with the public and internally with staff on the front line, particularly those handling phone calls, in relation to the COVID-19 situation.
"We deeply regret that our advice has not been taken seriously by you. Our displeasure appears reflective of increasingly strong public opinion."
The letter, which was written by Committee President, Senator Kristina Moore, says Friday's media briefing - which changed guidance on gatherings and closed more businesses - was 'hastily organised' and 'inexcusable' in taking States Members and members of the public by surprise.
Senator Moore writes that the advice given by the Chief Minister was unclear, and left many people unsure as to whether they should go to work or attend appointments, leaving organisations like the Jersey Chamber of Commerce to step in to clarify the 'ambiguous government messaging'.
Despite the wording from CM tonight: "From Monday, unless critical, you must work from home...this includes keeping your distance from colleagues unless your services are required to help keep the Island going" Retail does remain open #shoplocal #shopsafely #Jersey #JerseyChamber

— Jersey Chamber (@jerseychamber) December 18, 2020
Referencing back to comments from Senator Le Fondré last week, in which he said "I don't, nor does any other Minister, make decisions to the benefit of the island based on media polls", Senator Moore says they are useful in identifying issues with public sentiment.
She cited work by Island Global Research run through the year gauging public sentiment, as well as a Channel 103 opinion poll from last week which more than 1,800 people took part in:
Senator Moore goes on to question the timing of imposing 'red area' restrictions on the whole of the UK, after just days earlier saying the advice was to hold steady, as well as blaming Law Officers for a delay in following STAC advice in making mask-wearing mandatory in indoor public spaces:
"Had you properly implemented the advice from STAC when it was given, it would have been possible to have this work done at an earlier point.
"In fact, we are now many months into responding to this pandemic and experience should go hand in hand with better decision making.
"It seems quite inexcusable that you continue to lead a politically reactive approach on this critical matter, rather than a pro-active response that anticipates situations and, informed by expert medical advice, acts decisively."
The Scrutiny Liaison Committee suggests steps for the Chief Minister and government to take to 'act immediately, decisively and unambiguously'.
They include sharing the medical advice behind Friday's announcements, clearer rules on travel, business and schools, as well as identifying 'an effective political spokesperson' to take over from the Chief Minister in future government briefings.
You can read the letter in full here.
Channel 103 has approached the Government of Jersey for a response.