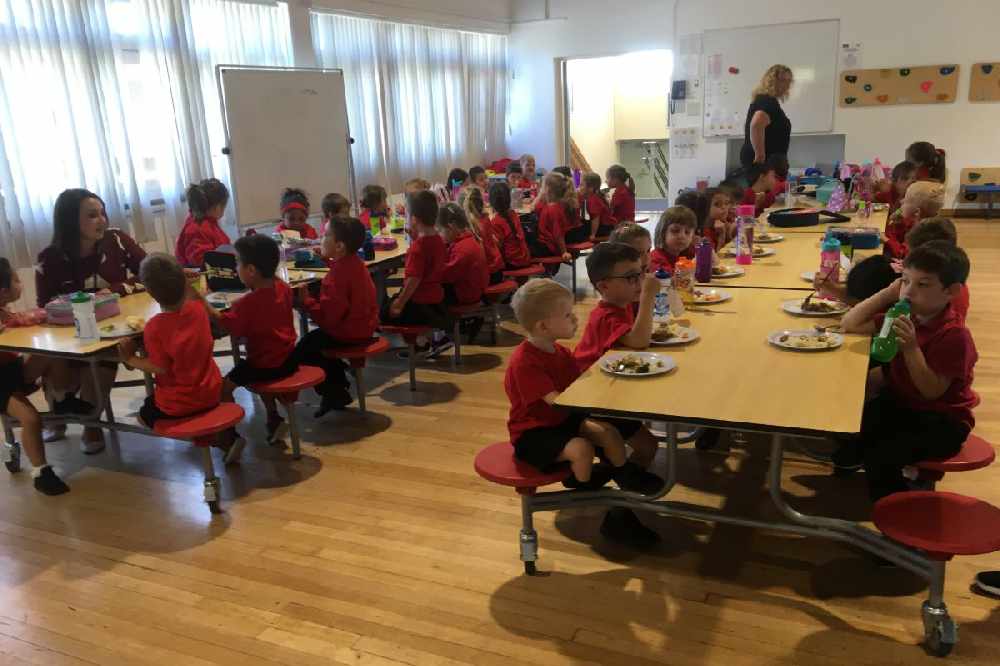 The pilot project was launched at Janvrin School in 2019.
A request to extend the school meal pilot project to all primaries in Jersey from September 2021 has been rejected by the States Assembly.
The £200,000 government pilot started in September 2019 to give 195 children at Janvrin and Samares Schools a daily main meal and dessert.
It's free for 'Pupil Premium' students. Caring Cooks was brought in as a partner to start the project.
St Helier Deputy Rob Ward wanted pupils at other primary schools to benefit - and proposed spending £573,717 to extend the project in 2021.
"This is an opportunity for us to say to our primaries, we're going to support you after a really difficult time.
"We're going to invest money in a recovery fund to help a local business (to deliver the scheme) and in doing so, feed our children in schools and give them a really good part of their day with a healthy meal."
But the government said the current pilot should be completed first - to gather data on its success and help to make the right future decisions.
Education Minister Senator Tracey Vallois said that will lead to the best possible service being delivered for the island's young people.
"Funding is already established in the Government Plan for preventable diseases under the Health and Social Services Department, which includes a commitment to scale up a primary school meal service and support an extension across primary schools if viability is established through the pilot scheme."
The pilot was due to end next summer, but it has been extended until the end of 2021 because of disruption caused by the coronavirus pandemic.
St Luke's School is due to be added to the scheme next month. A fourth school could also be chosen later in 2021.
Deputy Ward said extending the pilot would have significant positive impacts on health, wellbeing and the financial position of many families - calling it 'a win-win situation'.
But concerns were raised about the schools having the necessary facilities in time for the next school year, and the cost of staffing, training and recruiting those needed to get the programme extended.
Assistant Education Minister Deputy Jeremy Macon said it's something he supports, but it's about how it's done.
"From the initial data that we already have back, we know that those parents who would and should be eligible for the free school meal programme, for some reason or other, are not taking it.
"Therefore we need to ask ourselves is this particular model the best method of delivery? Do we need to think about a hybrid model? Do we need to think about this alongside maybe income support measures?"
Deputy Ward's amendment was rejected by 25 votes to 22 and he took straight to Twitter to hit out at the government for rejecting it.
25 against. 22 For. Government whip won the day. Now children will have to wait an unspecified time to get free meals in primary if at all. Shame on you @GovJersey https://t.co/WVV3HUYXbg

— 🌈Deputy Rob Ward (Reform Jersey)🌈 (@deputyrobward) December 15, 2020
The defeat seemed to surprise the Children's Commissioner, who also questioned the decision on Twitter.
It costs £800 a year to provide a youngster with a free school meal. Might well be their only hot nutritious meal of the day. Why wouldn't a Govt want to provide that for our children?

— Deborah McMillan - Children's Commissioner (@ChildComJersey) December 15, 2020
So what is @GovJersey doing to tackle food insecurity and promote access to healthy food amongst all of our island children?

— Deborah McMillan - Children's Commissioner (@ChildComJersey) December 15, 2020
But it's the education minister's idea to pilot the scheme. Why wouldn't the Minister support a roll out or at least extending the pilot

— Deborah McMillan - Children's Commissioner (@ChildComJersey) December 15, 2020