Police have staged a reconstruction of the movements of a teenage girl who was raped in Gorey on Halloween.
Detectives have returned to the scene a week on, to re-enact the route the victim took from a house party to the bus shelter on La Rue a Don where she was attacked sometime between midnight and 00.13am.
Detective Superintendent Stewart Gull hopes it will help them catch the perpetrator.
"It's a helpful prompt for potential witnesses or people who might have information. This is tried-and-tested method of jogging people's memories, helping with recall, to provide us with information that they haven't hitherto provided."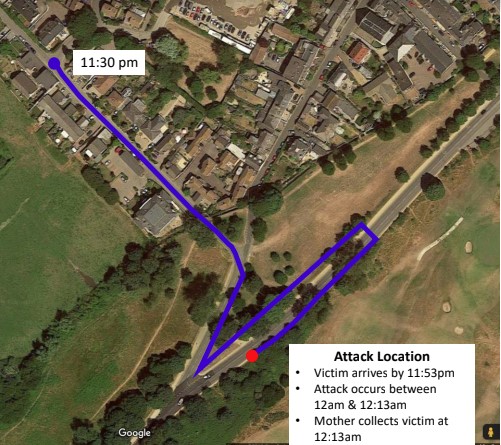 The reconstruction involved a female officer dressed in similar clothing to that worn by the victim and retracing her steps to the bus shelter opposite Gorey Common.
There, the girl was twice approached by a stranger offering her a lift. On the second occasion she was raped.
Police have also issued an appeal for the driver of a car captured on CCTV leaving Gorey Pier at 00.01am on 31st October.
It's believed that, if the vehicle headed southbound, those will have passed the bus stop during the key thirteen minute window and they might have 'crucial information'.
The force wants to speak to anyone who was in the area between 11.30pm and 12.30am.
The wanted man is believed to be 40-50 years old, approx 5'9'', with dark brown hair and a short brown/grey beard. He was wearing a large padded coat and a black baseball cap under a hood and had a 'foreign accent.'
24 people are being investigated as 'persons of interest' but no suspect has yet been identified.
Detectives have visited 250 homes, answered 50 calls from the public and are analysing 15 separate pieces of CCTV footage
Timelime:
* 11:30pm – The victim leaves a residential property in the area adjacent to Gorey Common on her own.
* She slowly makes her way to the southbound Gorey bus stop but becomes disoriented around Gorey Common, primarily because of the low light combined with her lack of familiarity with that part of the Island.
* The victim arrives at the bus stop by 11:53pm. At this point she is identifiable on dashcam footage from a passing Liberty Bus.
* She is seen at the bus stop again at 12:06am when the same bus passes in the opposite direction.
* Her mother collects her from the bus stop at 12:13am.
* In her time at the bus stop the attacker twice offers her a lift, which is declined on both occasions. It is after the second offer that the attack takes place.
Anyone with any information is asked to contact the Police on 612214 or 612612, or the independent charity Crimestoppers anonymously on 0800 555 111, or via their anonymous online form at www.crimestoppers-uk.org.