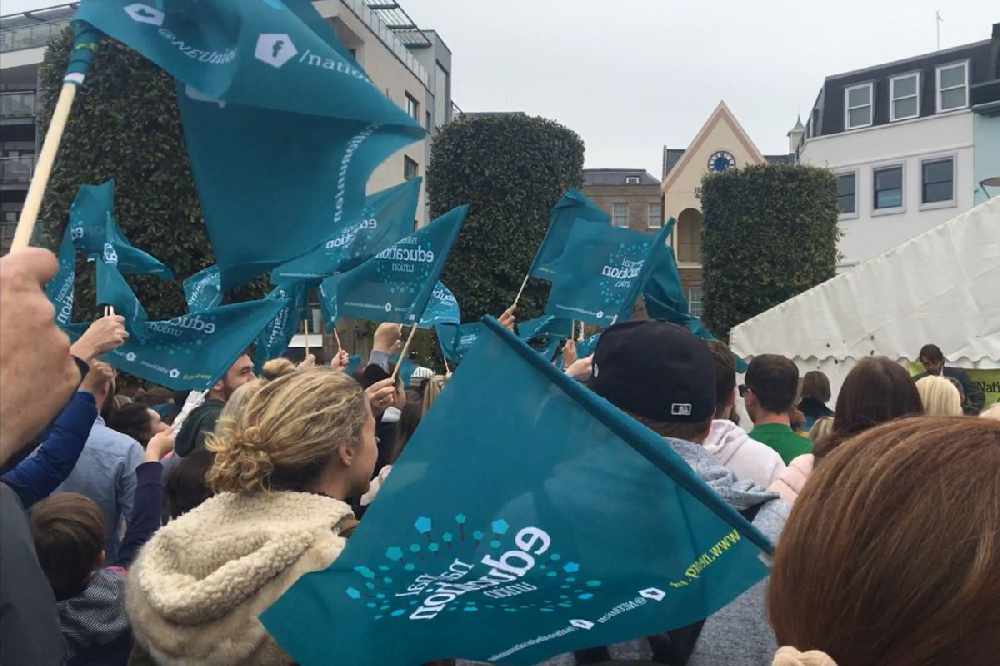 Around three-quarters of islanders who have taken part in a Channel 103 poll say they still support teachers campaigning for 'fair pay'.
It's after members of the National Education went on strike today in the first of eight planned days of action.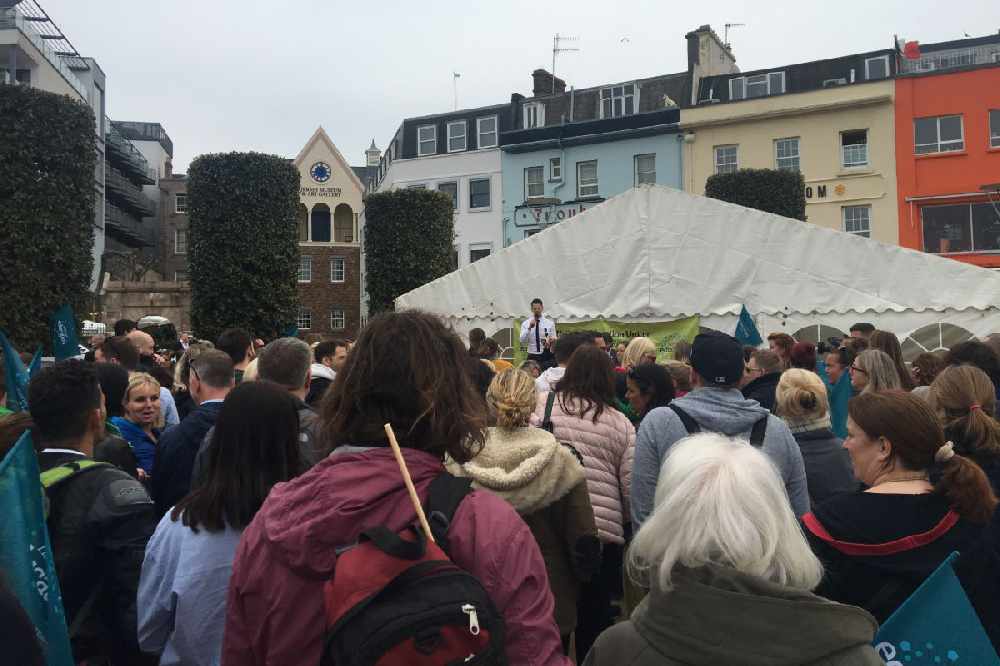 Around 250 teachers took part in a rally at the Weighbridge - alongside union leaders, supporters and politicians including ex-teachers Deputy Rob Ward and Deputy Louise Doublet.
One teacher told Channel 103 why they can't back down from the dispute:
"We've had enough of constant below-inflation pay rises, of not being respected enough to actually have decent meetings, of the SEB moving goalposts constantly and of our schools being under-funded and our kids not getting the chances they deserve."
Nearly 5,000 people have taken part in the Channel 103 poll, with a majority backing teacher's calls for higher pay.
Deputy Geoff Southern also addressed the crowd this lunchtime. He's previously put forward two States propositions to use States savings to release more funds for pay negotiations. Both were defeated.
He has now threatened to put forward a vote of no confidence in the States Employment Board, whose negotiators failed to reach a resolution yesterday to stop today's action from going ahead.
Constable Simon Crowcroft also attempted to ask an urgent oral question of the SEB this afternoon regarding the industrial action, however, that was rejected by the Bailiff.
Unless an agreement can be found, teachers will also walk out on:
Tuesday 7th May
Wednesday 8th May
Wednesday 15th May
Thursday 16th May
Tuesday 21st May
Wednesday 22nd May
Thursday 23rd May
That means several schools would only open for seven days this month.
These teachers at the rally believe parents understand why they have to do this.
"We are all hoping that it won't come to eight days. Really what we'd like is that after today, people would go away and think again."
"We're being told there's no money, and yet we've still got projects like the road closure costing £3 million. I think there really needs to be more joined-up thinking between States departments."
"I think we're fighting for a decent education for all, for getting decent teachers across to the island in the first place and giving our kids the opportunities - the life chances - that otherwise, they wouldn't have."
You can still take part in the Channel 103 poll, by clicking here.