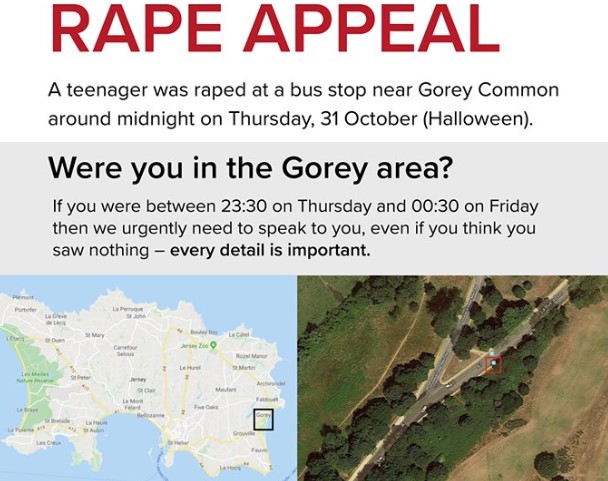 A poster is being circulated in the appeal for information about the rape of a teenager in Grouville.
Jersey Police have published the leaflet on social media as detectives continue to investigate the Halloween attack.
The victim reported being approached by a stranger while she was waiting at a bus stop near Gorey Common just before midnight last Thursday (31st October)
The poster includes a description of the suspect.
Within 12 hours of being posted on Facebook, it had been shared nearly 800 times online.
The force has also posted details of its appeal translated into Polish and Portuguese.
Two dozen officers are working on the case.
Detective Superintendent Stewart Gull says the suspect has not been identified and no arrest has been made, but several names have been reported to police as potential 'persons of interest'.
The attack has been described as opportunistic.
Islanders have been urged to take 'sensible precautions' when they are out later at night, including telling friends and family where you are are going, when you will be back, having your mobile with you and not walking alone if possible.
Anyone who was in the area between 11.30pm on Thursday 31st October and 00.30am on Friday 1st November should contact police on 612214.