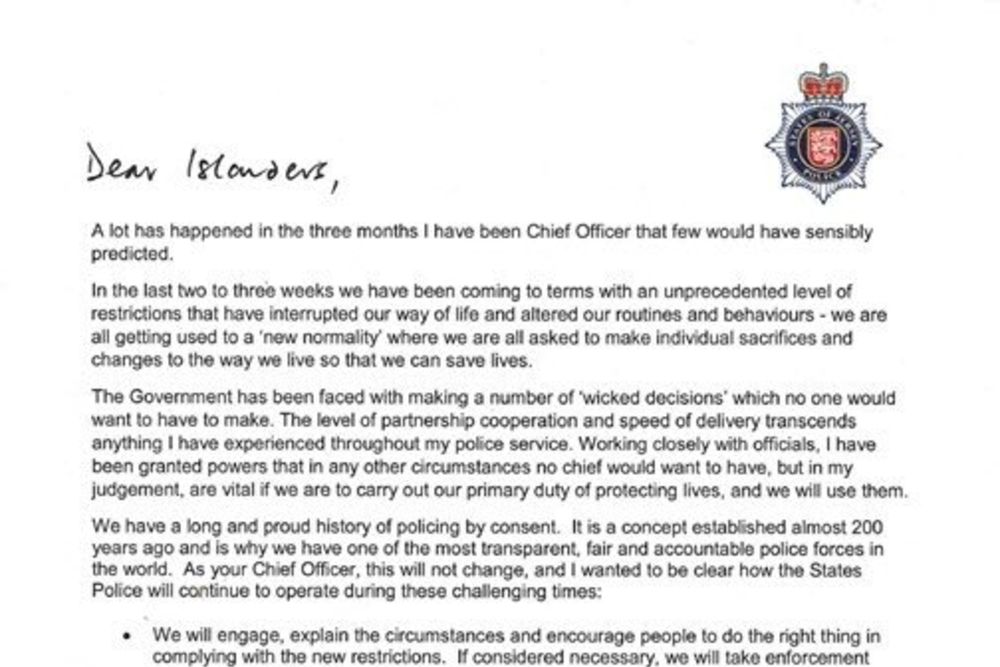 Jersey's Chief of Police has reassured islanders that officers will use their discretion before resorting to any of the new emergency powers granted to them.
Robin Smith says no Chief would want to face having to make sure islanders stick to the lockdown restrictions, but it's vital in protecting lives.
In the Chief's open letter, he says Jersey Police will use their powers carefully, and only for those who persistently refuse to abide by the rules, putting others' lives at risk in the process.
Robin Smith took on the force's top job three months ago. He says since then, the cooperation and speed of work shown in Jersey 'transcend anything he's experienced throughout his police service':
"A lot has happened in the three months I have been Chief Officer that few would have sensibly predicted.
"In the last two to three weeks we have been coming to terms with an unprecedented level of restrictions that have interrupted our way of life and altered our routines and behaviours - we are all getting used to a 'new normality' where we are all asked to make individual sacrifices and changes to the way we live so that we can save lives.
"The Government has been faced with making a number of 'wicked decisions' which no one would want to have to make. The level of partnership cooperation and speed of delivery transcends anything I have experienced throughout my police service. Working closely with officials, I have been granted powers that in any other circumstances no chief would want to have, but in my judgement, are vital if we are to carry out our primary duty of protecting lives, and we will use them.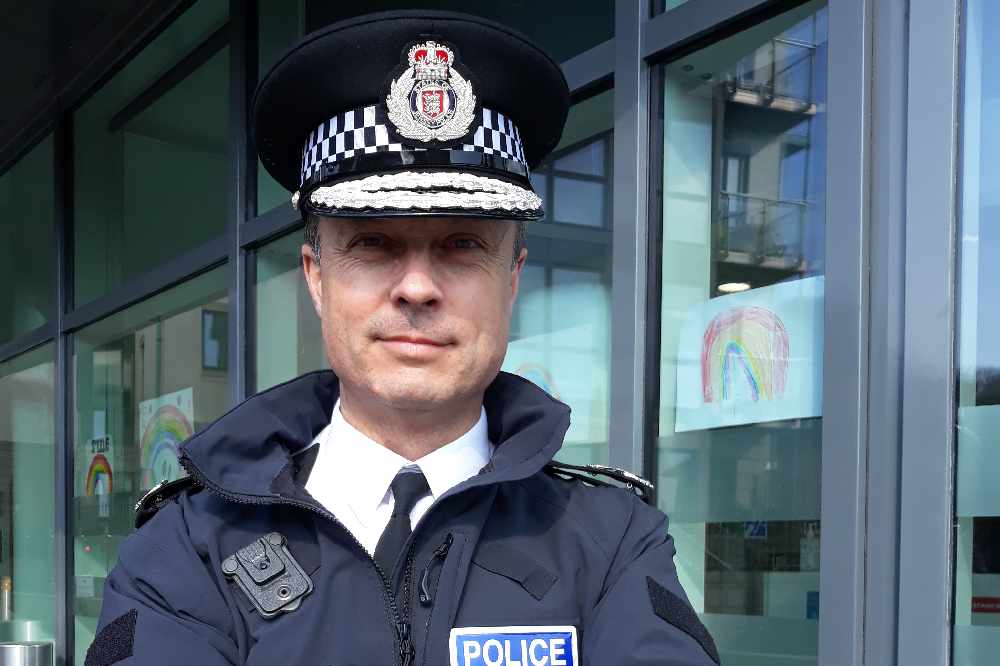 Chief Officer Robin Smith
"We have a long and proud history of policing by consent. It is a concept established almost 200 years ago and is why we have one of the most transparent, fair and accountable police forces in the world. As your Chief Officer, this will not change, and I wanted to be clear how the States Police will continue to operate during these challenging times:
We will engage, explain the circumstances and encourage people to do the right thing in complying with the new restrictions. If considered necessary, we will take enforcement action if people are not listening and putting others at risk.
Officers will apply their discretion and will ask questions to establish individual circumstances.
Maintaining the best service to the public, protecting officers and staff, and supporting the Island response are our top priorities.
"Of course, my officers and staff and their families will not be immune to Coronavirus but we have robust contingency plans which we continue to test and keep under constant review to ensure that we are prepared to deal with issues arising from the impact of any pandemic situation.
"We are working closer than ever with our Honorary Police colleagues, and together we will strive to deliver our core policing duties. And whilst our services may not always be as readily available as we might ordinarily expect, you can be confident the policemen and women, and those that support us will always do their very best for Islanders. I am enormously proud of the way they have instinctively responded to this crisis and the messages of support from the public – together with the public we are a formidable team that will see us through.
"So, we will do our duty. We will use our powers carefully for those who persistently refuse to abide by the rules, and in doing so risk the lives of others. And whilst so much has changed, you will see us patrolling our streets, and neighbourhoods, responding to calls, protecting the vulnerable and fighting crime. To ensure that we can continue to do so we politely ask that you contact us only when you really need us."
Mr Smith says the States and Honorary Police officers will continue to work closely together, signing off by saying "we're in this together, and the Police won't let you down."