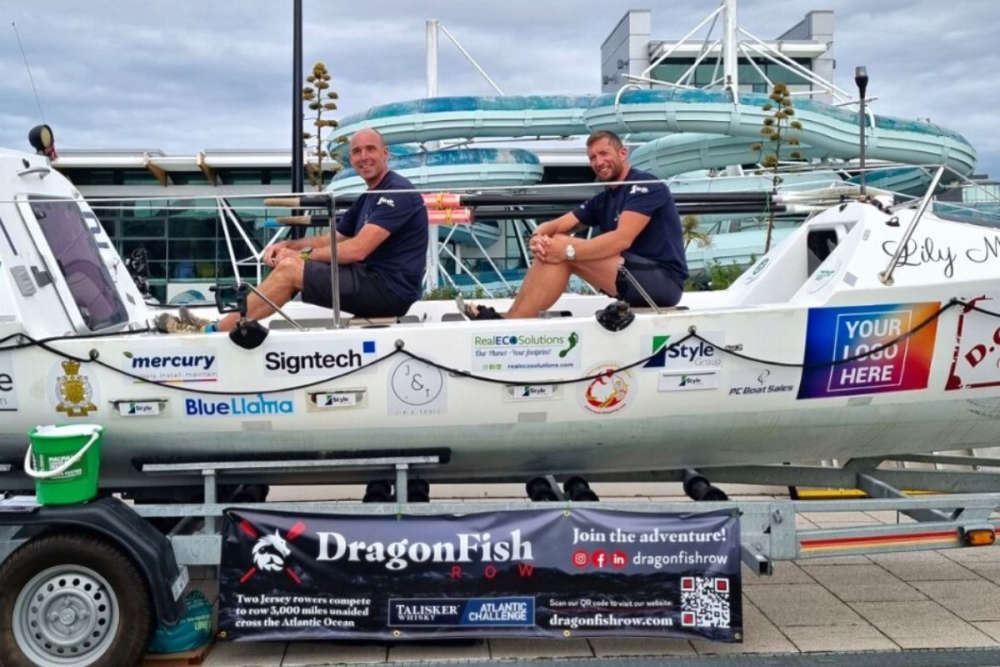 Picture Credit: Dragonfish Row
Two 'ordinary guys' from Jersey are set to take on the challenge of a lifetime as they attempt the 3000-mile journey across the world's second-largest ocean.
Two prominent endurance athletes, Steve Hayes and Peter Wright, are hoping to become the first Jersey pair in more 20 years to row across the Atlantic Ocean.
They have unveiled the boat they will use for the challenge, "Lily May".
As team "Dragonfish" they have secured entry for the Talisker Whisky Atlantic Challenge, which is the premier event in global ocean rowing.
The 3000-mile journey begins in December 2022 from La Gomera in the Canary Islands, concluding at Nelson's Dockyard in Antigua in the Caribbean around two months later.
With no previous rowing experience, their motivation is to try and turn a dream into reality, putting everything they can into what is an "opportunity of a lifetime".
Steve told Channel 103 about the challenges they expect to have to overcome.
"We have never spent a full day together - 24 hours - so to be spending all that time together is one thing. Sea-sickness is a very real issue that affects most people when they get out on a boat this size in the middle of the ocean. Neither of us have rowed before so we are learning to row now. We're not boaters - we don't own boats - so we have to learn how to fix and repair every single thing (on the vessel)"
As well as tackling the intense challenge, they will also be setting themselves a target of raising £50,000 for two local charities.
Durrell and Macmillan Cancer Support Jersey have been named as the two causes which Steve and Peter will be supporting.
They are specifically supporting the first Rewild project by Durell in the Atlantic Forest of Brazil. This project aims to restore 4,500 hectares of vital forest corridors by 2030.
Macmillan Cancer Support Jersey was also selected both Pete and Steve have experienced the impact of cancer over the past few years.