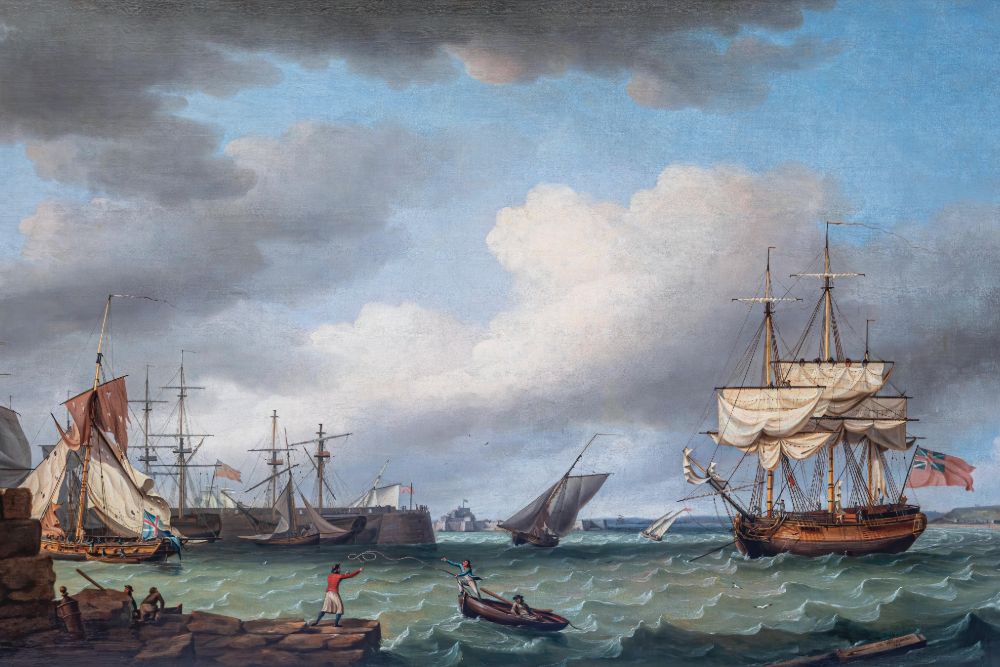 A culturally-significant 18th century painting has been donated to Jersey Heritage.
'Jersey Pier with a Distant View of Elizabeth Castle' by Thomas Whitcombe was painted in 1785.
It is considered such an important piece of work to the island that it is one of just a handful that is subject to an export ban - meaning it can't be removed from Jersey.
Simon and Clare Perrée have donated the oil on canvas from their private collection.
"We fell in love with the Whitcombe painting when we bought it at auction in London in 2007 and were delighted to bring it back to the Island where it belongs.
It's been a joy to have it on display in our home for so many years but we felt the time was right to donate it to Jersey Heritage so that everyone can enjoy this special painting."
Jersey Heritage says the painting captures a time in Jersey's history when smuggling was a big issue for the authorities. In the 18th century, the Channel Islands and French waters were rich pickings for smugglers and in an effort to stop this illegal trade, the British Navy sent revenue cutters – small ships built for speed and armed with cannons. In the painting, a cutter has sails full of cannon ball holes, suggesting it had recently been in
action.
"Our thanks go to Simon and Clare Perrée for this hugely generous donation. We are very excited to add the Whitcombe painting to our collections and for the Perrées to become Life Patrons of Jersey Heritage. It is the only painting of an Island scene by Whitcombe that we know of so it is
wonderful that it can go on display in Jersey where it has the most meaning and relevance." - Louise Downie, Jersey Heritage's Director of Curation & Experience.
The painting was up for sale via a Guernsey auction house last October and was reportedly expected to fetch £80-120,000, but it failed to sell after the export ban was imposed restriction its movement.
Whitcombe lived and worked as an artist in London and specialised in painting naval battles.
In 1785, Jersey was one of the frontiers in the many wars between Britain and France. Just four years earlier, a small French force invaded the Island but was defeated during the Battle of Jersey in 1781.
Whitcombe's work is represented in the Tate Gallery, National Maritime Museum and other museums and galleries worldwide.

The Whitcombe painting will be hung at Jersey Museum & Art Gallery and is expected to be on show to the public from next week.