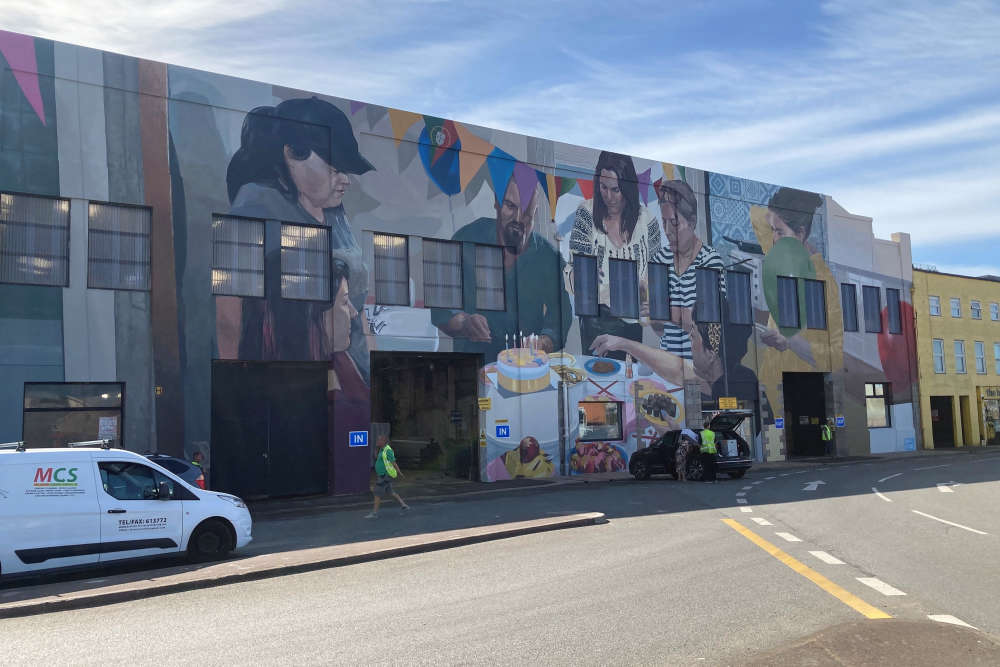 A 600m² mural has been unveiled celebrating Jersey's Polish, Portuguese and Romanian communities.
It's adorning the front of the Normans building at Commercial Buildings, featuring seven people from different backgrounds - Madeiran, Polish and Romanian - celebrating around a table in a small room.
ArtHouse Jersey, which commissioned the piece says it's 'a celebration of the attitude of a resilient demographic who are hard-working and investing in a brighter future whilst remaining optimistic':
"The joyful celebration of composition of seven people of Madeiran, Polish and Romanian around a table, depicts a less than ideal and slightly claustrophobic atmosphere and surroundings. The image aims to give insight into the sacrifices so many people choose to make in order to make Jersey their home." -ArtHouse Jersey
'Home' was created by street artist Gabriel Pitcher, who said he wanted to portray the sacrifices many people make to come to live in Jersey - like leaving relatives behind or living in cramped accommodation:
"One of the core learnings which remained with me was the idea that some accommodation tied to jobs in the unqualified years had stipulations like no children or no pets. It really stuck because it meant for many people a consideration of accepting a job, was whether or not to start a family, or even live a separated life from their children for up to a decade. The image of a kids' birthday party but having no children present really stuck with me as a powerful image many have to face.
Although the wall is large, I have tried to make the space they are in feel claustrophobic, a reflection of the serviced rooms and bedsits people live in, but also a comment on the fact that Jersey is a small island. Space is limited and the freedom to live in a comfortable space is quickly vanishing for all, as the housing market becomes out of reach for many." -Gabriel Pitcher
Gabriel was chosen after ArtHouse Jersey put a call out for international street artists to come to the island to create a piece of social art that celebrates 'the experiences of modern multicultural Jersey'.
Local artists Ben Robertson, James Carter, Kirsty Garcia and Olivia Garcia also worked to create the mural.