A new plan has been launched to tackle domestic abuse and try and keep more islanders safe.
213 cases were reported to Jersey Police last year - compared to 145 in 2015.
2018 also saw an increase in children being associated with such crime and being placed in high-risk environments.
The Jersey Safeguarding Partnership Board says this three-year strategy will focus on:
Prevention: Challenging the associated culture and intervening as early as possible to prevent it from continuing, repeating or escalating.
Protection: Holding perpetrators to account and supporting them to change their behaviour.
Provision: Working in partnership to provide the appropriate level of support where domestic abuse occurs.
Detective Chief Inspector Mark Beechey wants a co-ordinated approach to try and stop domestic abuse from happening.
"We want services right across the board to be able to recognise those environments where domestic abuse is occurring, to intervene as early as possible to prevent escalation or repeats.
"Therefore hopefully through this strategy provide all islanders with as healthy an environment as possible."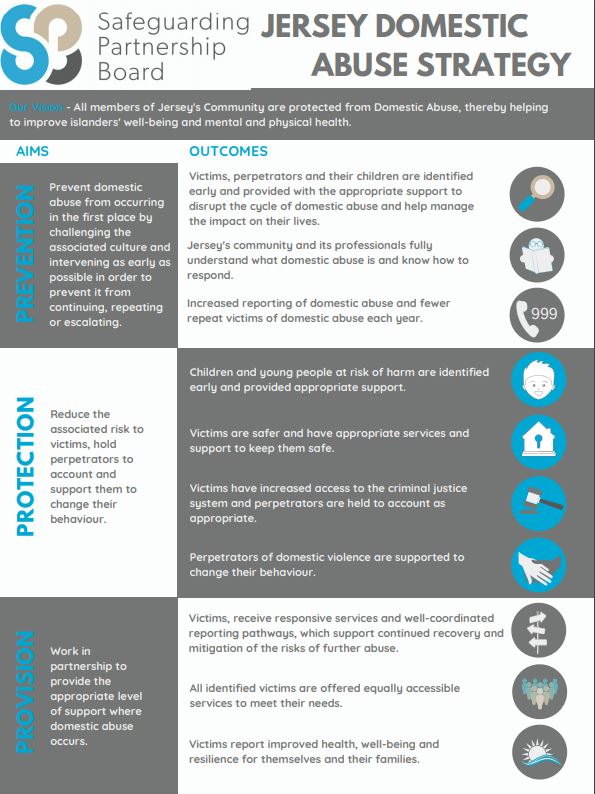 It's estimated that one in four women and one in six men will experience domestic abuse at some point in their life.
At the beginning of 2017, the Island prosecuted 34% of all domestic abuse reports to the SOJP. At the end of 2018 this decreased to 22%.
"We want to focus on areas such as developing an 'Enhanced Victim Hub', increasing support for example with the IDVA (Independent Domestic Violence Advisors) service and also a combination respite for those in need." - Detective Chris Beechey.