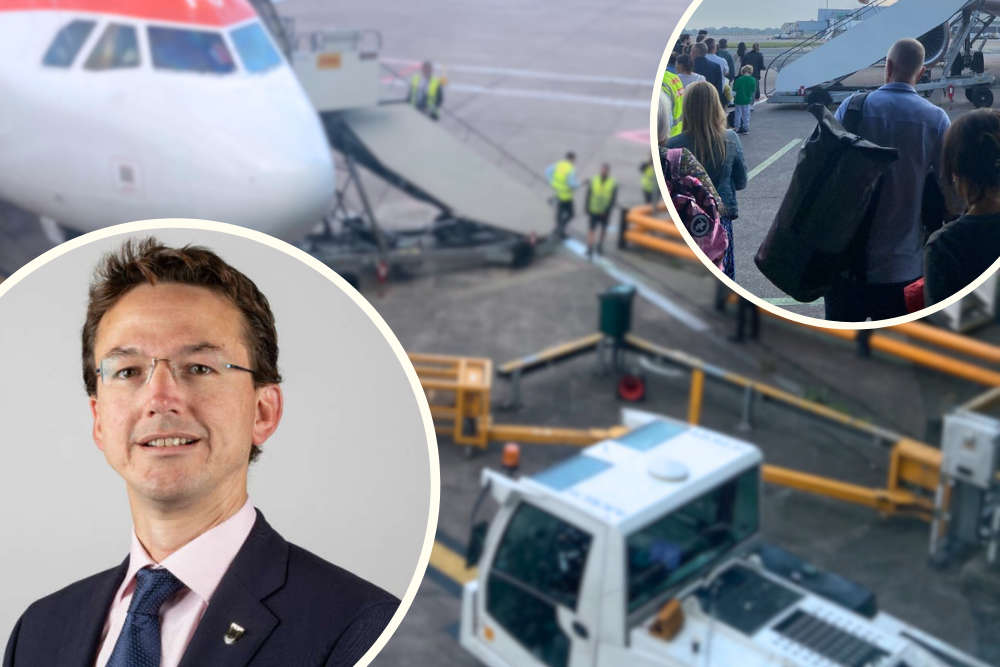 Passengers say they faced significant delays at Jersey Airport at the weekend due to ground operations.
A government minister has felt the need to apologise to islanders, and people travelling to Jersey, about the airport disruptions at the end of half-term (3 June).
Economic Development Minister Deputy Kirsten Morel, whose remit includes tourism' says he will be in contact with Ports of Jersey and Swissport to let them know exactly 'how unhappy the island is with this situation'.
He told Channel 103:
"In a year where we're trying to focus on tourism and rebuild tourism following Covid, it's incredibly disappointing to know that at the airport, visitors particularly, aren't getting the service they would expect.
Their last impressions - and when they first arrive, their first impressions - of the island are really tainted."
Islanders and visitors alike have taken to social media to speak about their experiences with Swissport's handling of passenger disembarkment and long waits in the baggage hall on the last weekend of the half-term holiday.
Tanya Schuldt

Complete nightmare at airport this afternoon. Flight arrived then we had to wait 30+mins to get off plane. Then had to wait nearly an hour for bags. Not blaming the staff but the situation they are in. There was about 4-5 flights all there at same time. One from Germany and my husband could hear them say about being unhappy etc. as someone said, not great for the island/tourism.

Hope ports of jersey/Swiss port sort this out very soon!

I'm just glad to be home now having arrived in jersey nearly 3 hours ago
Becky Morris

We were caught in it all we waited both on the plane and then a crazy amount of time in baggage arrivals. No one had a clue what they were doing there were a number of staff wandering around unable to answer questions or really assist it's a total shambles. They really need to get their act together ahead of summer holidays! I've had it on three occasions now outside any holiday period too so it's not fair for them to blame half term! They are clearly poorly managed and under staffed!
Passengers and officials are saying the lack of ground staff at Jersey Airport is one of the main contributing factors to the delays.
Airport Director Robin McRae says the airport had its own firefighters, customer service staff and engineers helping with the operation as best as they possibly could.
"On behalf of ourselves, we're sincerely sorry for the impact of Swissport's staffing shortage on the airline passengers the Saturday afternoon.
They simply didn't have enough staff available to serve the aircraft turnaround."
The airport boss added that the staff who stepped in to help are not trained or licensed for many of the airside tasks undertaken by Swissport, so could not carry out every task that needed to be completed.
Deputy Kirsten Morel added it is not good enough that visitors and islanders are having to wait for hours in the heat for their baggage and planes.
"For me, it's incredibly important that Ports of Jersey work with the ground handling agent to rectify all the problems.
"I'll be making sure that Ports find a long-term solution so that we don't have a situation like this which is quite simply unacceptable and I want to know how they will solve the problem.
I'll be speaking with them again later this week, and I hope with the ground handling agent, to let them know exactly how unhappy the island is with this situation."
Channel 103 contacted Swissport and they released the following statement:
We wish to apologise for the inconvenience caused to customers and partner agencies who were impacted by disruption at Jersey Airport on Saturday 3rd June.

We are in the process of urgently reviewing all of the contributing factors and will continue to work closely with the Ports of Jersey and our airline customers in order to address these issues and put contingency measures in place. We are grateful for the significant support and additional resource they have provided during this time.
Ports of Jersey says it has been in high-level meetings with Swissport since the start of the season and will continue to talk about solutions to the issues.
It hopes to avoid further disruption going into the summer holiday period.