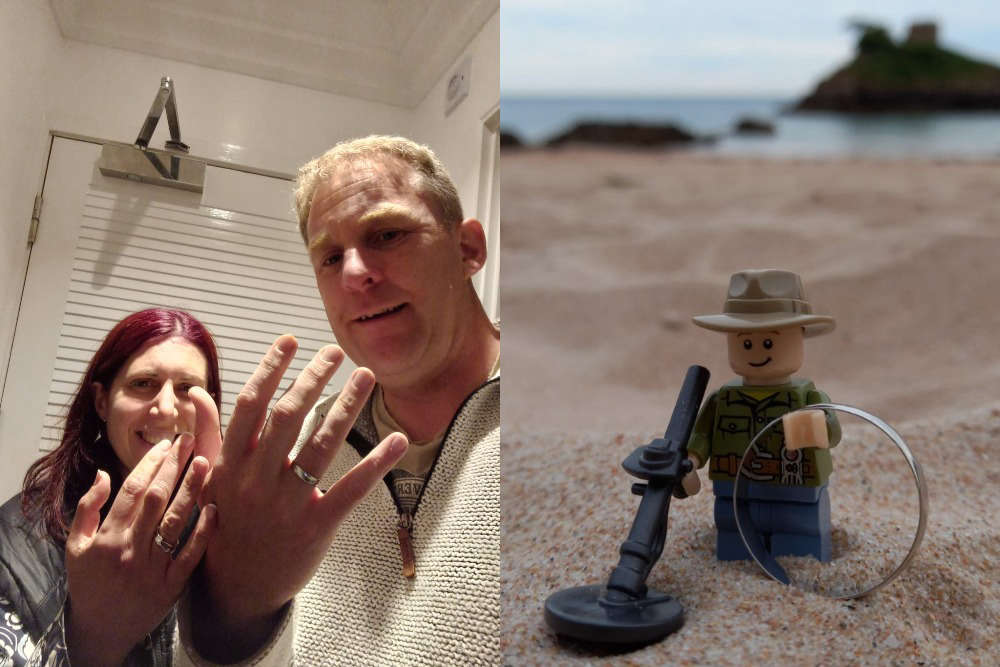 A newlywed couple have had their honeymoon saved after a Jersey metal detectorist tracked down a missing wedding ring.
Richard and Anne Whetter from Bristol were staying in the island when one of their new wedding rings got lost at Portelet Bay.
Richard told Channel 103 what happened when they went for a paddle.
"I made a conscious decision to take my wedding ring off. Ironically, I did not want to lose it in the water. I put it in my shoe for safe-keeping. Of course, I have never worn a wedding ring before because we only got married on Saturday.
When we came out (of the water), I picked up my phone and wallet instinctively, and I picked up my shoes - completely forgetting about my wedding ring. When we got back to the car I realised that my wedding ring was not there."
Richard says his heart sank, and he assumed the ring would be lost forever.
The couple returned to their hotel, The Atlantic, and told Senior Hall Porter Nathan Rowland their story.
He immediately called upon the services of local metal detectorist Steve Andrews.
"I initially received a call from Nathan, asking me if I was available to help the hotel's guests. I then spoke to Rich, who explained the situation further.
He gave me a very good indication of where his wedding ring would be and once I started searching I located it no more than 10 minutes later.
It was a great piece of teamwork between Nathan, Rich and me and it was a pleasure to play my part in looking after Jersey's guests."
Richard says he was delighted to have his ring returned to him.
"Nathan's quick thinking in contacting Steve really did save the day and meant we could continue to enjoy our honeymoon.
Losing my ring was the worst part of the honeymoon - and finding it was the best part of the honeymoon.
What I could not get over was... on Jersey people are really willing to give up their time for free to help other people. I don't get that much in my life, and to come across to Jersey , it happened on three occasions, and certainly Steve coming out and giving up his time... I was absolutely gobsmacked.
We leave Jersey with the fondest of memories of the beautiful island and friendly people."
Hotel boss Patrick Burke says it was a 'miracle moment'.
"We are extremely proud of Nathan and the whole team here at the hotel who consistently go the extra mile to look after our guests and deliver the very best service. We wish Richard and Anne the happiest of lives together with their wedding rings firmly on their fingers!"