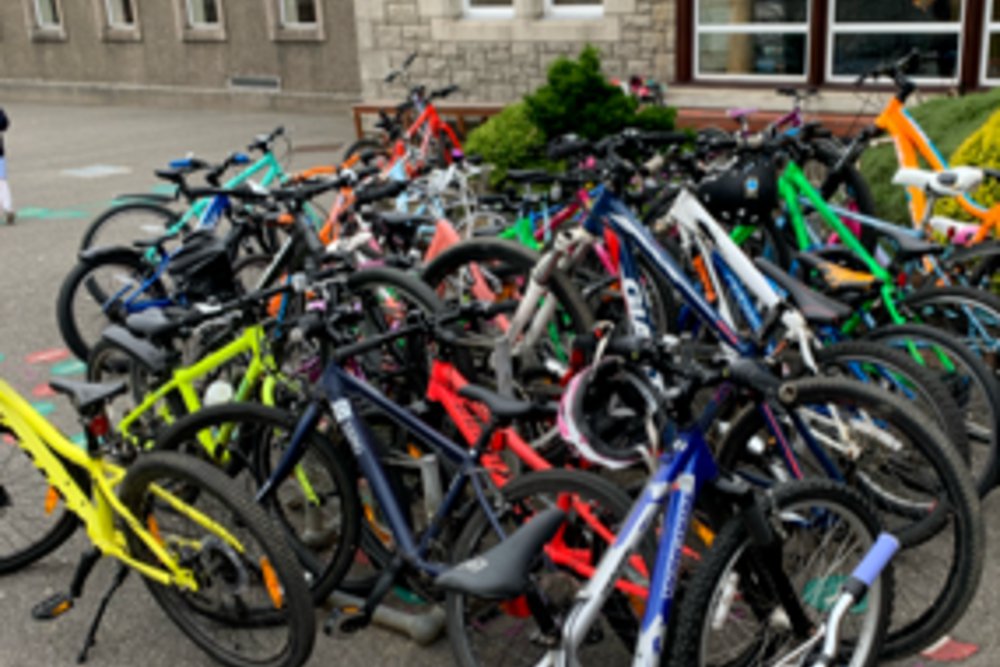 Some of the students' bikes at Les Landes School
More than half of students at Les Landes School have taken up cycling to school.
41 children brought their bikes on Tuesday, increasing to 95 - or 53% of all pupils - by Wednesday morning.
Headteacher Vicky Charlesworth says she expects that number to continue growing:
"There are a number of reasons for that - one being that families are still working from home and I think the morning routine is looking different for them, so they've got the time to cycle together as a family.
"Also, the time during lockdown has given families the chance to get out and become confident cycling, some have been practicing the route to school during lockdown so they would feel safe to carry on doing so once we fully re-opened."
Cycling has seen a surge in popularity since the island first went into lockdown in March.
53% of our children cycled to school today, 95 children. We are beyond proud of them. One of our Reception children cycled from Red Houses, with stabilisers! As you can see, we really do need more bike racks!#community #achievement #pride pic.twitter.com/1kIy1CU6Op

— Les Landes School (@leslandesjersey) July 8, 2020
Mrs. Charlesworth says Jersey Sport's Bikeability programme has really helped pupils to become more confident cyclists:
"We've been working with Jersey Sport on a scheme called 'Bikeability' which will roll out to every school. It's kind of like cycling proficiency, but the difference is the trainers take children onto the roads in small groups, and teach them road safety in action.
"We've had 30 children trained in that and know they are all very safe in cycling to school independently."
Les Landes School has already had to move its existing bike rack to be able to cope with the increased demand, but Mrs. Charlesworth says more are needed:
"Previously our bike rack was quite hidden away around the side of the school, so we've moved it to the front entrance to send a very clear message to families and our community that cycling to school is important to us - this is something that we want to achieve.
"We don't nearly have enough bike racks now - which is a wonderful problem for a school to have. This morning we have bikes propped up against every wall in the playground."
Mrs. Charlesworth told Channel 103 that while cycling isn't practical for every family - especially those who live outside the school's catchment area - pupils have been keen to get involved.
Some parents have even driven part of the way to school - or dropped children off at friends' houses who live nearer to school so they could cycle part of the way.