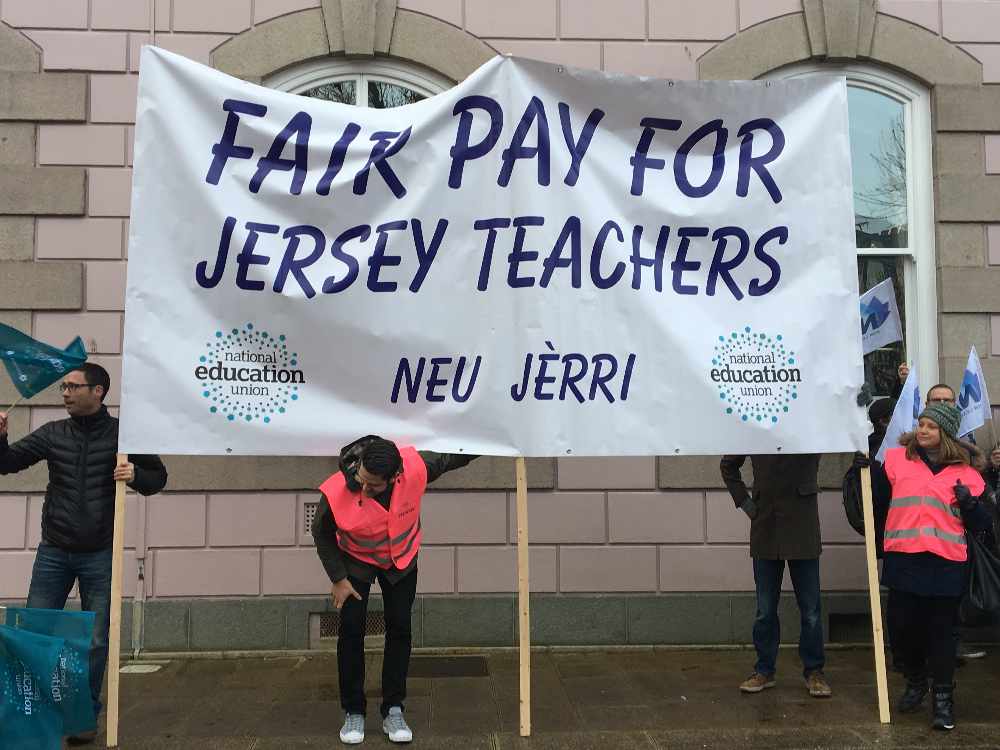 NEU members at a march on Saturday.
Teaching unions have confirmed staff will walk out later this month.
Members of both the NEU and NASUWT will strike on Tuesday 26 February.
Negotiations with the States Employment Board took place yesterday, but NEU regional secretary Andy Woolley called them 'very disappointing' and said no progress was made.
Teachers and teaching assistants were among those who marched from Howard Davis Park to the Royal Square last Saturday, in protest against the States pay offers.
The strike will affect primary and secondary schools as well as Highlands College. NEU members won't be walking out from primary schools on that date, but the NASUWT at all levels will walk out.
NASUWT General Secretary Chris Keates says the unions were left with no choice.
"The NASUWT has been left with no option than to call a day of strike action after negotiations with the States over pay failed to make any progress yesterday.
"The SEB is putting the world-class status of Jersey's schools at risk by refusing to recognise the undisputable need for a substantial pay increase.
"Teachers' pay over the last decade has been cut by well over 10% in real terms, this is impacting on teachers' standard of living and the States' ability to recruit and retain the best staff.
"Our members are angry about the imposed pay award and angry teachers are being treated differently.
"The NASUWT deeply regrets having to resort to strike action and any resultant disruption which will be caused to pupils and parents; however the SEB's refusal to work with us to address the issue ot pay has left NASUWT members with no option."
We've been told that a protest rally to coincide with the States Assembly sitting is likely, but that's yet to be confirmed.
94% of NASUWT members and 97% of NEU members voted to strike in ballots.
The Government of Jersey has been contacted for comment.