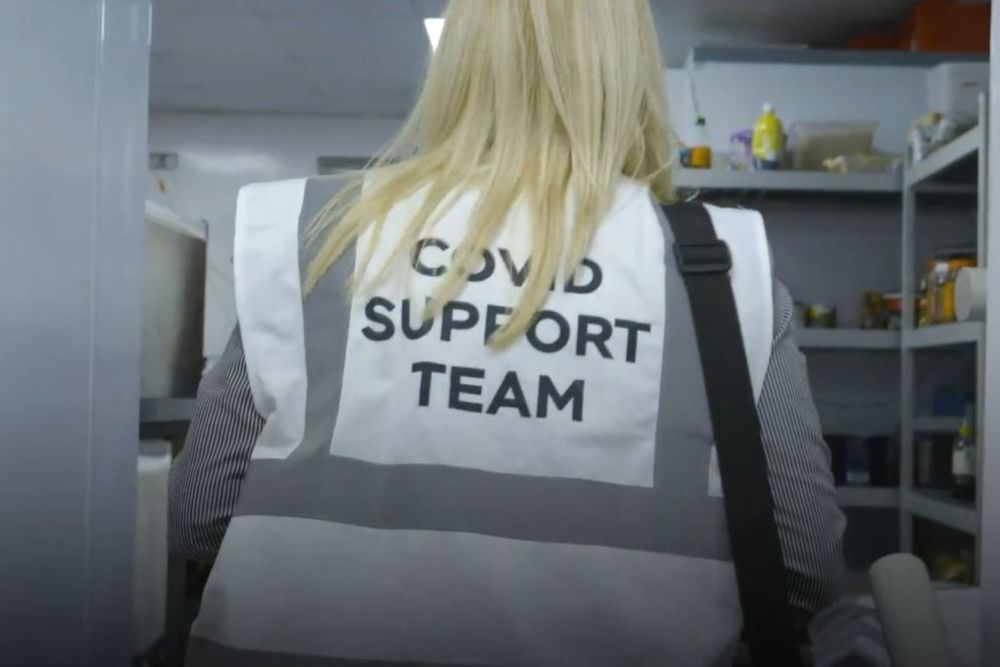 Picture Credit: Government of Jersey
The officer leading Jersey's contact tracing team has urged anyone who sees examples of hospitality venues not abiding by the rules to report it to them.
Cafes, restaurants and pubs that serve food reopened on Monday 22 February for the first time since early December.
Guidance is in place for islanders and businesses to follow.
That includes having tables of no more than ten, tables being two metres apart, staying at a table for no more than two and a half hours, and using hand sanitiser on arrival and departure.
It's also strongly advised that masks be worn at all times, apart from when eating and drinking. That includes when sat at the table and waiting for the food to arrive.
Despite the government stressing this guidance, restaurant owner Dominic Jones tweeted earlier this week that he'd seen some businesses in which staff were not wearing masks, tables not being two metres apart, and alcohol being served without food.
Just had a walk around town. Sad to report number of local hospitality outlets not following guidelines. Staff with no masks, tables too close, no food....most doing it well but why do some have to risk ruining it for everyone.

— Dominic Jones (@DominicCJones) February 24, 2021
Caroline Maffia says legislation is in place, if necessary, to take formal action.
"All we want is the details of the premises that they (people) have concerns about at [email protected]
"If they email us, then we will look into it. If there are things that need to be done to help the business to be compliant, we will support them in getting to that point.
"On the very small number of individuals (that continue to defy compliance) there is legislation to be able to assist us."
The Marina Metro Hotel was notably fined £20,000 last year for repeatedly breaching Covid-19 guidance.
Members of the government's Covid Support Team are carrying out checks on businesses to make sure they are complying with the guidance.
"The team work seven days a week and we will do pre-arranged visits and we'll also turn up and just ask face to face whether individuals would want any support from us or if there is anything we think isn't quite as it ought to be."
Channel 103 has seen an email sent to members of the Jersey Hospitality Association - warning them not to try bending the rules or finding any loopholes.
JHA CEO Simon Soar says the rules are there to be followed, by letter and spirit, and if everyone does this, they'll be back to normal a lot faster than if any they try to make a few pounds more now.
"The rules are there for a reason and you will be trying to do something that goes against the principles of them. The current relaxation and position we are in is meant to allow people to socialise over a meal that can include alcohol. The rest will be able to be enjoyed more thoroughly shortly. Don't let customers dictate to you what they want to do and make you break guidelines."
The guidelines state:
Alcohol can only be served with a main meal. Examples of a main meal include a main course item ordered from a menu, a combination of two starters for one person, a combination of one starter and two sides for one person, and at least three sides or tapas for one person.
Alcohol can be ordered while customers wait for their food. No more alcohol can be served after the meal is finished.
No more than ten people can be seated at a table.
Tables must be kept two metres apart. If that isn't possible, screens must be used.
Customers can't stay for longer than two and a half hours
Hospitality venues must close at 10:30
Masks must be worn when not at the table. They can only be taken off when sat when food or drink is on the table.
Masks must be worn by customer-facing staff at all times.
Background music has to be kept at a low volume so customers don't have to shout to hear each other
More police officers will be on patrol this weekend, as it is the first one since late November where Jersey's pubs and restaurants will be open.
The force says it's aimed at managing any related crime that may arise.
"We understand that recent months have been a testing time for everyone, but we still have some way to go in containing the virus and we shouldn't be complacent. We want people to enjoy themselves and have a good night out, but safely and within the Law and Government guidelines." - Chris Beechey, Chief Inspector.