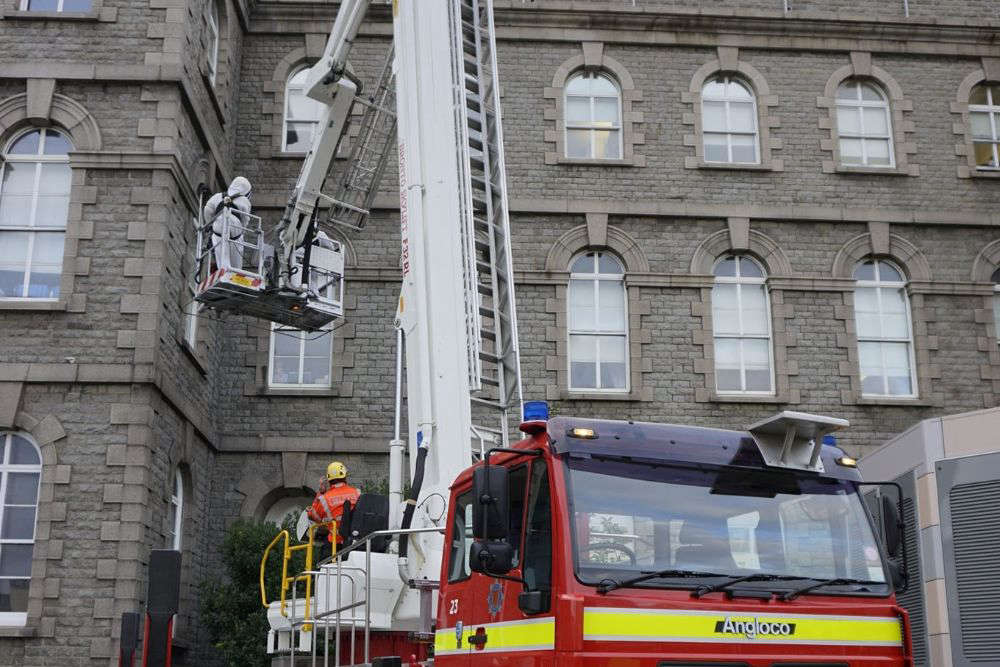 The Asian Hornet Coordinator wants people to stay vigilant about the insects, as nests were found outside Jersey General Hospital.
Volunteers were called to the hospital on Tuesday (27 July) after staff found several hornets inside the building, including one on a ward.
Alastair Christie is the government's coordinator for managing the insects. He says they were dealt with quickly and effectively.
"We knew roughly what we were letting ourselves in for. Very quickly it was identified there was a nest behind a grille vent on the ground level of the building, and hornets seemed to be building a nest much higher up on the building. It was really important to get it assessed properly and get it removed properly. So, last night, with the fire service and a professional pest controller, the nests and the hornets were dealt with. Both by gathering them up using a vacuum device and taking the embryo nest structures down from the building's facade.
"The nest behind the grille was what we call a primary nest. It was likely to have been the size of a melon. There was a fair amount of hornet activity around it and those hornets were moving house to a nest much higher up. We got them before they could do that move. They find a new location, start to build a new nest, then the queen moves over and they start to accelerate the growth of the nest."
This year 12 nests have been found across Jersey and more than 100 queens have been captured. Last year the total number of nests found was 38.
Mr Christie says staff at the hospital reacted to finding the insects correctly.
"It was a worry for them. They did exactly the right thing and called me through the right channels and sent some photographs that proved to me that there were hornets in the area. Three or four hornets were found in an office and at this time of year, when you get a report out of the blue saying 'We've got four hornets in our office', I know that there must be a nest nearby and it's then to find it as quickly as possible and deal with it as quickly as possible.
"The situation at the hospital shows us that Asian Hornets can literally turn up anywhere. they're not just confined to the tops of trees in the countryside. There's no evidence that there are more in the urban area of St Helier than in the countryside. But, we have to continue to be vigilant and I encourage everybody to report anything of concern, through the proper channels."
Islanders who think they have found Asian hornets can report sightings by emailing Mr Christie at [email protected] or by calling 441633.