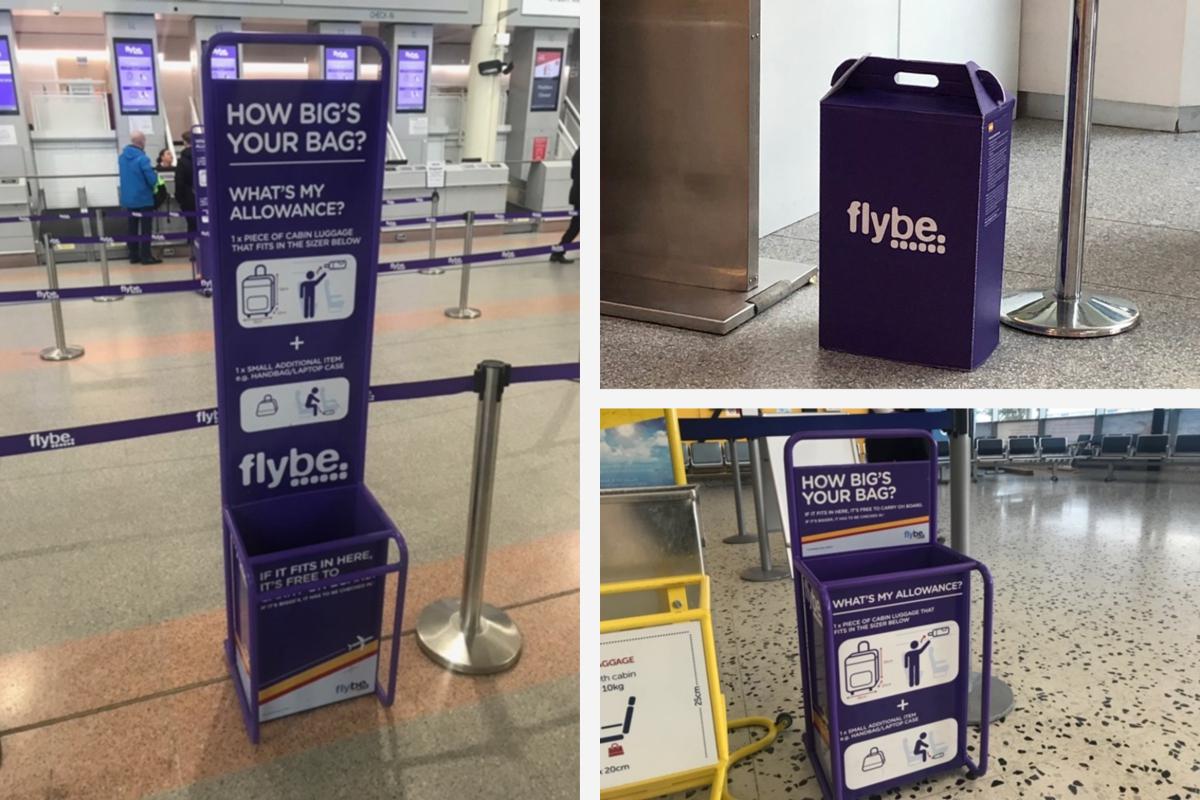 Jersey's Consumer Council says Flybe is still failing to address issues with its hand baggage policy, despite promising action months ago.
It said the airline admitted in March to inconsistencies between how hand baggage is measured at different airports and vowed to take action.
The Council's newsletter says three major areas need addressing, which are:
The location of the final checks. ie; stop waiting for passengers with a debit card reader and a measuring gauge inside the cramped gates, meaning passengers had very little room or privacy to open their luggage and remove/reshuffle items.
That there seemed to be an entirely inconsistent approach across the airline's network, with different measuring devices being used in different airports; and some being very strict while others didn't bother to check at all.
The fact that children as young as 12 flying alone, under the airlines own 'unaccompanied minors' scheme were being fined the £50 fee without their parents being informed or consulted.
Council Chairman Carl Walker says the same problems are still happening now.
"I was contacted yesterday by one passenger, who arrived in Jersey from Manchester, who was told at the gate in Manchester Airport that her hand baggage would only be approved from Manchester Airport.
"So the passenger said 'why is it only approved from Manchester?' and she was told by a Flybe representative that they have different measuring gauges in Jersey so your case won't be allowed on the flight back without paying.
"So clearly there is still something wrong and there are still inconsistencies."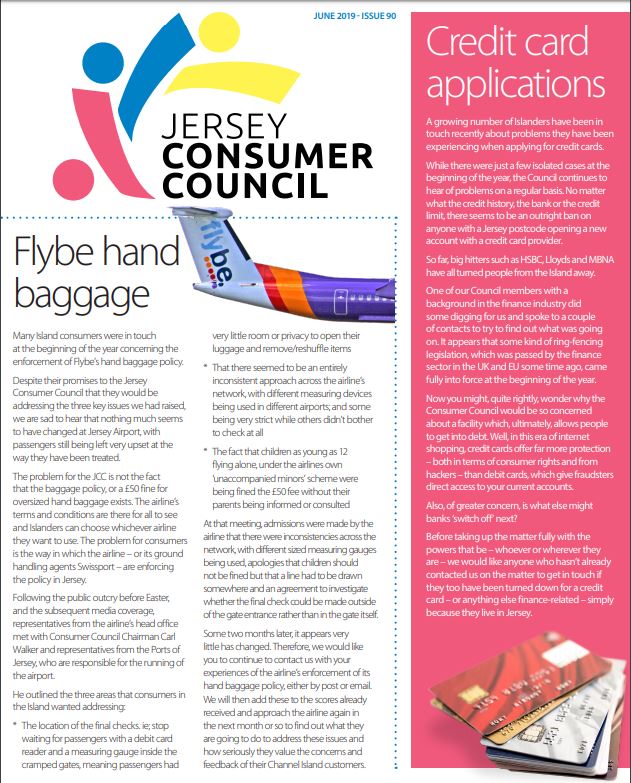 The Council wants anyone affected to come forward within the next month when it will then contact Flybe "to find out what they are going to do to address these issues and how seriously they value the concerns and feedback of their Channel Island customers."
In a lengthy response, Flybe has defended its policies.
On travelling minors being fined:
"Flybe would first like to correct the information contained in the newsletter issued recently by the Jersey Consumer Council relating to an 'unaccompanied minors' scheme' which service the airline has not offered since the beginning of May 2018.
"As referenced in the newsletter, the airline would reiterate that it thoroughly investigated and reported back to all parties concerned on the specific hand baggage issues reportedly experienced by 'children as young as 12 flying alone' in February this year. Flybe is fully confident that its agents did everything possible under extremely challenging circumstances to try and make contact with the parents who had dropped their children off and immediately left the airport. Unable to do so, Flybe's agents handled the situation in an admirably sensitive and empathetic manner.
"Those making bookings for any child under the age of 16 years who will be travelling alone should ensure that a parent/guardian or responsible adult always remains in the airport vicinity until the flight has departed."
On consistency/sizes:
"Flybe still allows passengers to take on board two pieces of cabin baggage; this includes one item that does not exceed 55x35x20 cm (including handles and wheels) and one smaller additional piece such as a handbag or laptop case. The information can be found on the Flybe website www.flybe.com
We continue to work closely with our ground handling agents to ensure that they are consistently enforcing our cabin bag policy across our extensive network and we closely monitor and take immediate action on any reports of inconsistency.
Flybe can also confirm that all the airports from which it operates use the same metal sizers, with the exception of a small number whose airport authorities do not allow the use of metal sizers, such as London City where cardboard sizers are used. Both the hand-held and metal sizers fully conform to our stated cabin bag dimensions and any hand baggage which fails to fit into either sizer is charged accordingly. Both sizers have been inspected by Trading Standards' bodies and certified as fully conforming to Flybe's stated dimensions.
In addressing the issue of sizing checks at Jersey Airport, Flybe is working with the airport to better manage the current situation of some cabin baggage checks having to be carried out in the limited space available at the departure gates. For the convenience of its passengers and prior to them entering security, further messaging will shortly be positioned to prompt them about our cabin baggage policy. It will remind those who may have headed straight to security, that a £50 charge will be made at the gate for any oversized cabin bags and at the same time, allow them the opportunity to return to the check-in counter where, if their cabin bag is found to exceed the allowable dimensions, they will be charged £40 to place the bag in the hold.
It should be noted that reminder alerts detailing Flybe's cabin baggage policy is highlighted on the front page of flybe.com at the start of the booking process and also included on all pre-flight confirmation e-mails sent to customers."