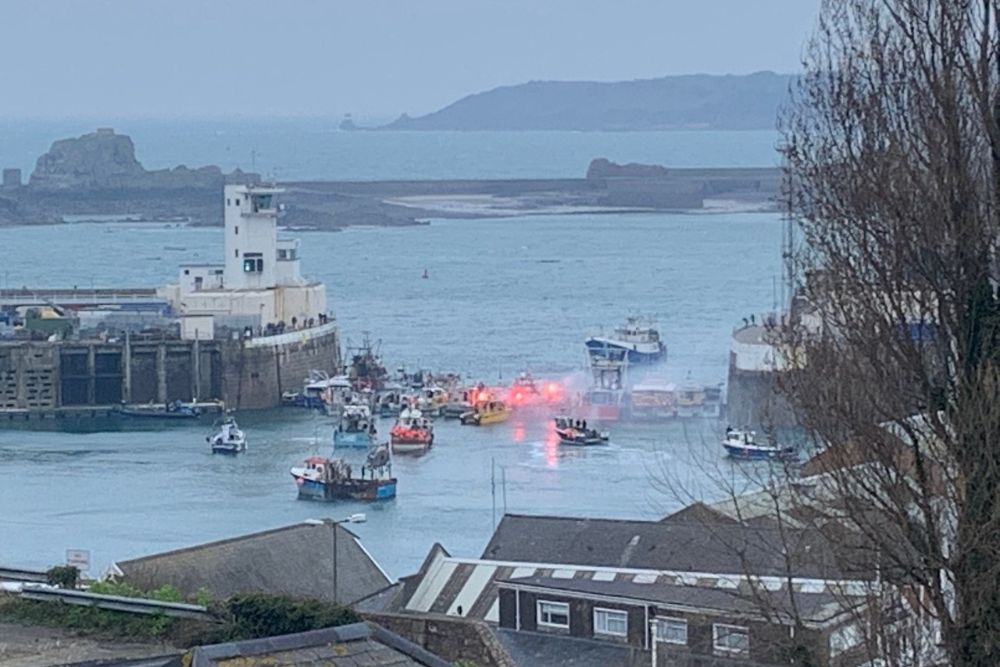 Jersey's fishing fleet has been protesting in St Helier harbour.
It wants the government to stop French boats catching scallops and whelks in island waters because our fishermen can't land those shellfish in France post-Brexit.
Jersey is now a third country to the EU and our waters have been reclassified, meaning those species would have to be purified and inspected before they can be supplied into the continent.
Jersey's fishing industry says Ministers here need to do more to represent their interests and protect their livelihoods.
The government says fisheries staff are working on the issue.
Last month Jersey's fishermen created a manifesto and asked islanders to sign the pledge to show their support.
Describing themselves as 'the guardians of our waters', they published six principles, including a fair permit system, using sustainable practices, and safeguarding local livelihoods.
Don Thompson, President of the Jersey Fisherman's Association, said the island is at a pivotal moment 'to take full control of our fish stocks and marine environment and revive the fishing community'.
Speaking to Channel 103 after the protest, Mr. Thompson says it's not acceptable for politicians to refuse to take any action against French boats who take scollops out of their waters every week.
He says he's been asking to speak to the relevant Ministers for the last ten days about sorting a strategy to deal with these ongoing issues - but no response has been forthcoming.
"We're seeing our fishermen going out of business.
"They've (the EU) downgraded Jersey's waters to the point where it's considered that product from Jersey's waters are not safe to be exported into Europe and yet we see French boats taking 100 tonnes of scallops out of our waters every single week.
"It's not legal, it's not fair, it's not correct.
"What we need government to do is not push us any further, to sit down at the table. Let's have a strategy of our own, rather than just reacting or failing to react to French threats and the sort of action they are taking."