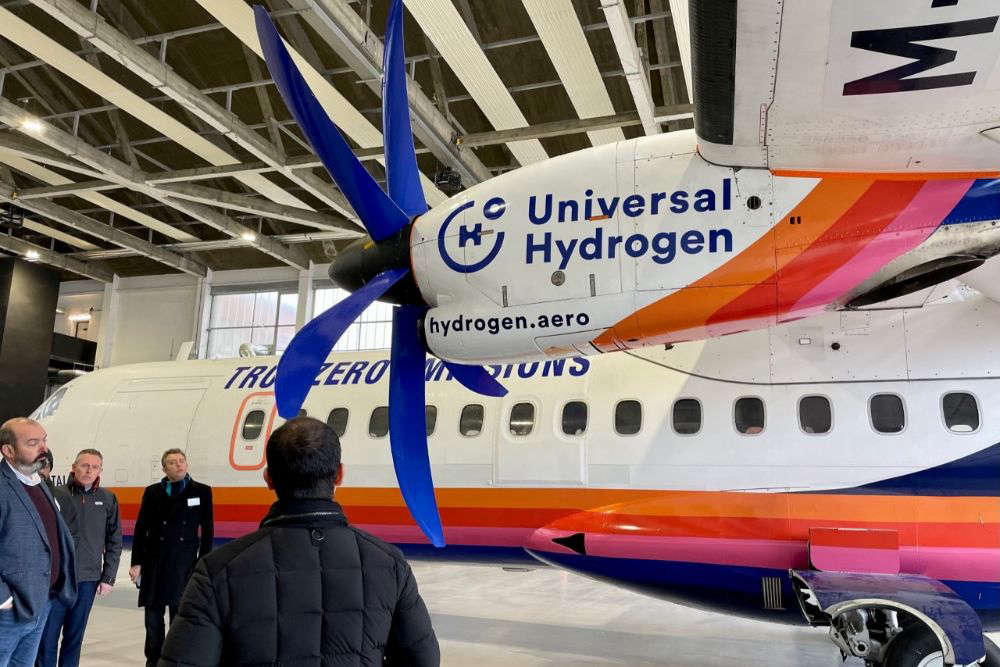 A hydrogen powered flight - tested as part of a Jersey partnership - has had a successful launch in the US.
A 40 passenger airline powered by hydrogen fuel cells flew for 15 minutes and reached an altitude of 3,500 feet.
Ports of Jersey is working with Blue Islands and Universal Hydrogen on the trial use of green hydrogen as an alternative, fully decarbonised aviation fuel.
The project was announced in September, and in January a delegation from the island visited Universal Hydrogen's Engineering and Design facility in Toulouse.
Jersey is working towards achieving net-zero carbon emissions by 2050, and introducing sustainable fuel options is being seen as the island taking a leading position in sustainable air travel within the UK and Europe.
Economic Development Minister Deputy Kirsten Morel says the ambition is for a future in which Jersey is both well-connected and sustainable.
"This test flight is an exciting step towards that becoming a reality and is an insight into the Island's future."
Universal Hydrogen embarked on the successful test flight in the United States on 2 March.
Matt Thomas, Ports of Jersey CEO says he hopes it will see a global move towards hydrogen-powered transportation.
"Our work with Universal Hydrogen for the aviation industry, and with OceansLab for the maritime industry, supports our objective to responsibly connect our Islands and work towards a future of truly sustainable travel."
The flight is the first in a two-year test programme which aims to end in 2025 with regional ATR planes starting passenger services powered by hydrogen.
Blue Islands has agreed to use Universal Hydrogen's aircraft conversion kits on its ATR 72 planes.
"We're committed to sustainably connecting our islands, and reducing our impact through next-generation technologies is our future. We're proud to be partnering with Universal Hydrogen. Its ground-breaking test flight of a hydrogen powered regional aircraft is a major milestone in this journey - a step closer to our ultimate goal of net-zero." -Rob Veron, Blue Islands' Chief Executive.