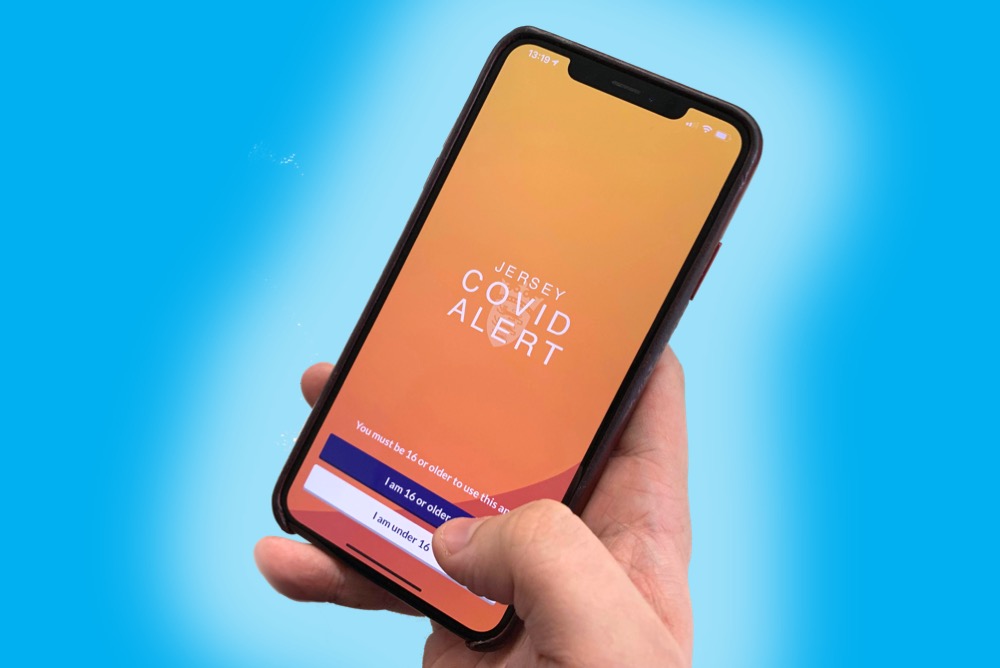 Channel 103's been given early access to Jersey's 'COVID Alert' app, ahead of its release next week.
The app anonymously records other nearby users that come into contact with your phone, so if one of them later tests positive for Coronavirus, the Contact Tracing team can easily get in touch by sending an 'exposure alert'.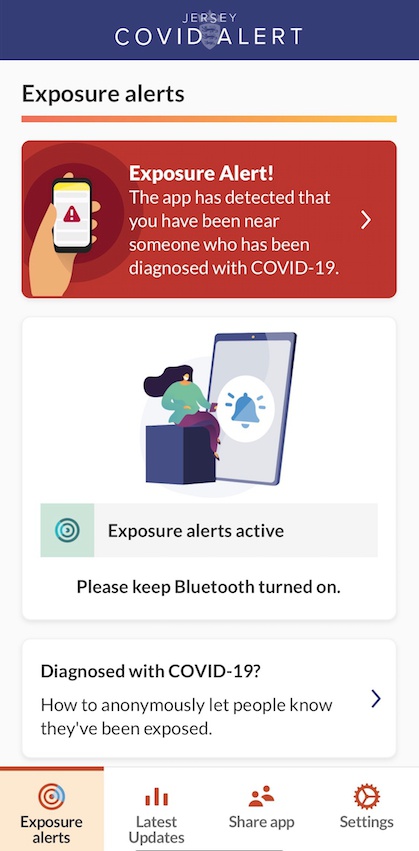 Exposure alerts will display in the app and on your home screen.
It records other devices that it's been within two metres of, for longer than 15 minutes.
Hundreds of islanders, both within the government or Digital Jersey and external members of the public, have been testing the app over the last few weeks to make sure it's free of any bugs by launch day.
---
What information does it actually collect?
Using Bluetooth technology built into the latest smartphone software by Apple and Google, the app is able to record nearby devices it's been in contact with - but without any personal information.
Should someone using the app then test positive for COVID-19, Public Health authorities can then notify any other person who's been in contact with them.
When opening the app for the first time, islanders have the option of entering their mobile phone number.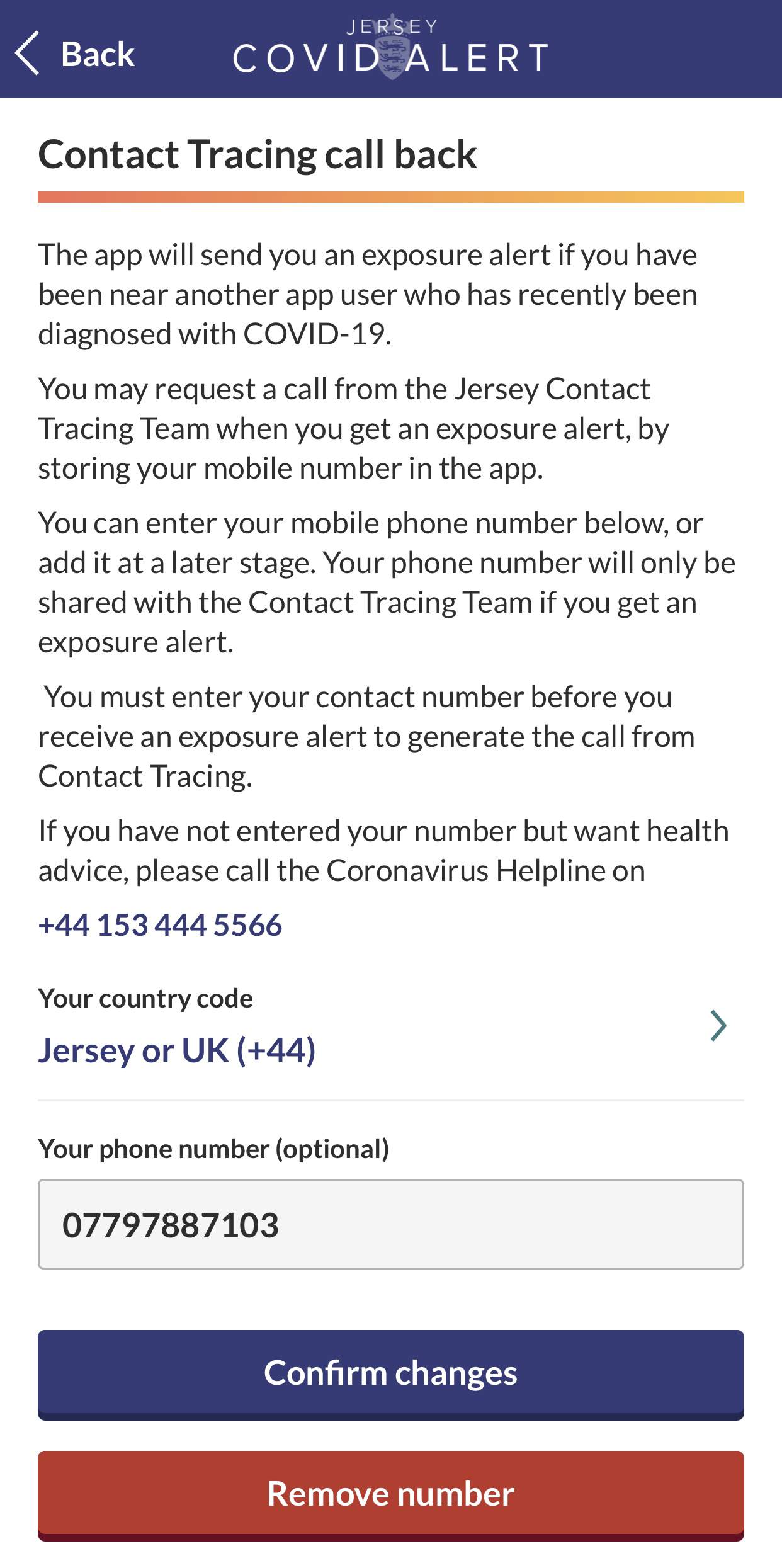 A phone number can be given for the Contact Tracing team to call.
It isn't required to receive the notifications, which will be sent directly to the app if you've been exposed to a positive case, but provides an optional way for people to be contacted if they are exposed to someone who develops COVID-19.
---
Can the Government of Jersey track my movements?
In a word: no.
Rather than basing its information on where people are and when the app just uses Bluetooth to keep track of nearby device IDs which all modern smartphones have built-in.
In fact, Jersey's track and trace app doesn't even require Location Services to be turned on to function - just Bluetooth.
Tony Moretta from Digital Jersey explained to Channel 103 how it will work:
"This is purely an exposure notification app. It doesn't require any personal details filled in with the app, it doesn't track where you are, the government will not have information on where you are.
"It basically detects any other device IDs that your device has come into close proximity with, and should anyone you know be tested positive, your device will pop up with an alert asking you to get in touch with the Contact Tracing team."
---
What happens if I test positive for Coronavirus?
When someone receives a positive test result, the Contact Tracing team will provide them with a unique six-digit code which can be entered into the app.
The user then has to give permission for the app to warn others who have been in contact with them.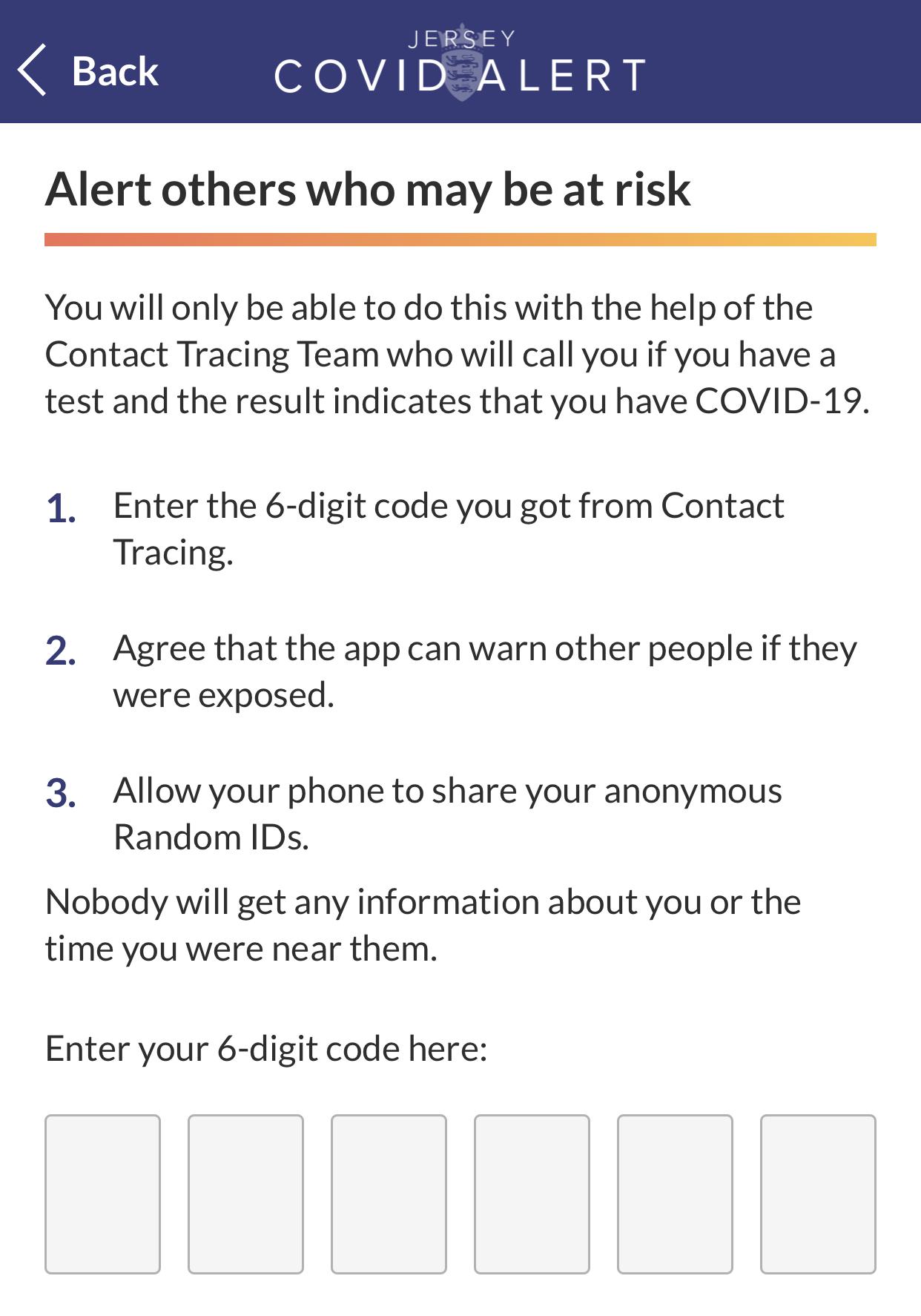 Codes are given out by the Contact Tracing team to notify others when someone tests positive.
Once granted, the apps on all devices which have come into contact will receive a notification to call the Coronavirus helpline - 01534 445566.
---
What's the difference between the Jersey app and ones from the UK?
Jersey's app was created by the same developers who made the exposure notification apps already rolled out in Scotland, Northern Ireland, the Republic of Ireland and Gibraltar.
The company, NearForm, created the platform underpinning the individual apps to all work with each other - meaning if someone from Jersey visited one of those countries, anonymous data would be able to be passed to nearby phones just as it would locally.
The same applies to visitors coming into the island from abroad. Passengers arriving at Jersey's Airport and Harbour will be asked to install the app if they haven't already got one.
As the apps all use the same technology behind-the-scenes, the only major difference between the apps is which public health authority has access to the data.
Jersey's app shares and receives its information with the island's Public Health team, while the widely publicised COVID-19 app for England and Wales sends data to the NHS, meaning only one app can be activated at once on a single phone.
---
What else does it do?
As well as the background monitoring of other nearby devices, the app also serves as an information hub for Public Health information and the latest daily figures, including the number of new cases and outstanding test results.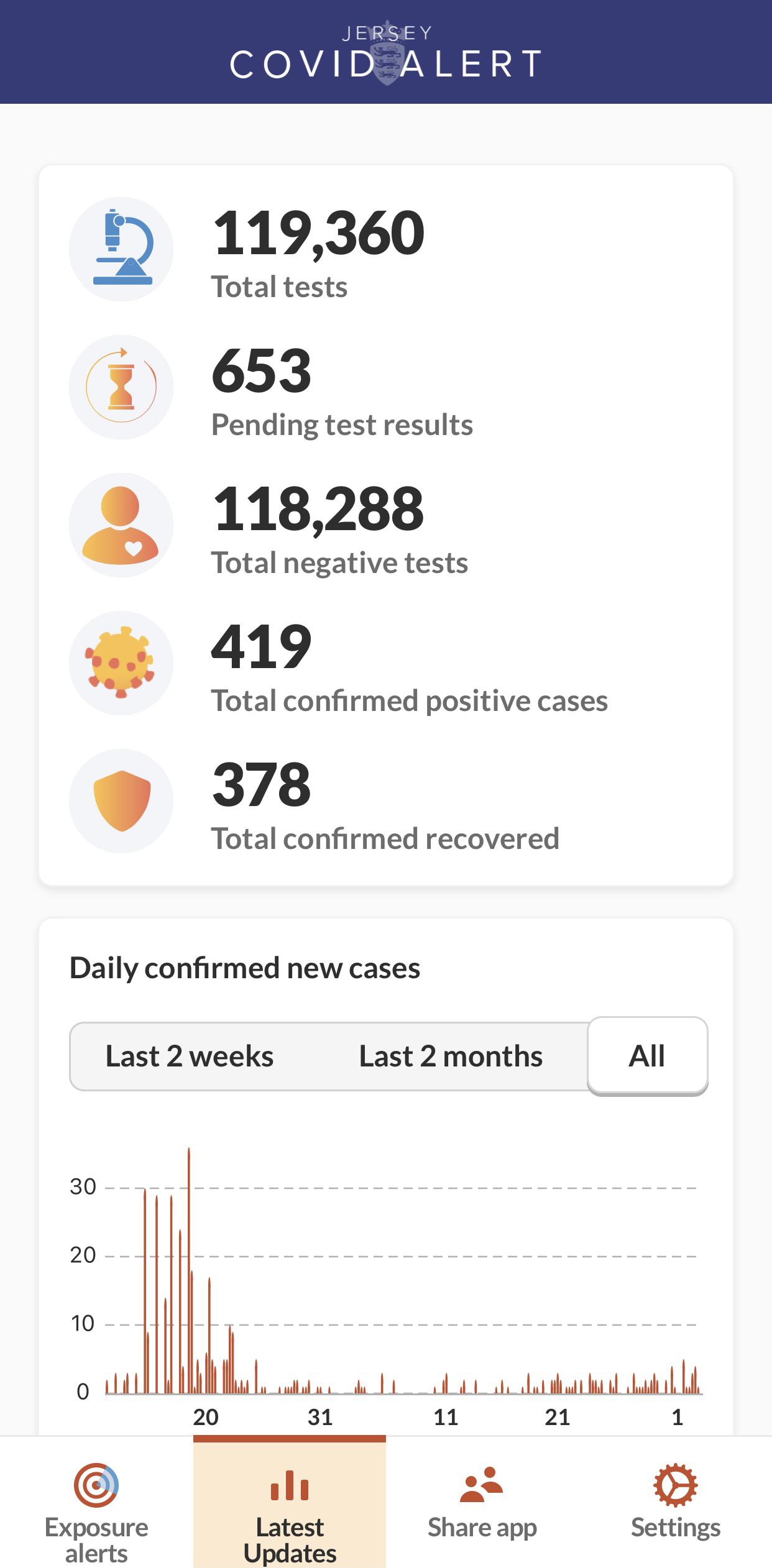 Jersey's latest daily Coronavirus stats are included in the app.
---
How can I get the app?
The 'Jersey COVID Alert' app launches Wednesday 14th October on the App Store and Google Play Store.