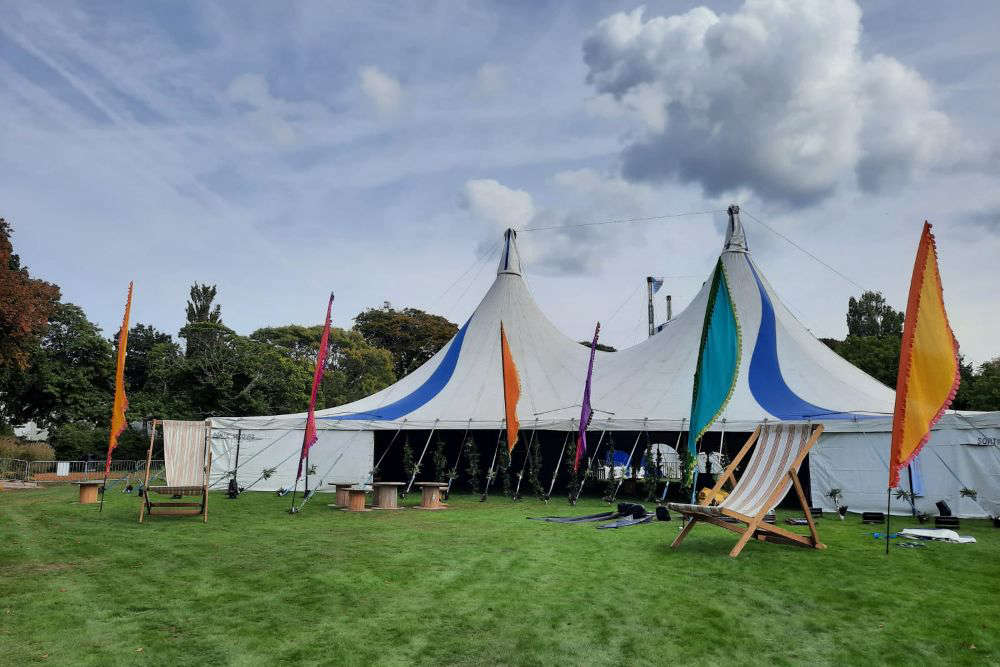 Credit: @JerseyWordFest
The Festival of Words returns to Jersey after a two-year break due to the pandemic with a line-up that includes internationally-renowned Sebastian Faulks, Mr Gum creator Andy Stanton and best-selling crime-writer Peter James.
Islanders have the chance to be inspired by an impressive selection of authors giving talks and workshops, including actress Celia Imrie, and Lionel Shriver.
The festival is running from 21 to 25 September at Howard Davis Park and will feature more than 50 talented writers, ranging from children's authors to crime novelists.
A 400 capacity marquee has been erected as the main venue, with other events happening at the Arts Centre, library and heritage sites.
Festival Director Pippa Le Quesne says the festival village in the park has been made as accessible as possible for people who use wheelchairs.
There are also resources for those who are hard of hearing, and the visually-impaired.
"It's been tremendous that we've been able to go ahead this year, we can't wait to welcome everyone back."
The festival programme has created a buzz on social media. Best-selller Peter James - who now lives in the island - is one of the first guests, talking about his new Roy Grace thriller Picture You Dead.
@peterjamesuk, looking forward to seeing you at Jersey Festival of Words next week. However, I'm only on book 7 in the Roy Grace series. Am I putting myself at risk of some serious spoilers? 🙊

— Sarcasticus ☭ (@Sarcasticus__) September 17, 2022
Actress Celia Imrie will be visiting the island. The Best Exotic Marigold Hotel actress is sharing the stage with Fidelis Morgan to talk about research for her book Orphans of the Storm.
Looking forward to Jersey Festival this Friday with @CeliaImrie talking about Orphans of the Storm. Any excuse to go on the high seas. https://t.co/cEd4zn8xU5

— Fidelis Morgan (@FidoMorgan) September 20, 2022
Lionel Shriver is another household name who will be attending the festival.
The award-winning American novelist's acclaimed books include We Need to Talk About Kevin.
She will be talking about her new essay collection Abonimations.
The full programme for the Jersey Festival of Words can be found here.
"Even if you are not coming to one of the events, you are very welcome to come down to the festival village, have a look around, browse in the bookshop and soak up the festival atmosphere." - Pippa Le Quesne.