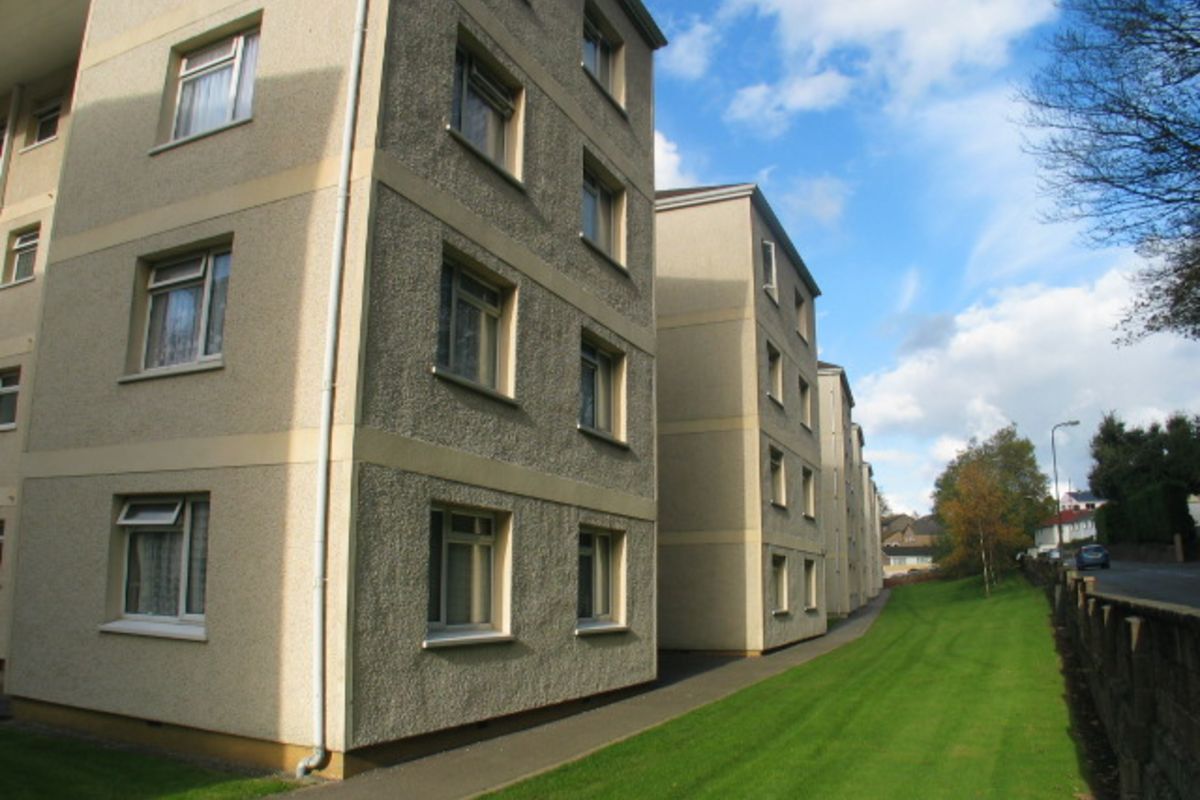 Image Credit: Les Vaux Housing Trust
Several families are fearing eviction because of the redevelopment of Troy Court at Grands Vaux.
The estate St Saviour estate, owned by Les Vaux Trust, is being demolished and replaced.
New homes have been built on the site - but not enough to house all the existing tenants.
Tenants were served eviction notices three months ago. They are expiring, but some residents haven't found somewhere else to live.
The trust is chaired by former Social Security Minister Francis Le Gresley, who thinks there will be a stay on any evictions:
"That is a decision the trustees have to take. My own personal view as Chairman is that we will not sign a contract and agree a start date (for the second phase of work) until we know that everybody has somewhere to go."
"Landlords have to follow the law and give due notice when they want people to vacate, and that is what we have done. We may have to go further and proceed with eviction procedures, but they will all be stayed - as it's called - until they've found their new homes."
Some of the affected residents had been told to contact Andium Homes to seek alternative accommodation.
The States-owned social housing company says it's doing 'all it can to assist' and is encouraging people affected to register with the Affordable Housing Gateway:
"Andium Homes does not own or manage Troy Court, it is not one of our redevelopments, we are not involved in the scheme in any way. Tenants who are facing difficulties are encouraged to speak to their landlord, Les Vaux Housing Trust. Andium Homes offers available homes to those registered with the Affordable Housing Gateway and we would encourage anyone facing eviction to ensure they are registered with the Gateway and are actively expressing an interest in any suitable properties that we advertise on our website. We only recently became aware of potential evictions at Troy Court and are doing all we can to assist those families."
Jersey's Housing Minister, Senator Sam Mezec, admitted it's a 'very difficult situation' and said his department would be doing 'everything in its powers' to help house people affected:
"We are aware and everything within our powers is being done to help house them, it's just a very difficult situation and lots of people are in desperate need. It further highlights the need for a housing strategy so we can stop these situations occurring in future."
The first phase of the redevelopment of Troy Court is due to be handed over to the Les Vaux Trust on 8th April and the majority of tenants are moving into the newly-built apartments, but there are fewer flats available in the new blocks.