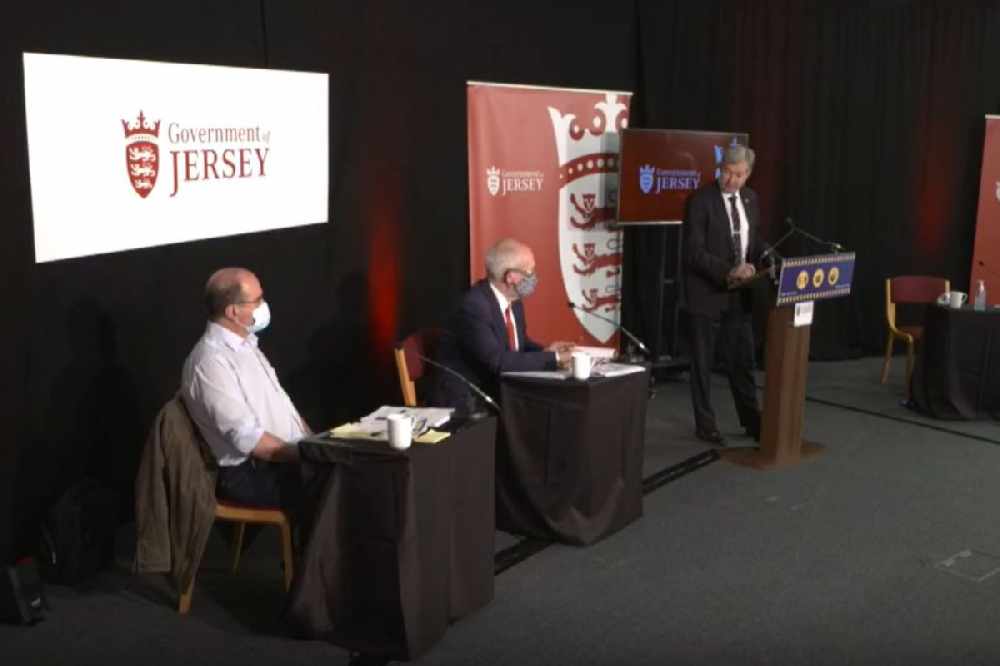 The Chief Minister says he's fed up of facing accusations of dithering - and then accused some of 'going on the attack rather than being constructive'.
It's after he announced that hospitality venues, gyms and indoor sport and fitness classes will close for a month from 00:01 on Friday (4 December) - and that physical distancing will go back to two metres.
56 people were diagnosed with the virus on Wednesday - prompting Senator Kristina Moore to say that the government has dithered since late October and could have prevented this.
As a backbencher I've just learnt of this. I feel for hospitality sector & those looking forward to festive celebrations.. but we have to get this virus under control. With another 53 + cases in 24hrs. @GovJersey have dithered since late October & could have prevented this

— Kristina Moore (@Moore4Jersey) December 2, 2020
This is how Senator John Le Fondre responded;
"When we saw the (coronavirus case) numbers going up, after Wednesday, Thursday, Friday (of last week) we met over the weekend and we put out the next lot of measures on Monday.
"We said we would come back within two days, which we have done. We are acting. We will act swiftly. We will keep monitoring where we go on a daily basis and if we need to move forward and we need to take further action, we will do. We've done that all the way through (the pandemic).
"Just because another politician says it (the government has dithered), doesn't mean it's true."
Whilst welcoming the new restrictions to combat the fast-increasing rate of infection, Reform Jersey says they should have been introduced a lot sooner.
In a statement, the island's only political party says stronger messaging and tougher action should have happened at an earlier stage to prevent complacency and reduce the chances of clusters forming.
They've also called on Ministers not to dither, 'and instead be prepared to implement a lockdown the moment it becomes necessary to protect islanders wellbeing and continue to provide support for businesses to protect jobs and livelihoods'.
Our statement on today's news that increased restrictions will be imposed as a result of rising cases of Covid-19. pic.twitter.com/wBVantDUOt

— Reform Jersey (@ReformJersey) December 2, 2020
Health Minister Deputy Richard Renouf called the accusations of dithering 'ridiculous' - insisting that the government acted swiftly when required.
"We've had people who have been working through the night to help us respond in the right way to combat the spread of infection in the most targeted way we can to make sure that we keep islanders safe.
"That's what we're doing. We've taken that dramatic action to close licenced premises because we've seen that that is where the spread is occurring.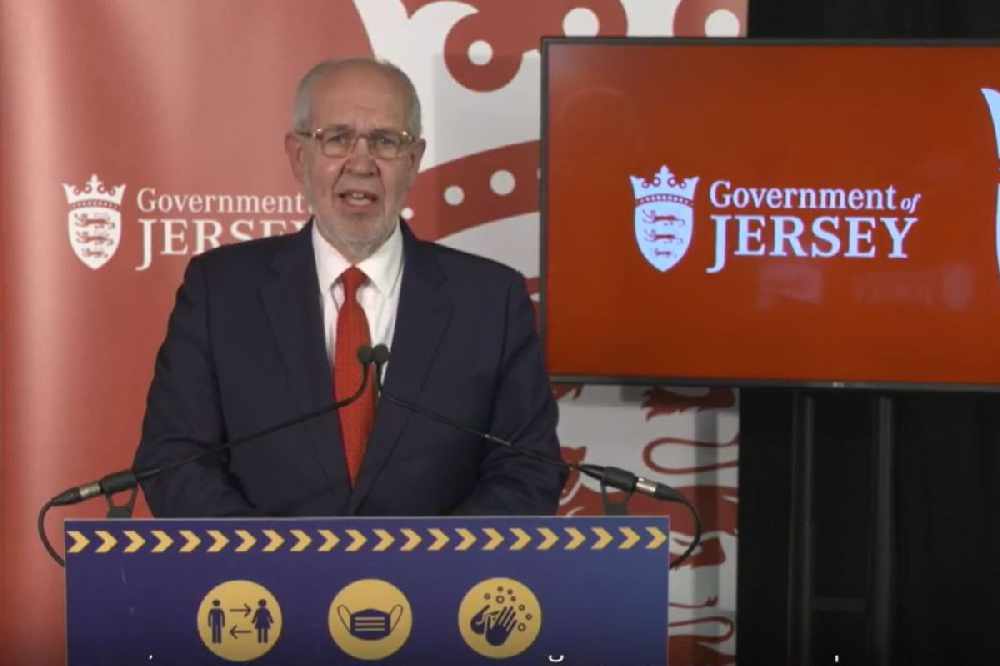 "We are working at pace at this. We are trying to keep the island as safe as we can, faced with this threat caused by people who have not been following the guidance and have not been taking responsibility for their actions.
"When we see the consequences of that, we are responding."
There are now 331 cases of coronavirus in Jersey. 231 have symptoms. Jersey's R-rate (reproduction number) is between 1.6 and 2.
Since Tuesday 1 December, 3 individuals have recovered and 56 new cases have been identified (1 through inbound travel, 4 through planned workforce screening, 21 through contact tracing, 29 while individuals were seeking healthcare, and 1 through cohort screening). pic.twitter.com/FrmpBTF3Yf

— Government of Jersey (@GovJersey) December 2, 2020
182 people have been diagnosed with the virus in Jersey since last Friday night.
The government has warned that Jersey could have 560 active cases of coronavirus and more than one in ten islanders in isolation by Boxing Day - if the case rate of around 40 a day continues without intervention.
Jersey's R-rate (reproduction number) is between 1.6 and 2.
If were were to double every fortnight, 1,100 people would be infected by Boxing Day and an estimated 12,000 people would be isolating.
Dr. Ivan Muscat says this mitigation is needed to stop this from happening.
"We will have about 6000 direct contacts for every positive case and the hospital admission rate, based on what was seen in the UK, will be of the order of about 2.6 admissions due to Covid per day.
"Which means that in the hospital at any one point, we would expect to have about 36 Covid positive patients. That's quite significant."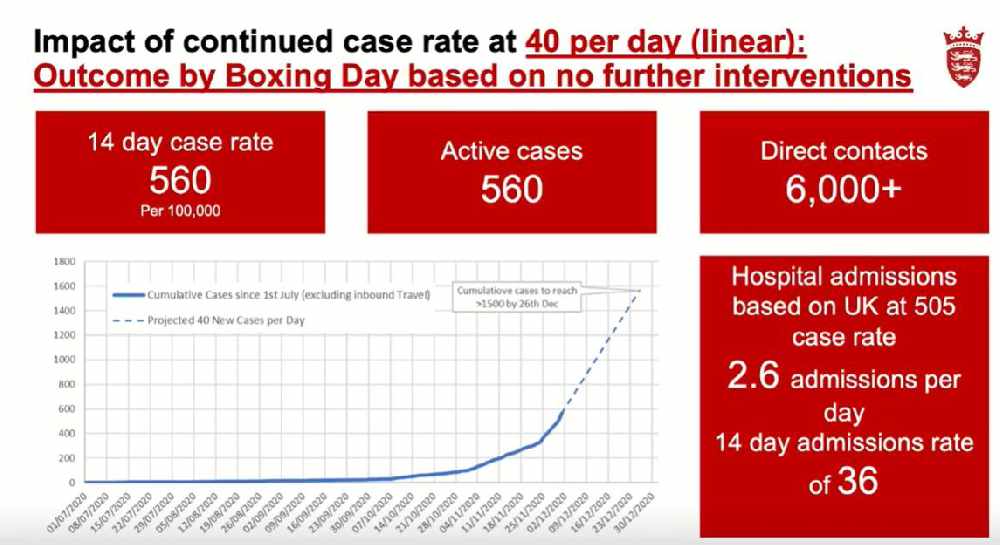 Ministers have also warned that the number of active coronavirus cases could continue to double every fortnight if robust action isn't taken to stop it.
The Health Minister has warned that Jersey is close to the trigger point for needing to use the Nightingale Hospital.
It opened in mid-May as a back-up if the General Hospital became overwhelmed. The Nightingale hasn't been used thus far.
Deputy Renouf says a decision on if and when to use it will depend on several things - such as whether patients need oxygen, what type of treatment they need, and how severely ill people are.
He also admitted that staff have been told to step up even more than they already have - to help the growing number of people falling ill with the virus.
Meanwhile, an investigation is underway into how coronavirus has got to patients in Jersey's General Hospital.
Six people who were already in hospital receiving treatment for non-Covid related reasons then caught the virus.
The hospital is now closed to visitors. Only children and vulnerable adults going there can have someone with them who must wear PPE.
Dr. Muscat admits it's entirely possible they won't work out how coronavirus got in.
"We have established that appropriate infection control procedures were adhered to. There is no evident gap in that defence system, but no single defence system is sufficient – we need to build up as many barriers to Covid as we possibly can to try to prevent it penetrating through."
All hospital patients were screened for coronavirus yesterday and will be screened again today.
Dr. Muscat says the plan is to screen hospital patients and staff every two weeks going forward.
"We will not get there overnight. We will get there one step at a time, but we hope that within the next one to two weeks we should be able to achieve this.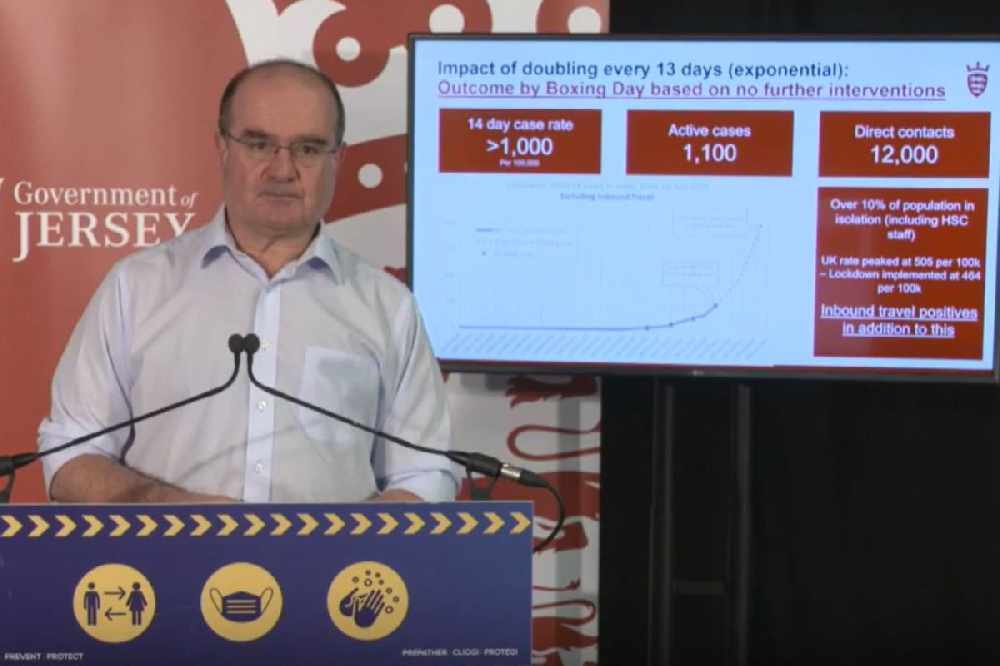 "This is not to supplant the excellent PCR workforce screening that is being undertaken by other teams within the Covid response unit, but to complement that system to make it as robust as possible."
Guidelines on household bubbles over Christmas in Jersey will be announced 'in the next few days'.
Senator Le Fondre says the government will set out how islanders can celebrate Christmas, but doing so safely, which will require 'personal responsibility'.
People across the UK will be able to form bubbles of three households between 23 and 27 December.